Angels of Fire

Warcry

Unknown

Founding

36th Millennium

Successors of

Unknown

Successor Chapters

None

Number

Over 700 Battle-Brothers

Primarch

Unknown

Chapter Master

Unknown, possibly Commander Amaras

Homeworld

Unknown

Allegiance
Colours

Red with Orange flame decorations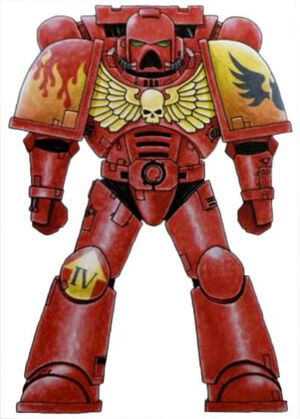 The Angels of Fire are a Loyalist Space Marine Chapter of unknown origin Founded during the 36th Millennium. It is unknown who their Primarch is or where their homeworld is located. It is possible that their gene-seed originated with the Ultramarines, the Dark Angels, the Blood Angels, or even the Salamanders. The Angels of Fire are a young but powerful Space Marine Chapter, and are willing to prove themselves in battle against the enemies of the Emperor.
Chapter History
Notable Campaigns
Chapter Appearance
Chapter Colours
The Angels of Fire wear red Power Armor, decorated with stylized orange flames. The Imperial Aquila or Imperialis on the chest is gold. The yellow coloured squad specialty symbol (Tactical, Assault, Devastator, or Veteran) is indicated on the right knee pad. A black coloured Roman numeral centered in the middle of the squad specialty symbol indicates squad number. The colour of the left shoulder guard indicates company number in accordance with the Codex, i.e. White (1st Company), Yellow (2nd Company), Red (3rd Company) ect.
Chapter Badge
The Chapter badge of the Angels of Fire is orange and yellow flames.
Sources
Adeptus Astartes: Successor Chapters (Limited Release Booklet)
Codex: Armageddon (3rd Edition)
White Dwarf 248, (UK) "Index Astartes: Emperor's Shield," pg. 76
Gallery