"Yours is to serve, unto the last drop of your blood, that your brothers might live to fight on. Watch over them, heal them, offer up your very life should it extend theirs but a moment, and by your sacrifice the enemy be slain. And when the time comes that you must fulfill your most solemn oath, speak clearly, speak proudly, speed the bolt that brings his end and send him joyous to the Emperor's side. Then do your duty, take that which is due, and know your mission is done."

— Extract from the Apocrypha of Eons, Verse V, Chapter L (M40 Redaction)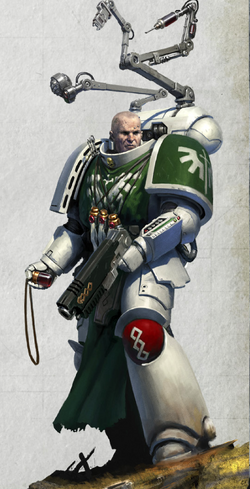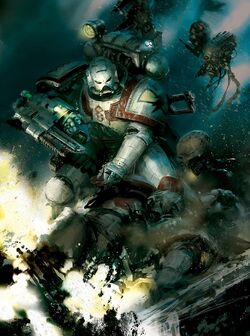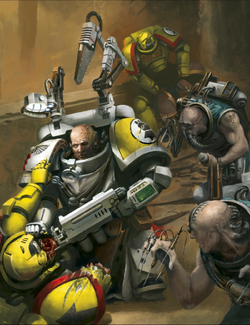 An Apothecary is a specialist Space Marine officer who possesses advanced biomedical and scientific training and who serves as a combat medic and research physician for his Chapter. An Apothecary's role in battle is to recover the gene-seed from slain Astartes and to tend to the wounded and maimed. Outside of combat, Apothecaries are responsible for monitoring the Chapter's Neophytes for mutation or flaws in their gene-seed and organ implants and for carrying out the implantation process in their Chapter's Aspirants. The Apothecary is well-versed in the arts of battlefield first aid as well as advanced surgical techniques, cybernetics and bio-engineering. The Apothecary must be as courageous as his fellow Space Marines if not more so, for he must perform his life-saving surgeries in the midst of the battlefield. If a Space Marine is injured, the Apothecary will use his medi-pack, called the Narthecium, to tend to the wounds. Even severely injured Space Marines can fight again with the aid of the Narthecium.
Amongst the most honoured Space Marines of a Chapter are its Apothecaries. Indeed, the future of every Chapter rests upon the shoulders of these few individuals. Whereas Chaplains are charged with maintaining the spiritual health of the Space Marines in a Chapter, it is the Apothecaries' role to mind the physical well being of their Battle-Brothers. This is seen most obviously on the battlefield, where an Apothecary serves as an emergency medic. The body of a Space Marine can absorb a great deal of punishment but they are not immortal, and there are many weapons and creatures in the 41st Millennium capable of penetrating their Ceramite Power Armour and causing grievous wounds. Several of a Space Marine's specialised organs can self-heal wounds that would kill a non-augmented man outright, but such functions take time, and will not happen during a melee or fire-fight. It is the Apothecary's duty to stabilise the worst of wounds, patching up a transhuman warrior's seemingly mortal injuries so that he may return to battle within moments. This is done on the battlefield with a Narthecium -- a device that can dispense medical aid and perform complex surgery -- cauterising, stitching, removing shrapnel, and more.
Not all injured Space Marines can be saved, however. Even when a wound is beyond healing, the Apothecary's duties are not done. He can calm the dying and speed them on their way by granting them the Emperor's mercy – a swift shot from an Absolvor Bolt Pistol that ends their suffering. The Apothecaries' most important role concerns not the living, however, but the dead. Using the Reductor often found within his Narthecium, an Apothecary can remove the Progenoid organs from a dead Space Marine. From the gene-seed held within these precious organs, future generations of Space Marines can be created, and the continuation of the Chapter is assured. In this way, even the fallen can live on forever.
Apothecaries are armed and armoured like the brethren they serve, and have undergone the same extensive combat training. Their priorities may be healing or extracting, but they too are fully exposed to all the horrors of a battlefield, and every company of every Chapter tells tales of the extreme lengths their dutiful Apothecaries will go to ensure their charges are kept alive, one way or another.
It is standard for each company in a Chapter to have at least one attached Apothecary, and it is common practice to have several more that work in the Apothecarion, where they train Initiates and also ensure the Chapter gene-seed -- both in the gene-banks and in the Space Marines themselves -- remains genetically pure and free of deleterious mutation through constant testing. Additionally, it is the most senior Apothecaries that implant gene-seed into Neophytes, ensuring the Chapter has a new influx of recruits to match the rate of those lost in constant battle.
History
"Do not fail your brothers. Though their bodies die, their spirit must return to the Chapter. That is your charge. In Nostra Manus - Progenies Futura."

— Votus Apothecarius
Space Marine Apothecaries are charged with maintaining the bodily health of their Battle-Brothers, whether this is monitoring their genetically engineered implants or administering emergency medical attention on the field of battle. Only the bravest of warriors are chosen for this honoured duty, for each must look first and foremost to the health of his companions, and consider his own life as secondary. Apothecaries are at once mighty warriors and selfless servants, and each would fight their way through hordes of vile enemies to reach a fallen Battle-Brother and then transfuse the very last drop of his own blood to save the life of the wounded. The Apothecary's role in a Space Marine Chapter is to serve as both a battlefield medic and a biomedical researcher. Along with being highly trained in the fields of medicine, surgery and medical research, they are amongst the elite warriors in the Chapter.
Apothecaries are greatly honoured within the Chapter, as they are responsible for maintaining the purity of its gene-seed. If its gene-seed were to become mutated or corrupt, this could well bring the Chapter's extinction or its fall to Chaos. The Apothecaries are charged with maintaining the health and genetic purity of the Space Marines. Their skills and equipment, when combined with the genetically-engineered organs and biological resilience of a Space Marine, allow an Apothecary to perform battle surgery with a good chance of success. Not all wounded Space Marines can be saved; some are beyond even the Apothecary's potent skills. In this case, it is the Apothecary's responsibility to administer the "Emperor's Peace" -- euthanasia -- to those warriors who have earned its release. The Apothecary's medi-pack or Narthecium includes a special humane euthanasia device for this task, ironically called a Carnifex, that is a solid, spring-loaded piston of metal. This is applied to the sufferer's temple, its powerful spring hurling the piston through the Astartes's brain and killing him instantly.
It is also the Apothecary's duty to harvest from the bodies' of fallen Space Marines the two implanted Progenoid Glands, allowing for the gene-seed material to be cultivated from these organs and re-implanted in a Neophyte. Space Marines rarely go into battle without an Apothecary being available, as every Astartes is a valuable resource and to lose any of their gene-seed would be a blow to the Chapter. Each Company in a Chapter has an attached Apothecary that accompanies them into battle. Additional Apothecaries staff the Chapter's Apothecarion, although these senior Apothecaries rarely take to the field, instead acting as biomedical researchers and occupying themselves in taking part in the training of Neophytes and potential new Apothecaries. It is unknown if new Apothecaries start out as regular Space Marines like Chaplains or begin their careers from the start as medics much as a Chapter's Librarians begin as psykers.
Prime Helix
"Pain and death are illusions of the weak mind. While his gene-seed returns to the Chapter, a battle-brother cannot die. Without death, pain loses its relevance.
He that may still fight, heal.
He that may fight no more, give him peace.
He that is dead, take from him the Chapter's due."

— Attr. to Master of the Apothecarion Aslon Marr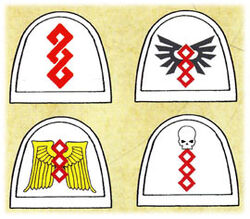 The insignia of the Apothecaries is the "Prime Helix", a badge that symbolises the Space Marines' altered DNA which ultimately derives from the Emperor of Mankind's own genome, rendered in bright red. The symbol represents the sacred genetic code of the Chapter's gene-seed. The helix symbol is often adorned with additional iconography such as wings and skulls. The Apothecaries of most Chapters wear white Power Armour, with the left shoulder plate retaining the traditional Chapter colours along with the Chapter badge. The right shoulder plate displays the Prime Helix. Some less traditional Chapters use different schemes for their Apothecaries.
Deathwatch Service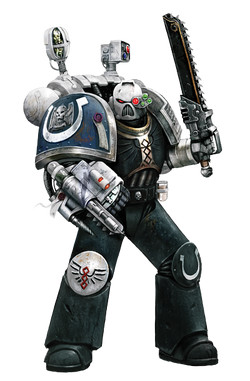 Many Apothecaries are known to perform the Long Watch with the Chamber Militant of the Ordo Xenos, better known as the Deathwatch. Deathwatch Apothecaries take on a number of additional duties over those performed in their parent Chapter. For a start, they must master the genetic inheritance not only of their own gene-seed, but of a myriad of other Chapters too, so that they might monitor and maintain the implants of all their fellow Space Marines, each of which may be drawn from a different Chapter. In this matter, Deathwatch Apothecaries occupy a uniquely trusted position. Space Marine Chapters do not lightly share the details of their gene-seed, with its associated traits, variations, and even mutations. Deathwatch Apothecaries are sworn to maintain the secrets of each of the Chapters from which their fellows are drawn, an oath that carries the harshest of penalties should it ever be broken.
Aside from monitoring the state of the Space Marines' implants and altered metabolisms, the Apothecaries must also be ever alert to the risk of alien contamination. Whilst undertaking their missions, Deathwatch Kill-teams are likely to come into contact not only with creatures of utterly alien biology, but with all the bacterial life that accompanies them. While the Space Marines are blessed with the very strongest of human immune systems, it is known that the spores of some alien life forms can cause mutation or death even in the Adeptus Astartes. There are some xenos that actually reproduce in this vile manner, their seed infecting the victim and slowly mutating him into the original life form. Such blasphemy must be guarded against, and the Apothecaries administer an entire bank of metabolic and genetic tests on every member of a Kill-team before and after every mission.
Another area in which the Deathwatch Apothecaries are highly involved is that of training. Deathwatch Kill-teams push their bodies to, and beyond, the limits of even their unique superhuman physiology, and the Apothecaries must monitor this process closely. But they are a part of the training too, for the Apothecaries often aid the Watch Captains in formulating the most arduous of training regimens. Using his unique knowledge of his charges, the Apothecary can induce various states in his Battle-Brothers, under which their skills and strengths will be tested all the further. Interfacing remotely with a Battle-Brother's armour systems, the Apothecary might disable a limb, limit blood oxygen levels or simulate the effects of any number of poisons, all in the cause of maintaining combat readiness.
The greatest duty that a Deathwatch Apothecary must perform is to recover the gene-seed of a fallen Battle-Brother, so that it may be returned to his parent Chapter, and he may live on through the creation of future generations of Space Marines. This is a solemn enough task in a normal Chapter, but takes on an additional weight in the Deathwatch. No Chapter would agree to despatch its sons across the galaxy to fight at the behest of the Inquisition and other Chapters (some of whom may be ancient rivals), were it not for the certain knowledge that their gene-seed will be returned should they fall. It has been known for a Chapter to temporarily withhold its honour service to the Deathwatch if too many of its Space Marines serving with the Ordo Xenos have been killed and their precious gene-seed irretrievably lost. Thus, the survival of a Space Marine's parent Chapter and the reputation of the Deathwatch itself relies on the action of the Apothecaries.
Wargear
Apothecary
Diagnostor Helmet - Apothecaries often replace their usual helmet with a Diagnostor Helmet, which contains upgraded Auto-senses and readouts to assist with their charge of treating the injured and maintaining their Battle-Brothers' physical combat readiness.
Narthecium - The tool of an Apothecary's trade, a Narthecium contains implements specially designed for Space Marine physiology and for performing first aid without having to remove the patient's Power Armour. It also comprises various counterseptics, skin patches, transfusions and other compounds engineered for the Space Marines' physiology, and several stasis tubes for storing recovered gene-seed.
Reductor - Retrieval and storage of a fallen Battle-Brother's gene-seed is so critical that Apothecaries carry a special tool for this operation, often included as part of the Narthecium. While a Reductor is not required for Progenoid removal, it significantly reduces the time. This surgical implement fastens under the wrist. It includes a monomolecular saw for penetrating Power Armour and Ossmodula-enhanced rib cages, and a diamantine-tipped extractor drill.
Primaris Apothecary
Apothecary Variants
Blood Angels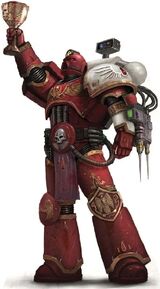 A Sanguinary Priest is a specialist officer unique to the Blood Angels Space Marine Chapter and its Successors. The Sanguinary Priest performs the duties of an Apothecary in a Codex Astartes-compliant Chapter as well as other services peculiar to the inheritance of the Primarch Sanguinius. While the Apothecaries of other Chapters monitor their charges for genetic purity and provide all needed biomedical services, the duties of the Sanguinary Priests transcend this mundane medical need. Some Scions of Sanguinius are driven by a terrible deathseeking madness called the Black Rage, brought on by visions of the death of their Primarch when he confronted the Warmaster Horus aboard his flagship the Vengeful Spirit in orbit of Terra during the closing days of the terrible Horus Heresy. Others are afflicted by the terrible Red Thirst, a craving for blood which some claim may be the first signs of corruption by Chaos. The Sanguinary Priests tend to Astartes afflicted with these genetic curses. They are also responsible for inducting all Aspirants into the Chapter as Neophytes as well as overseeing their implantation with the gene-seed and Astartes organs.
Wolf Priests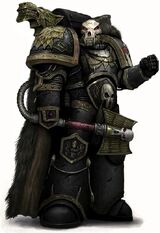 A Wolf Priest is a specialist officer unique to the Space Wolves Space Marine Chapter. A hybrid of the Chaplain and Apothecary roles found in Codex Astartes-compliant Chapters, the Wolf Priests administer to the physical and mental well-being of the Chapter's warriors and also choose the Aspirants to the Chapter from amongst the feral barbarian tribes of Fenris. These dour warriors combine the attributes of both combat medics, trained in the arts of healing and the lore of genetics, and tribal shamans, heavy with the accumulated wisdom of the ages. The Wolf Priests have no master save the Great Wolf himself, the Chapter Master of the Space Wolves.
Notable Apothecaries
Sources
Codex Adeptus Astartes - Dark Angels (8th Edition), pp. 33, 92
Codex Adeptus Astartes - Space Marines (8th Edition), pp. 65, 153, 155
Codex: Black Templars (4th Edition), pg. 18
Codex: Blood Angels (5th Edition), "Sanguinary Priests", pp. 48-49
Codex: Blood Angels (4th Edition), pp. 8, 15
Codex: Blood Angels (3rd Edition), pp. 5, 19
Codex: Angels of Death (2nd Edition), pg. 96
Codex: Chaos Space Marines (4th Edition), pp. 52-53
Codex: Chaos Space Marines (3rd Edition, 2nd Codex), pg. 39
Codex: Chaos Space Marines (3rd Edition, 1st Codex), pg. 25
Codex: Chaos (2nd Edition), pp. 44, 102-104
Codex: Dark Eldar (5th Edition), pg. 22
Codex: Space Marines (5th Edition), pg. 55
Codex: Space Marines (6th Edition), pp. 88, 125
Codex: Space Marines (7th Edition) (Digital Edition), "The Lords of the Chapter," "Command Squad", "Armoury of the Space Marines - Special Issue Wargear"
Codex Space Wolves (5th Edition), pp. 23, 50
Codex: Space Wolves (3rd Edtion), pg. 29
Codex: Space Wolves (2nd Edition), pp. 34, 39, 48, 76-77
Deathwatch: Core Rulebook (RPG), pp. 68-71, 165, 173, 175
Deathwatch: First Founding (RPG), pp. 38, 43-45
Deathwatch: The Jericho Reach (RPG), pp. 140-141
Horus Heresy: Collected Visions
Imperial Armour - The Horus Heresy: The Betrayal - Book One, pg. 198
Imperial Armour Volume Nine - The Badab War - Part One, pp. 76, 184
Index Astartes I, "Children of the Emperor - The Emperor's Children Space Marine Legion"
Index Astartes II, "Wolves of Fenris - The Space Wolves Space Marine Chapter" & "For the Emperor - Space Marine Chaplains"
Inferno! 29, "Crimson Storm" by Dan Abnett
Insignium Astartes, pg. 41
Realm of Chaos: Slaves to Darkness (1st Edition)
Warhammer 40,000: Compendium, "Medics", pp. 27-32
Warhammer 40,000: Index Astartes - Apothecaries (Digital Edition)
White Dwarf 278 (US), "Heroes & Villains of the 41st Millennium: Fabius Bile"
White Dwarf 255 (US), "Index Astartes First Founding: Children of the Emperor"
White Dwarf 227 (US), "Chapter Approved" & Fabius Bile: Chaos Lord", pp. 73-80
White Dwarf 208 (US), "Faith and Vengeance: Space Marine Chaplain Background and Tactics", pp. 78-86
White Dwarf 166 (US), "Space Marines: Codex Imperialis", pp. 8-19
White Dwarf 158 (US), "Ragnar Blackmane, Njal Storm Caller & Ulrik The Slayer in Space Marine: Space Wolves", pp. 9-13
White Dwarf 157 (US), "Space Wolf Army List: Space Marines Space Wolves", pp. 2-21
White Dwarf 156 (US), "The Space Wolves", pp. 8-25
White Dwarf 102 (US), "Index Astartes: Medics", pp. 71-80
Galaxy In Flames (Novel) by Ben Counter
Fulgrim (Novel) by Graham McNeill
The Primarchs (Anthology), "The Reflection Crack'd" by Graham McNeill
Brotherhood of the Snake (Novel) by Dan Abnett
Dark Imperium (Anthology), "Apothecary's Honour" by Simon Jowett
The Gildar Rift (Novel) by Sarah Cawkwell
Red Fury (Novel) by James Swallow
Black Tide (Novel) by James Swallow
Gallery
Ad blocker interference detected!
Wikia is a free-to-use site that makes money from advertising. We have a modified experience for viewers using ad blockers

Wikia is not accessible if you've made further modifications. Remove the custom ad blocker rule(s) and the page will load as expected.