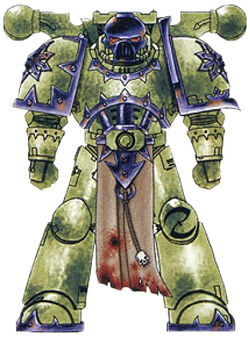 The Betrayers of Pain are a warband of Chaos Space Marines of unknown origin. Almost nothing is known about them in current Imperial records.
Chapter Appearance
Edit
Chapter Colours
Edit
The Betrayers of Pain wear corroded green-coloured Power Armour with purple trim and black, blasphemous sigils. Their helmet is sometimes also painted purple.
Chapter Badge
Edit
The Betrayers of Pain's warband iconography is a previously unknown blasphemous sigil of Chaos which resembles two curved scythe blades pointed in opposite directions, forming a circle centred on a field of green.
White Dwarf 333 (UK), "Chaos Space Marines - Other Chaos Warbands," by Mark Harrison, pg. 28