Ad blocker interference detected!
Wikia is a free-to-use site that makes money from advertising. We have a modified experience for viewers using ad blockers

Wikia is not accessible if you've made further modifications. Remove the custom ad blocker rule(s) and the page will load as expected.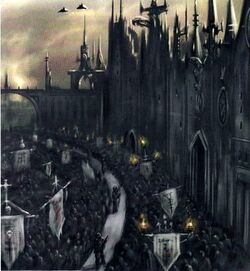 A Cardinal World is an Imperial planet ruled directly by the Ecclesiarchy that is completely dedicated to the worship of the God-Emperor according to the tenets of the Imperial Cult, with Imperial sanctuaries, cathedrals and temples potentially covering entire continents. Aside from already also being classified as a Shrine World that is a particularly important centre of the Ecclesiarchy's power and a destination for the countless pilgrims of the Imperial Cult, Cardinal Worlds also serve as a base of operations for many orders of the Adepta Sororitas. One example of an important Cardinal World is Ophelia VII, whose spiritual significance to the Imperial Cult is second only to that of Terra. The Planetary Governor of a Cardinal World is always a Cardinal of the Adeptus Ministorum, who often leads the Ecclesiarchy's hierarchy in an entire sector of Imperial space.
Notable Cardinal Worlds
Edit
| | | | | | |
| --- | --- | --- | --- | --- | --- |
| Planet Name | Segmentum | Sector | Sub-Sector | System | Population |
| Avignor | Segmentum Obscurus | Unknown | Unknown | Unknown | Unknown |
| Chiros | Segmentum Pacificus | Unknown | Unknown | Unknown | Unknown |
| Dimmamar | Segmentum Obscurus | Unknown | Unknown | Unknown | Unknown |
| Dorvastor | Unknown | Unknown | Unknown | Unknown | Unknown |
| Espandor | Segmentum Ultima | Unknown | Unknown | Unknown | Unknown |
| Fleur-de-Fides | Segmentum Solar | Unknown | Unknown | Unknown | Unknown |
| Gallilenus III | Unknown | Unknown | Unknown | Gallilenus System | Unknown |
| Gathalamor | Segmentum Solar | Unknown | Unknown | Unknown | Unknown |
| Heletine | Unknown | Unknown | Unknown | Unknown | Unknown |
| Ignatius Cardinal | Unknown | Unknown | Unknown | Unknown | Unknown |
| Lethan Tertius | Unknown | Unknown | Unknown | Unknown | Unknown |
| Nedicta Secundus | Unknown | Unknown | Unknown | Unknown | Unknown |
| Okassis | Segmentum Ultima | Unknown | Unknown | Unknown | Unknown |
| Ophelia VII | Segmentum Tempestus | Unknown | Unknown | Ophelia System | Unknown |
| Orthoda Rex | Unknown | Unknown | Unknown | Unknown | Unknown |
| Phaistos Osiris | Segmentum Ultima | Osiris Sector | Unknown | Osiris System | Unknown |
| Salem Proctor | Unknown | Unknown | Unknown | Unknown | Unknown |
| Savaven | Segmentum Obscurus | Gothic Sector | Quinrox Sound Sub-sector | Unknown | 14 billion |
| Scound's Fall | Segmentum Solar | Unknown | Unknown | Unknown | Unknown |
| St. Guise | Unknown | Unknown | Unknown | Unknown | Unknown |
Codex: Chaos Space Marines (4th Edition), pp. 42, 52
Codex Imperialis (2nd Edition), pg. 39
Codex: Sisters of Battle (2nd Edition), pp. 8, 10, 16, 24-25, 39-42, 60, 64
Codex: Space Marines (5th Edition), pg. 31
Codex: Ultramarines (2nd Edition), pg. 15
Codex: Witch Hunters (3rd Edition), pg. 45
Dark Heresy: Blood of Martyrs (RPG), pp. 9, 14-16, 23, 35, 39
Dark Heresy: Core Rulebook (RPG), pg. 250
Imperial Armour Volume Ten - The Badab War, Part Two, pp. 76-78
Inquisitor - The Throrians (Sourcebook) by Gav Thorpe, pg. 8
Warhammer 40,000: Rulebook (3rd Edition), pg. 114
Warhammer 40,000: Rogue Trader (1st Edition)
White Dwarf Magazine 305 (US), pg. 87
Crusade for Armageddon (Novel) by Johnathan Green
First and Only (Novel) by Dan Abnett
Predator, Prey (Novel) by Rob Sanders
Rebirth (Novel) by Nick Kyme
Redemption Corps (Novel) by Rob Sanders
Victories of the Space Marines (Anthology), "The Long Game at Carcharia," by Rob Sanders
Specialist Games - Fanatic Magazine #31, "Swords of The Faithful - Holy Relics in Inquisitor" by Alexander Nelson
Inquistor - Thorian Sourcebook by Gav Thorpe
Dawn of War II - Retribution - Blessed of Solivas (Wargear Selection Screen) (PC Game)