Celestial Guard
Talk

1
2,852pages on
this wiki
Celestial Guard

Warcry

Unknown

Founding

25th Founding (40th Millennium)

Successors of
Successor Chapters

Unknown

Number

Unknown

Primarch
Chapter Master

Unknown

Homeworld

Erenon

Allegiance
Colours

Purple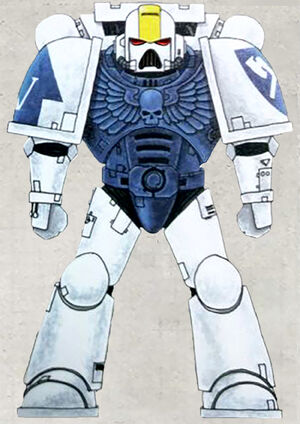 The Celestial Guard are a Loyalist Space Marines Chapter created during the 25th Founding from the gene-seed of the Crimson Fists. Their Chapter homeworld is called Erenon and is a storm-shrouded Ocean World located to the galactic northwest of Nocturne.
Chapter History
Notable Battles
The Lycanthos Drift Campaign - Fourth Quadrant Rebellion (780.M41) - The Celestial Guard took part in the Imperial intervention in the closing stages of the long-running Fourth Quadrant Rebellion in 780.M41, undertaking a campaign against one of the last major stronghold systems of the revolt located to the galactic south of the Maelstrom Zone. During this conflict Lugft Huron, of the then-loyal Astral Claws Chapter, was elected as the overall commander of the joint strike force of a number of Space Marine contingents, compromised of the Celestial Guard, Astral Claws, Fire Hawks and White Scars, backed by Imperial Guard regiments from Krieg and Cal-Sec and the Titans of Legio Venator. Under Lugft Huron's inspired command, the task force ruthlessly purged the heavily fortified Lycanthos System of the Forces of Chaos in under a year.
Siege of Erenon (997.M41) - The Celestial Guard defended their homeworld of Erenon from a siege by the Tyranid forces of Hive Fleet Leviathan.
Chapter Appearance
Chapter Colours
The Celestial Guard's Power Armour is primarily purple with cream-coloured shoulder plates and Aquila.
Chapter Badge
The Celestial Guard's Chapter badge consists of two crossed axes. Comet decorations are often incorporated into their Power Armour.
Sources
Codex: Space Marines (5th Edition), p. 30
Imperial Armour Volume Nine -- The Badab War -- Part One, pp. 57, 59
Gallery