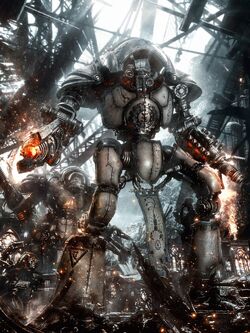 One of the rarest and most potent Imperial Knight patterns, the Knight-Atrapos is a unique variant type of the standard Cerastus Pattern. Bearing particularly rare and potent weaponry of annihilation, the Cerastus Knight-Atrapos was created solely to destroy Heretek engines and xenos war machines whose very nature and existence were considered a blasphemy to the Omnissiah. The Machine Spirits of the Knight-Atrapos are said to carry with them a cold and all-destroying hunger, and for the Noble scion who bonds with them, madness is a constant risk. But for such storied honour, however dark the outcome, this may be a price worth paying. The Cerastus Knight-Atrapos carries arcane and devastating weapons into battle; the focussed and deadly Atrapos Lascutter, that sees duty as both a ranged and close combat weapon, and the violently destructive, but potentially unstable, Graviton Singularity Cannon. With the speed and shielding of the Cerastus chassis, and the Knight-Atrapos' Macro-Extinction Targeting Protocols, the Cerastus Knight-Atrapos is an uncommonly destructive weapon of war.
Optional Wargear
Edit
Ad blocker interference detected!
Wikia is a free-to-use site that makes money from advertising. We have a modified experience for viewers using ad blockers

Wikia is not accessible if you've made further modifications. Remove the custom ad blocker rule(s) and the page will load as expected.