Chain Weapons
Talk

0
2,851pages on
this wiki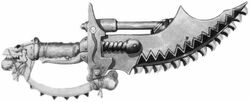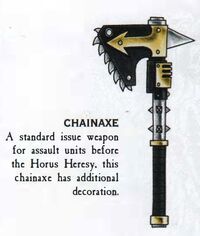 Chain Weapons are any of a class of weapons that possess motorised biting teeth that saw and slash through the enemy, in a similar fashion to chainsaws. The teeth themselves are fashioned to be incredibly sharp, in some cases carrying a monomolecular edge, and are capable of slicing through steel bulkheads.The most common form of chain weapon is the Chainsword, frequently carried by Assault troops and low-ranking officers of the Imperial Guard and Space Marines (including the Traitor Legions); but it is sometimes seen amongst other races, notably the Striking Scorpions Exarchs of the Craftworld Eldar and elite Orks. Another common variant is the Chainaxe, which is usually carried by Chaos Space Marines (normally of the World Eaters Legion) known as Khornate Berserker, as the Chainaxe was once a standard-issue close combat weapon for Assault Marines during the time of the Great Crusade. Such is the skill of these Berzerkers and the weight of their massive Chainaxes that the axes are nearly as powerful as the much-feared Power Weapon.
A larger, extended version of the Chainsword, known as the Eviscerator, is usually seen in the hands of religious fanatics such as penitent Sisters of Battle or the zealous and fiery Redemptionists. Eviscerators, being large, two-handed weapons, are generally powerful enough to have similar effects to the Chainfists frequently carried by Terminators. Other variations of the Chain Weapon are used all over the galaxy. Space Marine Terminators often replace their standard Power Fist with the Chainfist for use against enemy armoured vehicles. The Titans of the Adeptus Mechanicus may also be equipped with an enormous version of the Chainfist, for use against buildings and other Titans. The Space Wolves Chapter of the Space Marines use a Chainsword or Chainaxe that has been fitted with the teeth of a Kraken, a native beast of their homeworld of Fenris. This weapon is known as a Frostblade and is more potent even than a Power Weapon. This weapon is limited to warriors of the Chapter who have proven themselves worthy of such an honour.
Chain Weapons are not just limited to being incorporated into swords and axes. There also exist chain glaives and chain bayonets as well as a multitude of other melee weapons that have had their standard blades removed and replaced with chain blades.
Sources
Warhammer 40,000: Wargear (2nd Edition)
Warhammer 40,000: Wargear (4th Edition)