Crimson Guard
Talk

0
2,854pages on
this wiki
Crimson Guard

Warcry

Unknown

Founding

Unknown

Successors of
Successor Chapters

Unknown

Number

Unknown

Primarch
Chapter Master

Unknown

Homeworld

Unknown

Allegiance
Colours

Halved Red and Yellow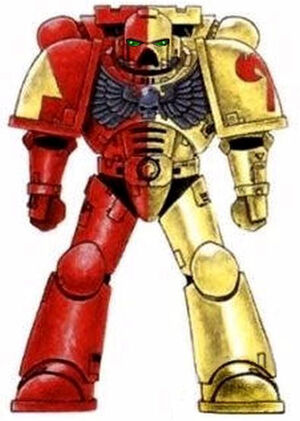 The Crimson Guard is a Codex Astartes-compliant Loyalist Space Marine Chapter. The Chapter was created using the gene-seed of the Crimson Fists. The Crimson Guard Chapter's Founding is not known. Almost nothing else is known about them in Imperial records.
Chapter Appearance
Edit
Chapter Colours
Edit
The Crimson Guard's Power Armour is painted halved red and yellow. The Aquila is black.
Chapter Badge
Edit
The Crimson Guard's Chapter badge is a pair of red crossed single-headed axes on a yellow background.
How to Paint Space Marines (2004)