"To say that a planet that has been lost to the Warp is horrifying is a severe understatement. It is every sin, fear, and desire of the human psyche made real."

— Confessor Berenice Chartrand, Manifestations of the Fallen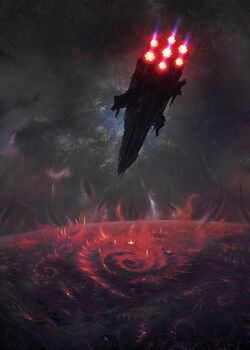 A Daemon World is a planet twisted and corrupted by the power of Chaos and the Warp after being trapped in a prolonged Warp rift. Entwining the impossibilities of the Warp and the reality of the material universe, Daemon Worlds are not bound by the laws of physics, but by the whim of their daemonic rulers and the emotions of their mortals' collective unconsciousness. Daemon Worlds are usually ruled by a Daemon Prince, who can shape the world's environment to his liking due to the pure psychic mutability of the Warp. Each of these worlds is a bizarre sub-reality ruled by their terrible Daemon Princes. The majority of the known Daemon Worlds are to be found within the great Warp rift known as the Eye of Terror. Those few that are known to exist within realspace within the boundaries of the Imperium of Man are rigorously quarantined by the forces of the Imperial Inquisition. These worlds are rarely subject to an Exterminatus, as the reality-shifting effects which predominate in the local space around a Daemon World usually preclude any attempt by the Imperium to eliminate it. This is one reason why the Inquisition will move so swiftly and mercilessly to unleash a purge upon any world where the Forces of Chaos gain a hold, to preclude them from transforming it into another Daemon World that will be impossible to eradicate from Imperial space.
The four major Chaos Gods continuously compete to possess the Daemon Worlds. Armies of daemons and their living allies fight huge and bloody battles to determine which of the Chaos Powers will dominate them, adding the world to their realms within the Warp. These battles often last for hundreds of years, so that the entire world becomes little more than a gigantic arena where the opposing forces are pitched against each other. The Chaos Powers do not, of course, appear in person to lead their armies -- they are spectators to events, not participants. Their generals are Greater Daemons and favoured Daemon Princes who, because they were once alive as mortals, understand the nature of both the material universe and the Immaterium.
The most powerful of human psykers have reportedly had visions of worlds located in the Eye of Terror. On one world a black sun stands in a white sky and smoky threads pour from it onto a tangled black city. This is Medrengard, the world of the Daemon Primarch Perturabo of the Iron Warriors Traitor Legion. Another planet within the Eye is marked by lakes of blood from which spheres of fire float into the air and spread their light across the sky. This is Bubonicus, the world of the Daemon Prince of the same name, a servant of Nurgle. Visions of such places routinely disturb potent psykers across the galaxy, and can presage an attempt at daemonic possession.
Once a Daemon Prince has conquered a Daemon World or brought a world from the physical universe into the Warp, his grateful Patron gives it to him as a gift to rule over as he wishes. When a Daemon Prince takes control of his hard-won world he uses his mighty sorcerous powers to reshape it into a form which pleases him. Because of this, every Daemon World is different and all are equally horrific in their own way.
Life on a Daemon World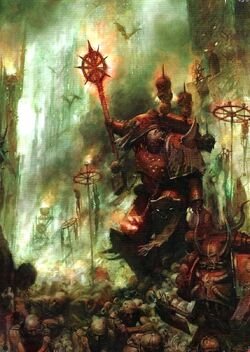 Most Inquisitorial visits to Daemon worlds are short-lived and matters of dire necessity. This makes useful information regarding how a planet bathed in Warp energies appears or behaves very rare indeed. The few reliable accounts, however, detail that survival comes at a high cost and a portion of one's soul is almost always the first down payment. Tales of being hunted by Daemons over changing terrain are common, confrontations with one's worst fears frequent; seeing friends and loved ones die is a prevailing theme. Natural laws cease to be constants. Rocks bleed or cry out when picked up. Some tales speak of mortals having to reassemble their bodies every morning in order to get up. There is no shortage of madness on these worlds.
Some sages of forbidden lores postulate that either those trapped on these worlds control some of the makeup of the world or that the Daemons rely on the constant stream of emotional output to ensure the survival and continued propagation of their "guests." Though other ideas are shopped among the halls of the greatest daemonologists, what is very clear is that there are very few human beings strong enough to survive the barrage of horrors these worlds create. The few who have survived, and who have been able to tell their tales, have commented that the luckiest among them are those already dead.
Some Daemon worlds are devoted to a single Chaos God, or ruled by a powerful Daemon Prince, but many are cauldrons of unending war where no individual or faction dominates. While not improbable, places where Daemons can find stability outside of their nightmare realm are a rare commodity, and thus attract much competition from other denizens of the Warp. Many of the explored Daemon worlds are eternal battlegrounds, where any human inhabitants are caught in the daemonic crossfire.
When a planet is classified as a Daemon world, it is present in realspace or has been at some time. It is in these rare moments that Imperial agencies such as the Adeptus Astartes might be tasked with reconnaissance of the location. Occasionally, along with lost relics and new insights, survivors are found with sanity and souls intact. The blessed individual who has withstood the horrors of a Daemon world offers the Inquisition unique opportunities. Since most others who are still alive are certifiably insane or catatonic, they are a source of somewhat reliable information which is all but impossible to obtain any other way. Though always sequestered after rescue to ensure safety, many of these people have skill sets far too valuable to leave dormant behind locked doors. Those who make it off these accursed worlds often come from backgrounds that lend themselves to withstanding the horrors of the Warp.
One characteristic that many of these survivors show is a stronger connection to the Warp. They are forever attuned to disturbances and entities from the other side of the veil. While this skill only seems to be active in realspace, this sensitivity allows them to know when daemonic entities or psychic phenomena are nearby. Those few capable of explaining how it works for them indicate that it is an infusion of colour and brilliance in what is largely a grey world. These rare individuals come to an Inquisitor's service bearing the scars of exposure. Odd compulsions, night terrors, and paranoia are common among these survivors. Many display wills of steel, forged in their daily resistance to their daemonic homeland, or possess humour bitter and dark to reflect the horrors they have lived through. Knowing this, Inquisitors using Acolytes from a Daemon world maintain a short leash on these individuals, for the threat of corruption is always strong.
Nightmare Realms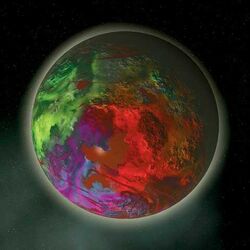 Daemon Worlds were once planets created and ruled by the processes and laws of nature. Yet, through some cataclysmic incursion, they are now entirely claimed by the Warp, forming permanent islands of the Immaterium in the midst of realspace. A daemon can move unhindered from the Warp to one of the Daemon Worlds and the four Great Powers of Chaos continuously compete to possess them. Armies of daemons and their living allies fight huge and bloody battles to determine which of the Chaos Powers will hold sway. These battles often last for hundreds of standard subjective years, so that the entire world becomes little more than a gigantic arena where the opposing forces are pitched against each other. They represent the eternal conflict known as the Great Game between the Ruinous Powers, manifested in a very real way through the deeds and drives of those who would serve them. The generals of these armies are Greater Daemons and Daemon Princes, the latter because they were once alive as mortals and understand the nature of both the material universe and the immaterial Realm of Chaos. Once a Daemon Prince has conquered a world, he claims it as it own to rule in his patron's name as he wishes.
When a Daemon Prince takes control of his hard-won world he uses his mighty powers to reshape it to a form that pleases him. Because of this, every Daemon World is different and all are equally spectacular in their own way. Some are host to oceans of bubbling viscera, while some are shaped into grinning skulls visible from millions of miles away. Some have landscapes that could only be possible in the Warp, such as mountains floating in the sky or volcanoes into which rivers of lava flow backwards. The mortal population of a Daemon World serves Chaos in two equally important ways. Mortals provide the manpower for the armies of Chaos, especially for the armies that invade the material universe. Mortals worship the uncaring Chaos Gods and in so doing swell their presence in the Warp.
Although the Eye of Terror seethes with almost perpetual war, not every mortal creature is necessarily harnessed to battle. Only those who are brave enough to fight their way to freedom from the slave-pits, prayer gangs, and black factories may fight in the name of Chaos and so draw power from it. The remainder serve through work and worship. Slaves are rewarded in the bitter way of Chaos, learning to love the lash. They become frenzied with pleasure as they approach extremes of self-sacrifice, trying to outdo their neighbours in their efforts to please their overlords. Many populations labour not in the daemonic foundries, but in planet-sized prayer-hordes. Countless millions are whipped into a fervour of devotion, the Warp resounding to their frenzied prayers while the Ruinous Powers grow all the more powerful through their sacrifice. Below can be found a list of the most well-known Daemon Worlds in the galaxy:

Select List of Daemon Worlds
Notable Daemon Worlds
Sources
Black Crusade: Core Rulebook (RPG), pg. 326
Black Crusade: The Tome of Blood (RPG), pp. 75-113
Black Crusade: The Tome of Fate (RPG), pp. 75-79, 84-102
Codex: Chaos Daemons (4th Edition), pg. 18
Codex: Chaos Space Marines (6th Edition), pp. 18-19, 22
Codex: Eldar Crafworlds (7th Edition) (Digital Edition), pg. 7
Codex: Imperial Guard (5th Edition), pg. 23
Codex: Khorne Daemonkin (7th Edition), pg. 35
Codex: Skitarii (7th Edition), pg. 23
Codex: Space Marines (6th Edition) (Ebook), pg. 132
Crusade of Fire (Campaign Book), pg. 85
Dark Heresy: Enemies Beyond (2nd Edition) (RPG), pp. 26-27
Deathwatch: The Achilus Assault (RPG), pp. 87-90
Imperial Armour Volume Six - The Siege of Vraks - Part Two, pg. 163
Realm of Chaos: Slaves to Darkness (1st Edition)
Realm of Chaos: The Lost and the Damned (1st Edition)
The Citadel Journal 34, pg. 34
Dark Adeptus (Novel) by Ben Counte
Dark Apostle (Novel) by Anthony Reynolds
Dark Disciple (Novel) by Anthony Reynolds
Hammer of Daemons (Novel) by Ben Counter
The Traitor's Hand (Novel) by Sandy Mitchell'
Ad blocker interference detected!
Wikia is a free-to-use site that makes money from advertising. We have a modified experience for viewers using ad blockers

Wikia is not accessible if you've made further modifications. Remove the custom ad blocker rule(s) and the page will load as expected.