Dark Eagles
Talk

0
2,852pages on
this wiki
Dark Eagles

Warcry

Unknown

Founding

Unknown

Successors of

Raven Guard (Suspected)

Successor Chapters

Unknown

Number

Unknown

Primarch

Corax (Suspected)

Chapter Master

Unknown

Homeworld

Unknown

Allegiance
Colours

Grey-Green with White Markings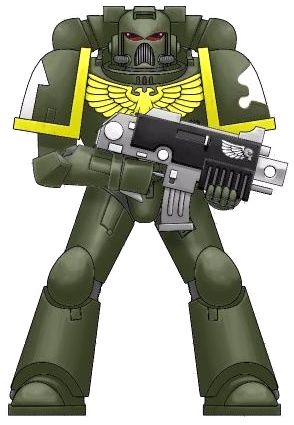 The Dark Eagles are a Loyalist Codex Astartes-compliant Space Marine Chapter of unknown origin and Founding, though they are suspected of being a rare Successor Chapter of the Raven Guard. Unfortunately, at this time almost nothing is known about the Chapter beyond their name and Chapter appearance.
Chapter History
Virtually nothing is known of this obscure Chapter except that it may be a rare Successor Chapter of the Raven Guard during one of the later Foundings.
Notable Campaigns
There are no known notable campaigns.
Chapter Appearance
Chapter Colours
The Dark Eagles Power Armour is painted olive drab or grey-green with Codex Astartes-coded trim on the shoulder plates and a yellow Aquila on the chest plate.
Chapter Badge
The Dark Eagles' Chapter badge is a white wing.
Sources
Imperial Armour: Volume Eight - Raid On Kastorel-Novem, pp.104-112
Insignium Astartes, p. 59
Gallery