The Death Strike is a Codex Astartes-compliant Loyalist Space Marine Chapter of unknown Founding that is a Successor Chapter of the Imperial Fists. The Chapter's fortress-monastery is located on its homeworld of Nihilas. This Chapter is one of several tied to the genetic legacy of Rogal Dorn that competes in the Feast of Blades. The Death Strike is very similar in appearance to the controversial Rainbow Warriors Chapter first revealed in the original Warhammer 40,000 rule book Rogue Trader. The main difference is that the Rainbow Warriors' Chapter badge is white, and their helmet stripe is multicoloured like a rainbow instead of being yellow.
Chapter History
Edit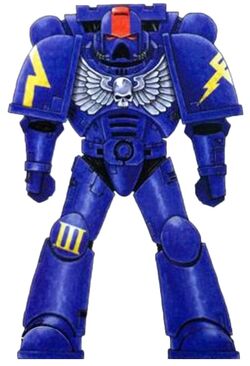 Notable Campaigns
Edit
Chapter Appearance
Edit
Chapter Colours
Edit
The Death Strike Chapter primarily wears dark blue Power Armour. The Aquila or Imperialis on the chest is silver. The yellow, open-faced squad specialty symbol -- Tactical, Assault, Devastator or Veteran -- is indicated on the right shoulder plate. The yellow Roman numeral on the right knee guard as well as the colour of the helmet stripe, indicate company number in accordance with the Codex -- i.e. White (1st Company), Yellow (2nd Company), Red (3rd Company), etc.
Chapter Badge
Edit
The Death Strike's Chapter badge is a yellow, winged lightning bolt on a field of dark blue.
Adeptus Astartes: Successor Chapters (Limited Release Booklet), pg. 34
Codex: Space Marines (6th Edition), pg. 70
Codex: Tyranids (5th Edition), pg. 29
How to Paint Space Marines (2004), pg. 88
Imperial Armour Volume Two - Space Marines and Forces of the Inquisition, pp. 52, 137, 150
Imperial Armour Volume Two (Second Edition) - War Machines of the Adeptus Astartes, pp. 18, 22
Insignium Astartes: The Uniforms and Regalia of the Space Marines, pg. 52
Rogue Trader (1st Edition), pg. 168
Legion of the Damned (Novel) by Rob Sanders, pg. 79
Ad blocker interference detected!
Wikia is a free-to-use site that makes money from advertising. We have a modified experience for viewers using ad blockers

Wikia is not accessible if you've made further modifications. Remove the custom ad blocker rule(s) and the page will load as expected.