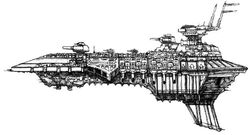 The Despoiler-class Battleship is a formidable Battleship design originally developed by the shipbuilders of the Battlefleet Tempestus in the mid-36th Millennium. There were initially plans to construct fifteen of these Battleships, but only three were completed at the time. Over the centuries, these first three Despoilers went missing and later reappeared in the Chaos Fleets of Abaddon the Despoiler.
History
The Despoiler-class Battleship was originally developed during the mid-36th Millennium at a time when Battlefleet Tempestus was pervaded by the belief that Attack Craft were the ultimate naval weapon. As such, the Despoiler-class is primarily an Attack Carrier based around a very large number of launch bays, which are supported in their mission by an array of long-range Lances and even longer-ranged weapons batteries. However, the program ended after the construction of just three Despoiler-class vessels when it was decisively shown that Attack Craft did not render the "traditional" Battleship obsolete. Ultimately, the three Despoilers originally saw little combat as they were used for long-range patrols in mostly unthreatened star systems. Roughly two and a half standard centuries after being built, the Despoiler-class Battleship Merciless Death went missing from the Amerikon Sector, reappearing thirty standard years later during the Banardi Conflict when it attacked sixteen Imperial transports en route to Banardi Prime. The Merciless Death would continue to harass Imperial shipping until the early 39th Millennium, when it disappeared again, followed this time by the other two Despoilers. All three would reappear again during the Gothic War in the early 41st Millennium.
Notable Despoiler-class Battleships
Canon Conflict
The Battlefleet Gothic Rulebook states that the Despoiler-class was not developed until the mid-36th Millennium, however, there are other official sources that state the Despoiler-class may be a far older design than originally portrayed. The Index Astartes II article on the Imperial Fists Space Marine Chapter states that their Primarch Rogal Dorn was killed aboard the Sword of Sacrilege, a Despoiler-class Battleship. The Chaos Lord Arkos the Faithless is also said to possess a Despoiler Battleship, the Anarchy's Heart, as described in Imperial Armour Volumes Six and Seven. It is possible that this oversight can be explained that when the Despoiler-class was being developed in the mid-36th Millennium, its template might have been taken from an older design utilising STC plans.
Sources
Battlefleet Gothic Rulebook (Blue Book), pg. 117
Imperial Armour Volume Six - The Siege of Vraks, Part Two, pg. 178
Imperial Armour Volume Seven - The Siege of Vraks - Part Three, pg. 84
Index Astartes II, "Emperor's Fist - The Imperial Fists Space Marine Chapter", pp. 15-16
Pandorax (Novel) by C. Z. Dunn
Ad blocker interference detected!
Wikia is a free-to-use site that makes money from advertising. We have a modified experience for viewers using ad blockers

Wikia is not accessible if you've made further modifications. Remove the custom ad blocker rule(s) and the page will load as expected.