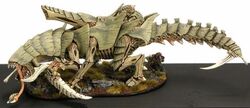 A Dominatrix (Tyranicus praepotens) is the Tyranid Norn-Queen's link to the Tyranid swarms on the ground as the Norn-Queen must stay aboard the Hive Fleet's largest Hive Ship to continue birthing more Tyranid bioforms. This colossal creature is a fearsome opponent, for its sheer mass and panoply of bio-weaponry dwarf that of an Imperial super-heavy tank. The Dominatrix is no unthinking beast -- its level of intelligence is akin to that of the Hive Tyrant, and its link to the Hive Mind surpasses even those mighty creatures. Whilst within range of the Dominatrix's psychic aura, lesser Tyranid creatures become little more than an extension of the Dominatrix's will. As a result, a swarm under the Dominatrix's direct supervision functions with uncanny efficiency and a tactical genius that is beyond compare. Fortunately, such beasts are extremely rare in all but the most advanced and mature Tyranid swarms, for where the Dominatrix treads, doom surely follows.
Codex Tyranids (5th Edition), pg. 21
Ad blocker interference detected!
Wikia is a free-to-use site that makes money from advertising. We have a modified experience for viewers using ad blockers

Wikia is not accessible if you've made further modifications. Remove the custom ad blocker rule(s) and the page will load as expected.