The Eldar Eclipse-class Cruiser is arguably the most effective Attack Craft carrier in the entire Gothic Sector due to the immense speed and maneouverability that is common to all Eldar spacecraft, including the Eclipse. While most carriers must maintain a considerable distance from the foe, thus increasing the amount of time its fighters and bombers spend approaching their target, the Eclipse-class can deploy its Darkstar Fighters and Eagle Bombers, unleash a Pulsar Lance barrage while launching its attack craft and then retreat to safety. Coupled with the incredible effectiveness of Eldar attack craft, the Eclipse is an almost-perfect convoy raider and was the bane of many an Imperial commander during the Gothic War.
Notable Eclipse-class Cruisers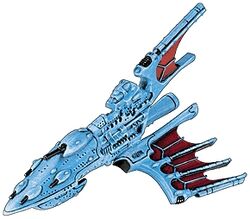 Dimensions
Hull: Approximately 4.7 kilometres long, 1.4 kilometres abeam at solar sail "wings"
Class: Eclipse-class Cruiser
Mass: Approximately 18 megatonnes
Crew: Unknown
Acceleration: 8 gravities maximum sustainable acceleration
Sources
Battlefleet Gothic Resources: Ships of the Gothic Sector, pg. 131
Rogue Trader: Battlefleet Koronus (RPG), pg. 89
Ad blocker interference detected!
Wikia is a free-to-use site that makes money from advertising. We have a modified experience for viewers using ad blockers

Wikia is not accessible if you've made further modifications. Remove the custom ad blocker rule(s) and the page will load as expected.