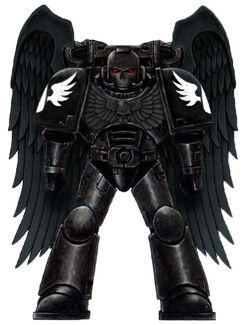 The Erelim are a specialist formation unique to the Blood Angels Space Marine Chapter. They are composed of a quintumvirate of Chaplains charged with protecting the hidden reclusiam of Astorath the Grim upon their Chapter homeworld of Baal, whose location is only known to the Chapter Masters of the Blood Angels and their Successor Chapters. Stripped of all insignia and adornment save their Chapter's symbol emblazoned upon their shoulder plates, they are as dark mirrors to the Sanguinary Guard that stand in the light of Lord Commander Dante. Even their Skull Helms have been daubed death-black and their Jump Packs have been framed by halos of the darkest feathers. Nothing but the glow of their crimson optics betray them in the half-light of their eternal posts.
Gabriel Seth: The Flesh Tearer (Short Story) by Andy Smillie
Ad blocker interference detected!
Wikia is a free-to-use site that makes money from advertising. We have a modified experience for viewers using ad blockers

Wikia is not accessible if you've made further modifications. Remove the custom ad blocker rule(s) and the page will load as expected.