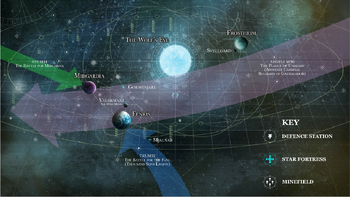 The Fenris System is an Imperial star system which is strategically located at the edges of both the Segmentum Obscurus and Segmentum Solar. This area of space is part of the demesne of the Space Wolves Chapter of Space Marines. The heart of the system is a blue-white star named the Wolf's Eye. The Space Wolves maintain the vigil over this system that began many millennia ago at the close of the Horus Heresy and watch over a hundred other worlds in the immediate stellar region besides. Their demesne stretches far and wide across the scattered stars that girdle the Fenrisian star system, but it is the bitterly cold Death World of Fenris at its heart that the Space Wolves proudly call home. Fenris serves as the Chapter's homeworld and the primary recruiting ground of the Space Wolves. It is situated in the galactic south of the Segmentum Obscurus, at the end of the Warp rift known as the Eye of Terror, from which the Forces of Chaos come forth to raid and pillage. Fenris thus maintains one of the primary bulwarks of the Imperium's defence against Chaos.
Notable Events
Edit
Worlds of the Fenris System
Edit
Fenris - Fenris is a Death World and the homeworld of the Space Wolves Chapter

Valdrmani - Called "The Wolf Moon," by Fenrisians, this lifeless moon is the only satellite orbiting Fenris.

Midgardia - Unlike the other planets and satellites of the Fenris System, which are mostly barren Ice Worlds, Midgardia is a highly lethal and toxic jungle-covered Death World. Because of the unnatural warm core of the planet, caused by the existence of the C'tan Shard of Nyadra'zatha imprisoned deep beneath the world's crust, the planet provides an ideal climate for a jungle to cover the majority of the planet's surface. The jungle produces toxic gasses too deadly to inhale, forcing the population of the world's humans to live underground. Pallid-skinned men and women carved their settlements from the roots of the jungle above, often hanging over the magma sea below. From the jungle roots, rich nutrients in the form of viscous strands of reddish pulp are extracted, which are used in the manufacturing of medicines. Dominating the northern polar cap of the world is the Emperor's Judgement, a Nova Cannon array that, like Nova Cannons employed on Imperial warships, has four interlinked barrels.
Frostheim - Frostheim is an Ice World that is inhabited by a human population very similar to those found on Fenris and Midgardia.

Svellgard - The only moon orbiting Frostheim.
Starforts
Edit
Mjalnar - A Ramilies-class Starfort based in the Fenris System that is part of the Space Wolves Chapter Fleet.
Gormenjarl - A Ramilies-class Starfort that aids in the defence of the Fenris System and is a part of the Space Wolves Chapter Fleet.
Champion's of Fenris - A Codex: Space Wolves Supplement (7th Edition), pp. 59-67, 69-76
Codex: Space Wolves (7th Edition), pp. 9, 11, 13, 16-17, 20-25