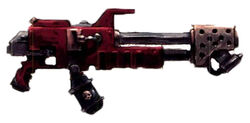 Flamer Weapons are flamethrower weapons, capable of unleashing a liquid incendiary chemical that bursts into flames as it leaves the weapon. Flame-based weapons are used by several of the intelligent races and their militaries across the Milky Way Galaxy, and are valued for their ability to destroy many enemies at once with a burst of expanding flame, regardless of any protective cover they possess.
The most common forms of Flame Weapons are Flamers and the more compact Hand Flamers, both of which are considered assault weapons due to their relatively short range. Loyalist Space Marine and Heretic Astartes Flamers work by firing a mix of highly volatile liquid chemicals which ignite with the use of a pilot light. This flaming chemical sticks to its target and continues burning on its own accord -- those who are not killed instantly die horribly as the super-hot chemical continues to burn through their bodies. The most common flammable substance used as Flamer fuel is Promethium, which is a petroleum-like jelly that can stick to a target and is very similar to the twenty-first century incendiary called napalm. 
A Heavy Flamer is a larger version of an Imperial Flamer, and possesses two nozzles, which can unleash a deadlier inferno. Heavy Flamers are often used by specialist weapon operators in dense conditions, such as during jungle or urban warfare, or by Space Marine Terminators who make good use of them during cramped ship-boarding actions. The Sisters of Battle of the Adepta Sororitas' Orders Militant also often carry Heavy Flamers in their squads. Heavy Flamers are most commonly seen mounted on many Imperial armored vehicles as secondary weapons, although the Sisters of Battle use twin-linked Heavy Flamers as primary weapons on their Immolator tank. More powerful Flamer-type weapons such as the Inferno Cannon also exist, and are available to the Collegia Titanica as weapons for Warhound-class Titans.
History
The origin of Flamer Weapons lay in Mankind's past, to at least the early 2nd Millennium, in its precursor, the flamethrower  -- a mechanical incendiary device designed to project a long, controllable stream of fire. Since this bygone age, Flamer Weapons, in one form or another, have been a part of Humanity's wars. By the late 30th Millennium, these deadly weapons were a valuable addition to the arsenal of the Legiones Astartes. Hand Flamers were common amongst the Legion Tactical Squads and Legion Assault Squads, whilst Heavy Flamers were a common weapon amongst Legion Terminator Squads assigned to boarding actions and similar "Zone Mortalis" engagements, where contact with numerous enemies in confined battle zones was anticipated. In the modern 41st Millennium, these ancient and formidable weapons are often feared by the foe at close quarters, and still play a valuable role in the military forces of the Imperium.
Imperial Flamer Variants
Flamer Tactics
Flamers are effective in breaking the cycle of Ork infestation of a world by destroying the fungal spores exuded by Orkoid corpses.
Flamers are an invaluable tactical choice in conditions where spotting the enemy is difficult due to dense terrain (such as jungles), during urban fights and bunker assaults.
Field commanders must always remember the devastating impression made by a well-used Flamer -- a single shot has the potential of destroying an entire enemy squad along with the morale of the whole enemy force.
Imperial Use
Chaos Space Marine Use
The Traitor Legions are able to carry larger-bore flame weapons with greater fuel reserves. These weapons can spit out more Promethium at a time, and thus deal more damage. Flamers and Heavy Flamers are widely used among the Chaos Space Marines with the same tactical use as the Loyalist Space Marines except in some notable cases:
Ork Use
In the Orks' warlike culture, Burna Boyz are seen as foolish but also really potent Greenskins, as only a very courageous Ork would carry into battle the large amount of highly flammable fuel needed to operate a Burna -- Greenskin Flamethrower that can spray a cloud of oily fire over everything the Ork sees. A Burna is also fitted with a special nozzle fed by valves that when activated unleashes a small blue arc of flame instead of the standard roaring orange conflagration. This small flame is similar to that produced by a Plasma Cutter and is hot enough to slice through even the thickest armour. However it has a much smaller range than the Burna's standard effects and to use it, the Burna Boy must get very close to the enemy.
Eldar Use
Tau Use
The Tau Empire's Earth Caste has developed Flamers designed for use as a weapon system for Tau XV8 Crisis Battlesuits. XV8 Crisis Battlesuits can also choose to use twin-linked Flamers, in which case it will take up two of their three available system hardpoints. Most often equipped when Battlesuit teams are expected to be fighting massed, lightly-armoured opponents, Tau Flamers are lethal weapons when used against foes in dense terrain.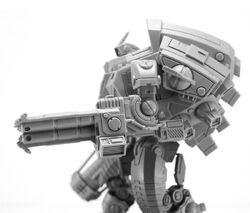 The Phased Plasma-Flamer is a large Tau triple-barrelled rotary Flamer Weapon capable of generating temperatures so hot that the emitted flames are in a plasma-like state capable of even vaporising ceramite. As such, the weapon is deadly to even the most heavily armoured infantry. The Phased Plasma-Flamer can be fired in two modes: single canister which only uses a single barrel, and full rotation which uses all three barrels to generate an extended flame burst with the drawback of a small potential for danger and damage to the Battlesuit itself. All XV109 Y'vahra Battlesuits wield a Phased-Plasma Flamer as part of their standard armament.
Sources
Black Crusade: Core Rulebook (RPG), pg. 158
Codex Adeptus Astartes - Space Marines (8th Edition), pp. 77, 157
Codex Adeptus Mechanicus - Cult Mechanicus (7th Edition) (Digital Edition), pg. 236
Codex: Blood Angels (5th Edition), pp. 57, 59
Codex: Dark Angels (4th Edition), pp. 48-49
Codex: Eldar (6th Edition), pg. 34
Codex: Eldar (4th Edition), pp. 32, 57, 62
Codex: Eldar (3rd Edition), pp. 10, 20
Codex: Eldar (2nd Edition), pp. 9, 23, 37, 40, 74
Codex: Imperial Knights (8th Edition), pg. 69
Codex: Orks (4th Edition), pp. 45, 89-90
Codex: Orks (3rd Edition), pg. 36
Codex: Space Marines (5th Edition), pg. 98
Codex: Space Wolves (5th Edition), pp. 57, 59
Codex: Tau (3rd Edition), pg. 17
Codex: Tau Empire (4th Edition), pg. 26
Dark Heresy: Blood of Martyrs (RPG), pg. 115
Dark Heresy: Core Rulebook (RPG), pp. 134-135
Dark Heresy: Daemon Hunter (RPG), pg. 132
Dark Heresy: The Inquisitor's Handbook (RPG), pp. 111, 160, 172
Dark Imperium (Novel) by Guy Haley, Chapter 18
Deathwatch: Core Rulebook (RPG), pp. 148-149
Deathwatch: First Founding (RPG), pg. 98
Deathwatch: Rites of Battle (RPG), pg. 135
Gorkamorka: Da Roolz (RPG), pg. 56
Imperial Armour Volume Eight - Raid on Kastorel-Novem, pp. 32, 93, 111, 119, 140, 193
Imperial Armour Volume Nine - The Badab War, Part One, pg. 120
Imperial Armour Volume Ten - The Badab War, Part Two, pp. 78, 128
Imperial Armour Volume Eleven - The Doom of Mymeara, pp. 116, 118
Imperial Armour Volume Twelve - The Fall of Orpheus, pg. 146
Inquisitor (RPG), pp. 78, 127
Only War: Core Rulebook (RPG), pp. 180-181
Only War: Hammer of the Emperor (RPG), pg. 113
Rogue Trader: Core Rulebook (RPG), pp. 123-124
Rogue Trader: Hostile Acquistions (RPG), pp. 51-52
Rogue Trader: Into the Storm (RPG), pp. 114, 142
Rogue Trader: The Koronus Bestiary (RPG), pg. 50
The Horus Heresy - Book Two: Massacre (Imperial Armour), pp. 77, 102, 123-124, 146, 248
Warhammer 40,000: Rogue Trader (1st Edition), pg. 77
Warhammer 40,000: Rulebook (6th Edition), pp. 51, 56
Warhammer 40,000: Rulebook (5th Edition), pg. 157
Warhammer 40,000: Wargear (2nd Edition), pg. 23
White Dwarf 389 (UK), pg. 71
White Dwarf 173 (US), "Eldar Pheonix Lords", pp. 6-9
White Dwarf 127 (US), "Eldar" by Rick Priestley, Jes Goodwin, William King & Lindsey D. Le Doux Paton, pp. 13-52