Ad blocker interference detected!
Wikia is a free-to-use site that makes money from advertising. We have a modified experience for viewers using ad blockers

Wikia is not accessible if you've made further modifications. Remove the custom ad blocker rule(s) and the page will load as expected.
A Fusion Blaster is a short-ranged Tau Melta Weapon that agitates the sub-atomic particles of the target, causing a massive build-up of heat. Living targets are often completely vaporised and non-living targets, even the most heavily armoured vehicles and fortifications, can be reduced to slag in the blink of an eye with its nuclear fusion-powered blast. The Fusion Blaster is most commonly utilised as a weapon system on Battlesuits. The Fusion Blaster is similar both technologically and tactically to an Imperial Meltagun, albeit it possesses a longer range and is most commonly employed by more mobile units.
Notable Users of the Fusion Blaster
Edit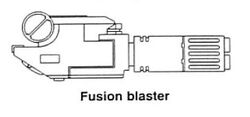 Codex: Tau (3rd Edition), pg. 17
Codex: Tau Empire (4th Edition), pp. 26, 35, 39, 46
Codex: Tau Empire (6th Edition), pp. 43, 47, 59, 65, 100
Imperial Armour Apocalypse (2nd Edition), pg. 82
Imperial Armour Three – The Taros Campaign, pp. 173, 190
Rogue Trader: Tau Character Guide (RPG), pg. 38
Dawn of War: Dark Crusade (PC Game)
Dawn of War: Soulstorm (PC Game)