Gal'leath-class Starship
Talk

0
2,854pages on
this wiki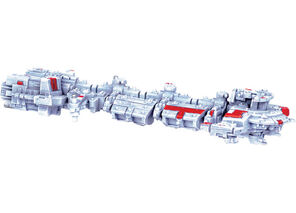 The Tau Navy's Gal'leath (Explorer)-class Starship was the scientific breakthrough, based on the reverse-engineering of an alien starship's technology, that essentially allowed the Tau to begin to expand across interstellar distances and settle the Tau Empire during the 39th Millennium. While the Gal'leath-class' Gravitic Drive is horrendously slow compared to Mankind's more advanced Warp-Drive since it only allows the Tau vessel to remain in the Immaterium for short bursts of travel rather than continuously, it proved adequate for the Gal'leath to carry out its role of exploring the stars. The galleon of the Tau Empire for many years, the Gal'leath-class' massive cargo holds were large enough to carry everything from modular orbital units to message craft. The Gal'leaths downfall came at the hands of the Orks. Never meant to be used as a warship, the Gal'leath simply could not keep the Orks' Kill Kroozers and Terror Ships at bay. It was ultimately replaced as the Tau's primary front-line starship by the Il'fannor (Merchant)-class cruiser, the completion of which led to Gal'leath production being cut by 85% in Tau orbital shipyards. Those remaining in service are being upgraded to the newest Mk XXIV variant in an effort to get the most use out of them. All Gal'leath-class vessels are equipped with Gravitic hooks for carrying Kass'l Gunships, launch bays for attack craft, and a prow railgun battery. The Mk XXIV configuration sacrifices some of those launch bays in favour of a powerful Gravitic launcher.
Notable Gal'leath-class StarshipsEdit
Notable Gal'leath-class Starships include:
Dal'yth Gal'leath Kessan - The Dal'yth Gal'leath Kessan may very well be the last Gal'leath-class starship to be built by the Tau on their Sept (colony world) of Dal'yth. It has been outfitted for a major military and scientific expedition to the breakway Tau Farsight Enclaves under the overall direction of the Ethereal Aun'shi himself.
Battlefleet Gothic Armada