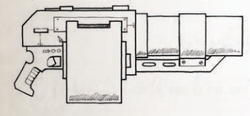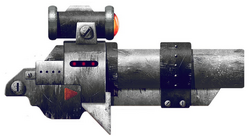 A Grenade Launcher serves the role of a launcher weapon that can be used and carried by a single un-augmented human. Unlike Missile Launchers, the explosive projectiles fired from a Grenade Launcher are not self-propelled, instead taking a ballistic trajectory once fired. The grenades are typically equipped with either Frag or Krak warheads, although Grenade Launcher projectile warheads are smaller and less powerful than the Missile Launcher warhead equivalents. Grenade Launchers are used most commonly by the Astra Militarum, although Inquisitorial Storm Troopers and Adeptus Arbites units are also known to use them. Grenade Launchers can fire a variety of grenade types but generally at a shorter range than other basic weapons due to the heavier nature of their payload. Unlike most weapons they can be fired in arcing shots designed to clear obstructions and strike farther into an enemy formation as well as simply being fired directly at foes. The common Voss Grenade Launcher holds a magazine of six grenades, but most find the weapon inaccurate even for a launcher. The Forge World of Mezoa produces what many believe is a superior shoulder-mounted weapon with a longer range, for though it is a single-shot device it has superior firing systems and is highly accurate.
Sources
Codex: Space Marines (7th Edition) (Digital Edition), "Armoury of the Space Marines - Ranged Weapons - Astartes Grenade Launcher"
Ad blocker interference detected!
Wikia is a free-to-use site that makes money from advertising. We have a modified experience for viewers using ad blockers

Wikia is not accessible if you've made further modifications. Remove the custom ad blocker rule(s) and the page will load as expected.