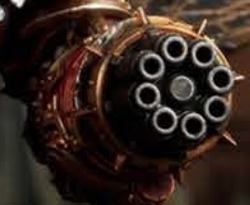 The Hades Gatling Gun is a massive Daemonic Weapon that is commonly used by the Lord of Skulls Daemon Engine, typically mounted on its left arm. The weapon is a large, multi-barrelled gatling weapon that is capable of shredding groups of enemy infantry with a hail of fire composed of its massive ballistic shells.
Warhammer 40,000: Apocalypse (6th Edition) (Digital Edition), pp. 13, 181-182, 257-259
White Dwarf 404 (AUS) - Khorne Lord of Skulls
Ad blocker interference detected!
Wikia is a free-to-use site that makes money from advertising. We have a modified experience for viewers using ad blockers

Wikia is not accessible if you've made further modifications. Remove the custom ad blocker rule(s) and the page will load as expected.