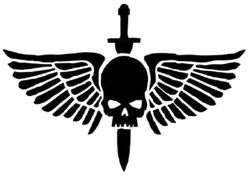 The Haemastamen, also known as the Blood Maker, is the 4th of the 19 gene-seed organs that are implanted into a Space Marine Neophyte to produce a new Astartes. Once implanted into a main blood vessel like the aorta, femoral artery or the vena cava, the Haemastamen alters an Astartes' blood's biochemical composition to carry oxygen and nutrients more efficiently. The actions of the Haemastamen turn a Space Marine's blood a brighter shade of red than that of normal humans because of its greatly increased oxygen-carrying capacity. It also acts to biochemically regulate the actions of the 2nd and 3rd gene-seed implants, the Ossmodula and Biscopea.
Codex: Black Templars (4th Edition), pg. 10
Codex: Space Marines (5th Edition), "The Making of a Space Marine," pg. 11
Index Astartes I, "Rites of Initiation - The Creation of a Space Marine" by Rick Priestley & Gav Thorpe, pg.
Warhammer 40,000: Compendium (2nd Edition), "The Origins of the Legiones Astartes" by Rick Priestley, pg. 7
White Dwarf 98 (UK) (1988) "Chapter Approved: The Origins of the Legiones Astartes" by Rick Priestley, pg. 13
Ad blocker interference detected!
Wikia is a free-to-use site that makes money from advertising. We have a modified experience for viewers using ad blockers

Wikia is not accessible if you've made further modifications. Remove the custom ad blocker rule(s) and the page will load as expected.