Hellpistol
Talk

0
2,853pages on
this wiki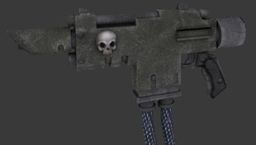 The Hellpistol corresponds to the Laspistol the same way the Hellgun corresponds to the Lasgun -- it is a more deadly weapon and only slightly heavier than the Laspistol. However, it is also more expensive in terms of the materials and manpower required to manufacture it. Hellpistols are usually found in the company of elite Imperial Guard Grenadier or Storm Trooper sergeants, although higher-ranking Imperial Guard officers also have access to this weapon by virtue of their higher rank. Storm Troopers normally wear a large backpack which contains the power source required to provide the increased damage output of Hellpistols and Hellguns. Like other Las weapons, the Hellpistol will cauterize any wound it creates and so it is sanctioned by the Commissariat for use as an execution weapon by both Imperial Guard Commissars and officers for those members of the Guard who fail to perform their duty to the Emperor of Mankind. Lord Castellan Ursarkar E. Creed of Cadia is known to carry two custom-made Hellpistols at all times.
The standard Laspistol can be considered a semi-automatic weapon in which one pull of the trigger produces one shot, while the Hellpistol is fully automatic in the sense that it will continuously fire high-powered laser beams as long as the trigger is depressed.
Most Hellpistols are handcrafted weapons rather than the products of Forge World assembly lines and have seen decades or even centuries of use in which they are passed down from user to user. For this reason, a Hellpistol is always considered to be the property of the Imperial Departmento Munitorum and not of its current wielder.
Warhammer 40,000: Wargear (2nd Edition)
Warhammer 40,000: Wargear (4th Edition)
Imperial Munitorum Manual, p. 64