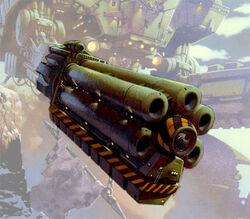 The Hellstorm Cannon is a huge, six-barrelled, directed-energy weapon, typically mounted on an Imperator-class Titan or Warlord-class Battle Titan, that can completely decimate an entire army in just one cataclysmic salvo. Able to fire in quick succession, the Hellstorm Cannon gave an Imperator Titan unparalleled firepower against other enemy Titans. The Hellstorm Cannon is so powerful that it has been known to strip the Void Shields from a Warlord-class Titan in one volley.
Dark Crusade
Edit
A detached Hellstorm Cannon from a long-destroyed Emperor Titan can be seen lying on its side near the city of Ironworks Bay on the planet Kronus, a monument to a Titan that fell during the Horus Heresy, the possession of which later became a strategic objective for all of the factions involved in the Dark Crusade. A trench large enough to move an armoured company through had been carved out of the earth in front of the cannon from its final firing during the Heresy.
Ad blocker interference detected!
Wikia is a free-to-use site that makes money from advertising. We have a modified experience for viewers using ad blockers

Wikia is not accessible if you've made further modifications. Remove the custom ad blocker rule(s) and the page will load as expected.