Hospitallers

Warcry

Unknown

Founding

Unknown

Successors of

Unknown

Successor Chapters

Unknown

Number

Unknown

Primarch

Unknown

Chapter Master

Unknown

Homeworld

Unknown

Allegiance
Colours

White, Red, and Silver with Yellow trim
"In death is the Emperor's love equally shared."

— Brother Raphel of the Hospitallers Space Marines Chapter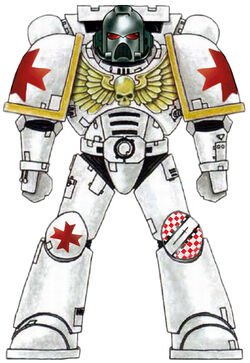 The Hospitallers are a non-Codex Astartes-compliant Loyalist Space Marine Chapter of unknown Founding and origin. Almost nothing is known about this Chapter in current Imperial records.
Chapter Appearance
Edit
Chapter Colours
Edit
The Hospitallers primarily wear white Power Armour. The Aquila or Imperialis on the chest guard and the trim on the shoulder guards are also yellow. They wear silver helmets with red eye lenses. This Chapter is known to incorporate personal heraldry with an unusual checkered-pattern iconography on the shoulder plates and lower right leg. The red squad specialty markings -- (Tactical, Assault, Devastator, or Veteran) -- are located on the left knee plate.
Chapter Badge
Edit
The Hospitallers' Chapter badge is a red coloured Maltese cross on a field of white, which is worn on both shoulder pads and also repeated on the right knee plate.
How To Paint Space Marines, "Hospitallers Space Marines", pg. 97
Angels of Death: Final Duty (Short Story) by David Guymer