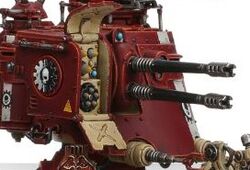 An Icarus Array is an anti-aircraft weapon utilised exclusively by Onager Dunecrawlers of the Skitarii Legions of the Adeptus Mechanicus. When fired, an Icarus Array fills the sky with inescapable death. Comprising of a twin Icarus Autocannons with Skyscryer Lenses, a Gatling Rocket Launcher that fires whole salvos of flak, and an armour piercing Missile Launcher, its combined firepower can shred entire squadrons of enemy flyers.
Codex: Skitarii (7th Edition), pg. 73
Ad blocker interference detected!
Wikia is a free-to-use site that makes money from advertising. We have a modified experience for viewers using ad blockers

Wikia is not accessible if you've made further modifications. Remove the custom ad blocker rule(s) and the page will load as expected.