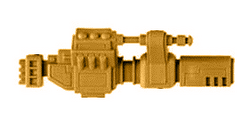 Ion Weapons are advanced directed energy weapons utilised by the Fire Caste of the Tau Empire. Ion Weapons typically are capable of engaging enemies at long range with high-energy streams of ionised subatomic particles, vaporising flesh and metal with equal ease. These high-energy ions containing an electric charge are accelerated by an electromagnetic field and react explosively with the target as a result of the direct transfer of energy at an atomic level.
Ion Weapon technology was originally acquired by the the Tau as part of a fruitful alliance between the Syrr'Tok Brotherhood of the Demiurg and the Water Caste of the Dal'yth Sept. However, despite the eventual widespread dissemination of Ion Weapons during the Tau Empire's Second Sphere Expansion, man-portable Ion Weapons remained an impossibility due to the bulkiness of their power sources. It was only the discovery of a Mor'tonium power source during the Third Sphere Expansion that made the efficient powering of small-scale Tau Ion Weapons possible.
During the Tau Empire's Third Sphere Expansion, the discovery of a Mor'tonium power source revolutionised the technological possibilities for Ion Weapons, allowing smaller weapons to be built and the adding of an additional feature to existing Ion Weapons. Now, all Ion Weapon designs allow for the weapon to be overcharged by exposing the highly-reactive Mor'tonium power core to the environment. This exposes the wielder or vehicle to the dangerous ionising radiation emitted by the Mor'tonium, and risks overloading the weapon's primary power cells. However, overcharging an Ion Weapon allows it to generate a wide, explosive blast with increased damage compared to its normal fire mode, allowing it to vaporise entire squads of enemy infantry in a single salvo.
Known Ion Weapons
Edit
Battlefleet Gothic: Armada, pg. 159
Battlefleet Gothic Magazine 19, pg. 9
Codex: Tau Empire (3rd Edition), pg. 19
Codex: Tau Empire (4th Edition), pp. 26, 30
Codex: Tau Empire (6th Edition), pp. 38, 44-45, 48-49, 50, 66-67, 72
Imperial Armour Aeronautica, pp. 58-59, 62
Imperial Armour Apocalypse II, pg. 58
Imperial Armour Volume Three – The Taros Campaign, pp. 194, 201, 208
White Dwarf Weekly Magazine 89 (October 10, 2015) " XV95 Ghostkeel Battlesuit", pp. 8-9
Dawn of War - Soulstorm (PC Game)