"These are not soldiers, nor warriors. This enemy is the act of murder given flesh, and they will not stop until terror is the only thing that lives."

— Captain Jefta Kull, executed for cowardice
A Kabal of the Dark Eldar race is an autonomous organisation somewhere between a criminal cartel, a pirate fraternity and a noble household. Though forever set at each other's throats, the Kabals form the primary military strength of the Dark City of Commorragh, and are largely responsible for the constant flow of slaves upon which the Dark City feeds and depends for its people's continued survival. The Kabals occupy the upper tiers of Commorragh's power structure, defining the martial aspect of the Dark Eldar and maintaining a stranglehold on all aspects of the Dark City. Even the most minor Kabals consist of hundreds of Dark Eldar, though their territories may be confined to hidden locations and scattered hideouts. The largest Kabals comprise millions of skilled Kabalite Warriors. The baleful influence of these monstrous coalitions stretches from one side of the galaxy to the other, plaguing lesser civilisations and inferior intelligent races with slave raids and acts of blood-soaked piracy.
History
Genesis of the Kabals
Dark Eldar society once revolved around a small number of Eldar noble houses. The scions of these aristocratic institutions plumbed the depths of hedonism that led to the Fall. The Commorrite nobility jealously guarded their positions, seeking out and killing any who threatened them or questioned their primacy. The central mass of Commorragh -- a mind-boggling metropolis of skyscrapers, archshrines, palatial spires and pleasure temples -- was the province of the noble houses alone. Entry could be gained only by birthright, and elitism was a way of life. So it was for several millennia after the Fall of the Eldar. The society of Commorragh remained as stagnant and corrupt as its ancient masters. In all likelihood it would have continued to do so indefinitely, had it not been for a young warrior-slave by the name of Asdrubael Vect, who brought the old order of the nobility crashing down. Vect's own warrior-clique -- or "Kabal" -- had prepared for their founder's ascension, seeding their agents into every aspect of Dark Eldar civilisation throughout Commorragh and beyond.
In the wake of Vect's uprising, the fickle Dark Eldar adopted the Kabalite system with an enthusiasm born of self-preservation. Sensing which way the wind was blowing, even the surviving Dark Eldar noble houses reinvented themselves as Kabals in their own right, though in their hearts they still covet the notion of their inherent superiority. Yet none can deny that the Kabalite system has gone from strength to strength. Power is no longer inherited in Commorragh, it must be fought for and taken by force. The authors of the Dark City's fate are those who wield the sharpest minds and blades alike, the precarious nature of their position ensuring complacency can never take root.
Order from Anarchy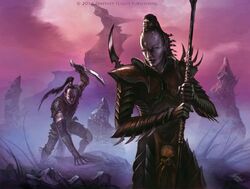 In a society as treacherous as that of the Dark Eldar, a single power-hungry individual soon makes enemies. It is never long before the loner finds a dagger at his throat or feels nerve-searing poison flowing through his veins. Only those affiliated to larger organisations enjoy any degree of security; there is safety in numbers, they say, and even in the shadow-haunted twilight realms of the Dark City this remains true. To kill a Kabalite is to commit a hostile action against an entire Kabal. Regardless of status, sect or species, few Commorrites are prepared to make such an influential enemy without good reason, and those who do must ensure they have powerful friends of their own to protect them against the inevitable vicious retribution.
Competition for Kabalite membership is beyond fierce, despite the varied and often violent initiation rites that must be undergone. The constant supply of fresh aspirants means that the Kabals themselves enjoy a kind of loose immortality. Each has the might to make its displeasure keenly felt should it be threatened or slighted. It is unusual for an entire Kabal to be wiped out altogether. Only the Supreme Overlord Asdrubael Vect can visit such a fate upon his enemies without triggering city-wide outrage or inviting punitive violence on a massive scale. Yet Vect ensures that Commorragh is eternally riven by gang warfare, and not a single night goes past in the Dark City without the streets echoing to running battles between Kabalite factions -- the Archons of the Kabals do not care for the notion of peers.
The Kabals at War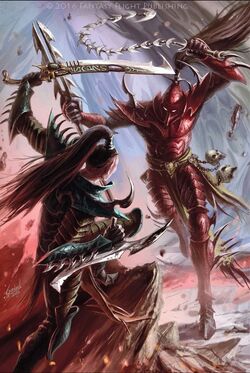 Though all Dark Eldar Kabals offer a measure of sanctuary -- from outside influences, at least -- the true prize for the established Kabalite is to take part in a realspace raid. The war with the material dimension is a never-ending campaign of extreme violence against every other sentient race in the galaxy. A successful raid offers the victors not only the twin bounties of slaves and a feast of pain, but will also do much for the political standing of those who planned and executed it. As such, successful realspace raids are one of the most straightforward ways in which a Dark Eldar Kabal can rise to prominence over its rivals. The largest and most well-respected Kabals launch raids on an almost constant basis, their sleek attack craft descending upon one hapless world after another to plunder and enslave. It is extremely rare for an Archon to commit the warriors of his Kabal to a battle he has not already meticulously planned. Kabals employ countless spies, mercenaries and informers whose task it is to scout out potential raiding sites in exhaustive detail. Further, the Covens of the Haemonculi can be prevailed upon to provide stranger means of surveillance, be it Whisperglass Mirrors, flocks of invisible familiars or parasitically-invested abductees. These services always come at a price, of course, yet a successful realspace raid will normally justify the cost of such bargains tenfold.
Once a raid is launched, Kabalite forces will work to keep the foe on the back foot at all times, using superior technology and local knowledge torn from the minds of captives to stay one step ahead of the enemy. Stand-up fights are never entered into voluntarily, for the warriors of the Kabals view concepts such as valour or honour as weaknesses to be exploited. Their raiding parties will strike hard and fast where the foe is at its most vulnerable, aiming to cripple command and control structures, undermine logistics and spread terror and confusion. Should an organised response coalesce, the Kabalites will simply fade away and attack elsewhere, aiming above all else to avoid being pinned down in a war of attrition. Ambush, trickery, the turning of foes against one another, and the bloody quest for personal glory -- such are the hallmarks of a Kabalite hunt.
Many Kabals will have a bias towards particular methods of warfare, most often the product of their Archon's personal conceits or origins. Some, such as the spaceborne Kabal of the Severed, favour great wings of attack craft that shatter and scatter the strength of their victims before a single Dark Eldar foot touches alien soil. Others -- such as the Kabal of the Storm's Spite or the Kabal of the Bloody Scream -- favour the deployment of overwhelming firepower, fielding whole squadrons of Ravager gunships and murderous flocks of Scourge mercenaries who pick the foe apart from a distance. Conversely, a great many Kabals prefer to get in close, fighting where they can feel every hot splash of blood and hear every last rattling breath. Kabals such as the Shuddering Blade and the Silver Fang are especially well known for orchestrating such bloodbaths, and competition is fierce to accompany them to the field of battle. Perhaps the strangest of all are the Kabal of the Thirteenth Whisper, whose members keep their faces shrouded at all times and who are reputed to traffic heavily with the Mandrakes of Aelindrach. Raids by this Kabal are nightmarish affairs, tides of shadow proceeding their advance while chill-eyed horrors stalk the darkness with blades in hand.
Hierarchy of a Kabal
A Dark Eldar Kabal has a very strict hierarchy. In order from highest-ranking to least, these ranks include the following:
| Kabal Rank | Image | Summary |
| --- | --- | --- |
| Archon | | The Archons are the masters of the Dark Eldar Kabals. Regal and monstrous in equal measure, each wields the power to enslave worlds and destroy civilisations. Their might has not been easily won -- to rise to the lofty pinnacles of power in Commorragh requires indisputable warrior skill, a lethal aptitude for politicking, and a will of unbreakable iron. The game of intrigue at the heart of the Dark City is sometimes known as the thyllian aikelethril, or "path of shards." It is savage and unforgiving, and only those possessed of true genius survive it long enough to claw their way to the top. Those that do then have to defend their status -- and their selves -- forever after. Power in Commorragh is a prize to be torn free with bloody hands, not a birthright that can be casually claimed. After all, it is whispered that even the great Vect himself began his days as nought but a slave. Over their long years of life, Archons have fed upon the pain of so many others that it takes a true atrocity to invigorate them. They must lead ever more raids against realspace, for only the bounty of horror and pain offered by all-out war is enough to slake their thirst. In battle they move like the wind, wreathed in the foul powers of dark science and armed with the Dark City's deadliest techno-arcana. |
| Court of the Archon | | Kabalite lords surround themselves with coteries of favoured retainers, pets and bodyguards. From the looming, serpentine mercenaries known as Sslyth to packs of drooling, fang-mawed Ur-Ghuls from the haunted pyramids of Shaa-dom, such a retinue can be as varied as the tools in an overlord's torture chamber. Lhamaeans lurk in their master's shadow, unobtrusive until the moment they strike, their poisoned blades slicing armour, flesh and bone. Medusae shuffle forth at their master's behest, foul parasitic fleshsacs bobbing in their wake as their visors spew nauseous anti-light that hurls foes into contraempathic comas. Though each member of an Archon's Court is deadly in its own right, it is when these fiends are combined that they become a truly deadly instrument of their master's will. |
| Hierarch | | A Hierarch is a powerful individual within the warrior covens known as Incubi -- mercenary warrior kings who know that to flaunt their wealth and status is to see it increase. Their domains are sprawling bastions, forested with howling marble statues and grotesqueries of twisted architecture. In their cavernous central shrines, aspirants and supplicants in their thousands come to barter for the services of the Incubi, or to beg entrance into this black-hearted brotherhood. For every supplicant fed to the murderflame, however, there is another whose offerings are considered sufficient. For such individuals the Incubi will march to war, lending their skills to their employer's cause with a totality of focus that is frightening to behold. When acting as bodyguards to an Archon, the Incubi will surround their master in an impenetrable ring of flickering blades, the Archon pacing calmly through the fiercest melee as if in the eye of a blood-slick storm. The Incubi also serve as exceptional enforcers; more than one Commorrite pleasure den or smuggler's spire has been reduced to a limb-strewn abattoir by a host of Incubi sending a message to their employer's rivals. |
| Dracon | | A Dracon is the commander for a regiment of Kabalite Warriors in a Dark Eldar Kabal. They are frequently seen leading their forces in large-scale raids, or joining up with a raid currently in progress upon receiving word that considerable resistance has been met. By the time a member of a Kabal has achieved the rank of Dracon, they more than likely have attained access to the full armory of the Kabal, and as such are frequently seen equipped with the same incredibly advanced wargear, or ancient and valuable artifacts. In the event of a full-scale operation, one that would include the Archon in battle, Dracon's obviously must allow their lord first choice on any equipment they might want. |
| Kabalite Trueborn | | Kabalite Trueborn are those of the Dark Eldar aristocracy who are members of Kabals with more established lineage. These arrogant warriors root their sense of superiority in the purity of their natural birth from a living mother, for most of the Dark City's denizens are brought into being by other, fouler technological means and so are known as the "Halfborn." While they may not be loyal by any definition that a human would understand, the Trueborn feel keenly any slight against their Kabal, for such insults call into question their own towering sense of self-worth. These pureblood Dark Eldar will fight harder than any of their peers to further the cause of the Kabal, if only through heightened self-interest. |
| Sybarite | | Sybarite is the title given to a Dark Eldar Kabalite Warrior squad leader. The strongest, most ruthless member of a squad is granted this title by killing the competition by any means necessary, as is the Dark Eldar way. A Sybarite is still a fairly low ranking member of a Kabal, and the title really serves little purpose apart from creating rivalry within the squad and giving the new Sybarite a higher-ranking position to strive for. |
| Kabalite Warriors | | Kabalite Warriors are the poison lifeblood of their Kabal. Each warrior must carve out a fearful reputation in the war-torn halls of High Commorragh, proving himself time and time again. Even then, only a chosen few enjoy the prestige of raiding the worlds of realspace. Be they male or female, Kabalite Warriors are tall and athletically built, powerful in stature and violent in temperament. When going to war, each Warrior dons a sophisticated bodysuit of segmented armour. This is held in place with long metal barbs and hooks that penetrate the wearer's nerve bundles, sharpening his senses with the constant sting of pain. Kabalite Warriors carry a wide array of fiendish weapons, predominately long-ranged in nature, for few have the influence to ensure regeneration in the lairs of the Haemonculi, and so they prefer to kill from afar. |
Notable Dark Eldar Kabals
| Kabal Name | Summary |
| --- | --- |
| Kabal of the All-Seeing Eye | A notable Dark Eldar Kabal. There is very little information on this Kabal listed in official Imperial records. |
| Kabal of the Baleful Gaze | One of the Great Kabals of the Dark City of Commorragh. There is very little information on this Kabal listed in official Imperial records other than the Dark Eldar incursion, known as the Shadow Hunt, that took place upon the Imperial Industrial World of Durondas II in 626.M41. The Kabal of the Baleful Gaze and Wych Cult of the Wrath Unbound crippled the infrastructure of this world by using sustained haywire bombing. The Cult then landed great packs of hunting beasts, Khymerae and Clawed Fiends. The beasts loped through the darkened streets and tore the planet's defenders to shreds. Buried in darkness, weapons fried and transportation crippled by the haywire bombs, the terrified Astra Militarum and their civilian charges were forced to fall back time and again. The hunted survivors were finally herded together in the Grand Templum District of Durondas' capital city. Here the Dark Eldar Beastmasters loosed their feral pets en masse, beginning a horrifying massacre that took several long and bloody days to conclude, and from which no human emerged alive. |
| Kabal of the Black Blade | A notable Dark Eldar Kabal. Their most notable action occurred in 865.M41, when the Kabal fell upon the city of Heraclad, expecting to reap a bloody bounty amongst the populace. Instead, they found the city evacuated and the Raven Guard Space Marine Chapter's 1st and 6th Companies lying in ambush. By dawn, the Kabal was destroyed. |
| Kabal of the Black Heart | The Kabal of the Black Heart is the oldest and greatest of its kind. It is a vast and sprawling organisation, able to support numerous rival Archons within its hierarchical structure. Each Archon controls a separate faction within the Black Heart, and each vies fiercely with his rivals for the patronage of Supreme Overlord Vect. None brave outright murder, however, for only a fool would blunt one of Asdrubael Vect's favourite tools. So complete is Vect's stranglehold upon Commorragh that none of these highly-placed subordinate Archons dare challenge the Overlord's supremacy in anything but the most private dreams or fantasies. Even then, they do so with caution, for it is said that Vect knows well the scent of treachery, and reads the minds of lesser mortals like an open book. This Kabal's military strength is virtually unassailable. Countless thousands of Kabalite Warriors, Commorrite mercenaries and lethal gunships stand ready to exterminate their foes at the slightest crook of Vect's corpse-white finger. A cast iron bond with the Wych Cult of Strife puts yet more might at the Supreme Overlord's fingertips, providing him with the closest thing the Dark City has seen to genuine allies. Coupled with the impossibly intricate web of spies, informers and agents that Vect has scattered through every stratum of Commorragh, the Kabal of the Black Heart holds more power than several of their largest rivals combined. |
| Kabal of the Black Myriad | A notable Dark Eldar Kabal. There is very little information on this Kabal listed in official Imperial records. |
| Kabal of the Black Sun | A notable Dark Eldar Kabal. There is very little information on this Kabal listed in official Imperial records. In 117.M40, the reviled cryptoscientist Vorsch perfected a technique he calls photonic transubstantiation, transforming himself into a living beam of light and traveling interstellar distances purely in order to proclaim his genius. He is eventually captured in a prism-trap by the Kabal of the Black Sun, who use Vorsch's technologies to stage large-scale terror attacks upon the peace-loving Naiad Republic. |
| Kabal of the Blackened Tear | A notable Dark Eldar Kabal. The Blackened Tear are most remembered for their infamous poisoning the entire Imperial Hive World of Tybor III in 724.M36. After this vile act, Adrubael Vect granted Yaelindra a boon. Archon Yaelindra was elevated in prestige and allied herself with Asdrubael Vect and his ruling Kabal of the Black Heart. She also chose to take a spire of her own in High Commorragh, founding the Cult of Lhamaea and training an army of deadly courtesan warriors to further her deadly works. |
| Kabal of the Bladed Lotus | A notable Dark Eldar Kabal. There is very little information on this Kabal listed in official Imperial records. |
| Kabal of the Blades of Desire | A notable Dark Eldar Kabal, the Kabal of the Blades of Desire were commanded by the battle-hungry warrior-queen Xelian. Known to employ a large number of Wyches within its ranks as well as Hellions and Reaver packs, they took part in many realspace raids. Due to their large abundance of Wyches and slaves, the Blades of Desire operated one of the premiere gladiatorial arenas in the Dark City. Their Archon Xelian opposed the rule of the tyrannical despot Asdrubael Vect, and conspired with Archons Nyos Yllithian of the Kabal of the White Flames and Kraillach of the Kabal of the Realm Eternal, in order to usurp Vect. To accomplish this monumental undertaking, the Blades of Desire aided Archon Yllithian in the resurrection of El'uriaq, the legendary tyrant of the destroyed sub-realm of Shaa-Dom. However, before their plot could be executed, several Wych assassins (more than likely agents of Vect) armed with the deadly Plague of Glass, were able to pit the Blades of Desire against the Realm Eternal by staging an attack upon Kraillach's palace and making it appear that Xelian was behind the audacious attack. This forced the aging Archon Kraillach to confront Xelian en masse, in a desperate attempt to save face or risk being seen as a weak leader by his own Kabal. As the Realm Eternal's forces approached the fortress of the rival Kabal, rogue Hellions and Reavers (also likely Vect's agents and feigning allegiance to Xelian) attacked Kraillach's forces, forcing the two Kabals into a bloody standoff that was only broken when Archon Yllithian appeared and forced a parlay between the two warring factions in order to salvage the situation. Though the two Kabals were convinced by Yllithian that Vect was really the one behind the recent events that pitted the two opposing Kabals against each other, Xelian demanded an honour duel with Krailach in order to satisfy her besmirched honour. With no alternatives, the aging Archon faced Xeilian and was soundly beaten, suffering several mortal wounds that forced him into an extended stay in a regeneration chamber of the Haemonculi. The defeat of Krailach and his Kabal did much to boost the reputation of the Blades of Desire, and soon many gangs of Hellions and Reavers pledged their allegiance to Xelian. Despite her success and the recent victory over a rival Kabal, her own Kabal was very nearly shattered when Xelian was almost killed during what was originally meant to be a routine combat exercise with the Wyches of her Kabal, after their plot to overthrow El'uriaq came to fruition. |
| Kabal of the Bleaksoul Brethren | The warriors of this Kabal are known for their twisted sense of humour and shark-like teeth. There is very little information on this Kabal listed in official Imperial records. |
| Kabal of the Bloodied Claw | There is very little information on the Kabal of the Bloodied Claw listed in official Imperial records. Led by the ancient Archon Akhara'Keth, referred to as "Ruler of the Void" by his subordinates, Akhara'Keth has remained in power over his Kabal despite over three hundred assassination attempts. Due to his age, many in Commorragh see him as weak, but his abilities at reading people have always left him one step ahead of any who have attempted to take his life. Because of these assassination attempts, Akhara'Keth is forced to stay secluded within the sanctum of his throne room. In the event of an attack, his large, ornate throne houses an anti-gravitic generator that lifts him up into a safe room above, while hidden chambers along the throne room's walls release his personal retinue of Incubi and Mandrakes to dispatch his enemies. It is said that his Kabal's ranks number in the thousands, and raid realspace daily, in order to supply their Archon with a sufficient quantity of souls to keep him relatively young. |
| Kabal of the Bloody Storm | In 864.M41, Archon Thysk led his Kabal of the Bloody Storm against the Feudal World of Vandred, from which the Angels Sanguine Space Marine Chapter recruited new Aspirants. Sure enough, a strike force of Angels Sanguine made planetfall within days, yet unknowingly they played into the Archon's hands. Thysk released a blood-plague acquired at great cost from the Haemonculi Coven of the Altered, a virus that tapped directly into the tragic gene curse of Sanguinius' sons. Aware of their madness but unable to stop, the Angels Sanguine butcher and devour those they came to save before falling upon each other, while the Dark Eldar drink in the agony, terror and despair. |
| Kabal of the Bloodied Talon | During a realspace raid in 943.M41, the Bloodied Talon prey upon the people of Chogoris, the Chapter homeworld of the White Scars Space Marine Chapter. Chapter Master Kyublai Khan immediatley sets off after the attackers, but mysteriously vanishes soon after and is presumed slain by the Dark Eldar. Jubal Khan is appointed as Great Khan following a lengthy ritual and immediately declares a Great Hunt to avenge his predecessor. In 945.M41, Kor'sarro Khan returns to Chogoris with not only the head of Archon Kirareq of the Bloodied Talon, but also those of one thousand of his Dark Eldar warriors. |
| Kabal of the Bloody Scream | A notable Kabal of Commorragh, there is very little information on this Kabal in official Imperial records other than its preferred method of attack -- they favour the deployment of overwhelming firepower, fielding whole squadrons from Ravager Gunships and murderous flocks of Scourge mercenaries who pick the foe apart from a distance. |
| Kabal of the Broken Sigil | Xerathis is the lord of the Kabal known as the Kabal of the Broken Sigil, this Kabal is synonymous with acts of discord. Lord Xerathis is looked down upon by his rivals for the predictability of his strategies. True enough, his Kabalites are not above sky-writing, blanket-bombing with hallucinogenic gas or hijacking communications channels to ensure their victims are frightened half to death before the invasion starts in earnest. Yet the Kabalites of the Broken Sigil maintain that the price they pay in forewarning the enemy is far outweighed by the rich feast of fear that awaits them when the onslaught begins. Perhaps unsurprisingly, the Broken Sigil are amongst the most feared and infamous of the Kabals, especially amongst the worlds of the Imperium. Entire conclaves of Ordo Xenos Inquisitors seek their demise, and on multiple occasions Lord Xerathis has found himself the personal quarry of Deathwatch Kill Teams. If this concerns the toweringly arrogant fearmonger, he conceals it well. Instead, Xerathis boasts of the fine slaves such post-human warriors make, and insinuates knowingly that, with the correct persuasion, even Space Marines can be made to cower in fear. |
| Kabal of the Children of Thorns | Led by an unknown Archon, this Kabal is comprised of the dregs of Dark Eldar society -- escaped slaves, disgraced nobles, and defeated champions -- the members of the Kabal of the Children of Thorns are ever watchful for opportunities to gain weapons and slaves they can use to fuel their bid for power in Commorragh. Instead of surrendering to the inevitable doom that Commorragh normally visits upon such dregs, the Children of Thorns have determined to reclaim their fate and strike back against their oppressors. In the early 800s.M41, they were discovered by the insurrectionist forces of the Severan Dominate within the darkest spinward reaches of the Periphery Sub-sector in the Calixis Sector. Vile pacts were made in exchange for the aliens' lethal services. Severus XIII, ruler of the Severan Dominate, consigned entire frontier worlds to the Dark Eldar's cruel mercies, ensuring that when realspace raids occurred, the sub-sector's Imperial reserves were always too distant to intervene. Hundreds of thousands of slaves were dragged back to the dark sub-reality sinks of the Dark City, doomed to an agonising death within the pits of Commorragh. While the Crimson Woe desires the overthrow of Vect so that they themselves may replace him, the Children of Thorns seek to raze the entire edifice to the ground, tearing down the old order and replacing it with their own. It is not known if Vect is yet aware of their activities, though it can scarce be imagined that one who rose to power in such a manner would not take every precaution to ensure that others did not attempt to imitate him. |
| Kabal of the Crimson Blossom | There is very little information on this Kabal listed in official Imperial records. Led by Archon Gharax, the Crimson Blossom were known to have utilised a Webway portal which led to the tunnels deep below the surface of the planet Bukehall in the Teramus System. They formed a dark alliance with the human pirates there, providing them Lance weapons and a drug called the Red Sacrament (known colloquially as "Red Sacra"), in return for human slaves taken from captured vessels. Unfortunately, many warriors of the Kabal were killed by a cunning ambush by the Space Marines of the Deathwatch, the Chamber Militant of the Inquisition's Ordo Xenos. It is believed that their Archon somehow managed to effect his escape during the ambush. |
| Kabal of the Crimson Serpents | The Kabal of the Crimson Serpent first made its presence known in Askellon Sector with a number of raids on shipping lanes and outlying worlds. It then faded into the night, unseen for decades. The Kabal's raid on Harron's Hold had provided something of great importance to the dark ones, something that would further their plans in the area for the future. Now the Serpents have returned, ready to unleash their might on the unsuspecting sector. Their initial raids have yielded the information they sought; now their quest for ancient Eldar artefacts from before the Fall has begun. This is likely to bring them into conflict with a number of factions throughout the area, a fact that many within the Kabal relish. |
| Kabal of the Crimson Woe | One of two Dark Eldar Kabals operating within the Screaming Vortex within the Calixis Sector. It is surmised by the Hell-Seers of the Vortex that the Dark Eldar gain entry to the region not via the 13th Station of Passage, but by way of the place called the Forbidden Portal. Plenty of humans, as well as other sentient beings, have witnessed the process of the Dark Eldar passing from the Screaming Vortex, for they come to scour the worlds for slaves. The Kabal of the Crimson Woe engages in the ceaseless battle for power within the Dark City. Outwardly, the Kabal swears fealty to Asdrubael Vect, the supremely cruel master of Commorragh, yet some have questioned their objectives in coming to the Screaming Vortex. Perhaps they seek more than the slaves the primitive Feral Worlds can provide. Perhaps, silvered tongues whisper while coal-dark eyes glint, the Crimson Woe seeks some weapon to wield against Vect. To date, the master of Commorragh has been content to watch the Kabal of the Crimson Woe from afar, infiltrating several of his agents into their midst to report back should any sign of treachery rear its head. The leaders of the Kabal are, of course, well aware that their ranks are compromised in this manner, for such is the norm in the deadly courts of the Dark Eldar. The Kabal of the Crimson Woe is known to the servants of the hated God-Emperor, for they have ranged far and wide, including several realspace raids into the Calixis Sector. To date, these raids have been comparatively small scale, and certainly not anywhere as calamitous as those ordered by Asdrubael Vect and involving the forces of numerous Kabals. In their incursions into the Screaming Vortex and the Calixis Sector both, the Kabal has earned itself a cruel reputation and many bitter enemies, though none so dangerous as their own ultimate lord and master, Asdrubael Vect. |
| Kabal of the Dark Mirror | The Kabal of the Dark Mirror are led by Archon Surasis Grief, known as the "Lord of the Skies" in the Dark City of Commorragh. Formerly a Reaver pilot, he won the Sec Maegra Marathon by overloading his Jetbike, causing it to explode, which killed the final racers. Grief became the first Reaver pilot ever to cross the finish line on foot. He later invented the Tantalus, an assault skimmer that is somewhat larger and more complex in design than the standard Raider, and accordingly better armed. Its distinctive twin-hulled design also houses powerful engine-reactors slaved to enhanced drives and its unique scythevane armament. With this deadly assault craft, Grief led his Kabal, along with his son and daughter Roteus and Nitholeth, on a rampage that saw them ransack parts of the Dark City. But like all high fliers, Grief had young pretenders, constantly challenging his power. Most notably was the Nightspur Covenant, a group of Reaver Champions led by the former Arena Champion Ciav. Grief took part in a death race that inevitably saw him bested by Ciav who used a fractal web to teleport the Tantalus to safety while sending Grief plummeting to his death. The Archon was succeeded by his children as the rightful rulers of the Dark Mirror, although it was noted by Ciav that the Kabal would unlikely survive its new and avaricious masters. |
| Kabal of the Dying Sun | Those who fight under the sigil of the Dying Sun belong to one of the oldest Kabals, renowned for their overweening pride and disdain for anything that has not endured for millennia. They prefer to raid at sunset, for their leader, Archon Vorl-Xoelanth, is obsessed with the transition from light and hope to darkness and despair. The Kabal's wild claims that they retain the ability to extinguish stars are infamous, though their rivals have never quite managed to explain the deterioration of the sun Echillos during the Aleuthan Persecution. The truth is that the Kabal of the Dying Sun possess ancient fragments of forbidden arcana, heirlooms from the days of the Eldar Empire of old. Their stronghold -- the Pinnacle of Disdain -- is an impenetrable mountain of elegant, buttressed armour and echoing chambers, within which the Kabal hide their darkest secrets. These timeless artefacts, hidden away in shadowy vaults, possess the power to kill stars, suck the life-force from worlds and exterminate whole races of sentient beings. However, they are ill-understood and, in many cases, charged with psychic potential. This, in turn, makes them as lethal to their owners as they are to their victims, not least because it would attract the violent displeasure of the Dark City at large should their existence become known. Thus they are used very sparingly, deployed by the Trueborn elite of the Kabal only as a last resort. |
| Kabal of the Ebon Law | A notable Dark Eldar Kabal. In recent years the Ebon Law conducted a series of realspace raids upon a number of Imperial worlds. These raids drew the attention of the Ordo Xenos, and the ire of Inquisitor Sashella. The Inquisitor led an ambush on the world of Agritha with five-hundred Imperial Guard infantry and armoured units, a company of elite Stormtroopers, two Warhound-class Titans of the Legio Crucius and a Deathwatch Kill-team. Despite the superior forces arrayed against them, the Ebon Law managed to overcome the Imperial forces, kill the Inquisitor and take numerous captives back to the Dark City. |
| Kabal of the Ebon Law | A notable Dark Eldar Kabal. In recent years the Ebon Law conducted a series of realspace raids upon a number of Imperial worlds. These raids drew the attention of the Ordo Xenos, and the ire of Inquisitor Sashella. The Inquisitor led an ambush on the world of Agritha with five-hundred Imperial Guard infantry and armoured units, a company of elite Stormtroopers, two Warhound-class Titans of the Legio Crucius and a Deathwatch Kill-team. Despite the superior forces arrayed against them, the Ebon Law managed to overcome the Imperial forces, kill the Inquisitor and take numerous captives back to the Dark City. |
| Kabal of Endless Night | The Kabal of Endless Night is known to have caused the Space Hulk designated the Herald of Oblivion to emerge into realspace in order to attract Space Marines for them to capture. Afterwards, they planned to take the captured Space Marines and any gene-seed they could acquire, back to Commorragh. |
| Kabal of the Envenomed Thorn | There is very little information on this Kabal in official Imperial records. Their most notable action occurred in 140.M40, when the Kabal ambushed the Death Spectres Space Marine Chapter upon Vern IV, destroying almost all of the Chapter's Predator Destructors. |
| Kabal of the Falling Moon | The Kabal of the Falling Moon are rivals with the hated Kabal of the Dying Sun. This lunar sect of ancient Commorragh tradition constantly tries to prove their superiority over the solar cults of the Kabal of the Dying Sun. Currently, the rival Kabals are in conflict within the Ulia System, where the Falling Moon insists on destroying every planet and satellite, whereas the Dying Sun instead seeks to extinguish its sun. |
| Kabal of the Fell Witch | There is currently little information on this Kabal in official Imperial records other than its name. |
| Kabal of the Fiend Ascendant | This Kabal is said to employ many Wych Cults and other kinds of exotic warriors such as Medusae and Harlequins, gorging themselves in murder and slaves all along the Eastern Fringe against both the Imperium and the Tau Empire. There is little other information on this Kabal in official Imperial records. |
| Kabal of the Flayed Skull | The Kabalites of the Flayed Skull are instantly recognisable by the stylised bloodstreaks that they sport upon their snarling faces, echoing the sinister design of their Kabal's symbol. In terms of sheer military force they are second only to Asdrubael Vect's Kabal of the Black Heart. The Flayed Skull's Archon, Lord Vraesque, began his long and dishonourable career as a Reaver, and has since become a master of airborne attacks. As such the Kabal boasts a great many Reavers, Razorwing jetfighters and Voidraven bombers, and competition is fierce to claim the first blood spilt in any raid. The Flayed Skull once famously conquered the world of Thrandium without a single Kabalite setting foot upon the ground. |
| Kabal of Immortality Denied | In 182.M38, this Kabal launched a realspace raid upon the Imperial Industrial World of Demoisne. There, the Kabal faced the might of the Ordo Xenos Lord Inquisitor Korscht and a full company of Deathwatch Space Marines. Despite the deadly force arrayed against them, the Kabal managed to abduct and later brutally murder the Lord Inquisitor. Investigators who came to Korscht's Inquisitorial Fortress discovered his remains smeared across every page of every occult tomb in his library. |
| Kabal of the Jade Knife | In 514.M38, the Jade Knife and the Eldar of Ulthwé battled for dominance within the shattered spars of the Webway. With the death toll spiralling into the thousands on either side, an uneasy truce was agreed upon -- despite their mutual loathing, both sides knew well that Eldar lives are too valuable to waste in such numbers. |
| Kabal of the Keening Blade | There is very little information about this Kabal in official Imperial records. |
| Kabal of the Lacerated Eye | A notable Kabal led by Archon Kiliarq Tongueblade. There is very little information about this Kabal in official Imperial records. |
| Kabal of the Last Hatred | The Kabalites of the Last Hatred have a morbid interest in the forbidden arts. Though they outwardly seek to master the transition between life and death, their aims are far grander than those of petty necromancers. Some say the Last Hatred seek to transcend mortality entirely, others that they wish to exterminate the Eldar race and enslave whatever entity is born from the ashes. Madness this may seem, but any who have looked into their eyes will never truly dismiss their ambition. So it is that they prosecute their kin-strife against the Craftworld Eldar and their Exodite cousins with unmatched fury. Originally famous for their pain-farms and a talent for keeping their wretched captives alive indefinitely, the quest to drain every last drop of suffering from their "clients" has led them into infamy. In recent years, this Kabal has mastered the technique of permanently binding a soul to the cadaver from which it would usually depart at the moment of death. Yet the carnival of corpses that accompanies them to war is merely a distraction to draw attention from something far more sinister, for down in the pits under their stronghold, the Kabal practises ever more complex rites. Here the Kabalites unpick the tapestry of life, studying the postponement of entropy in gardens hung with wax-skinned undead arranged in artful but unnatural poses. Should they ever succeed in their quest, the lines between life and death may be irrevocably blurred. |
| Kabal of the Lethal Guile |  In 967.M41, the Ultramarines Space Marine Chapter was despatched to free the enslaved population of the Agri-World of Vallenin from the Kabal of the Lethal Guile. The 3rd Company were sorely pressed by the xenos' grav-craft, until their Hunters deployed to reap a great tally amongst the swift xenos craft. There is little other information about this Kabal in official Imperial records. |
| Kabal of the Obsidian Rose | The Kabal of the Obsidian Rose control the greatest swathe of weapon shops in the Dark City. Through the inventive genius of their Archon, Aestra Khromys, they maintain a deathgrip on the Commorrite arms trade. Khromys is an exceptionally skilled artisan in the field of weapons manufacture, and a blade or pistol bearing her signature mark will sell for a huge price in slaves and souls. Yet she was not always the Kabal's leader. Indeed, having failed to bend the knee to the Obsidian Rose's previous master, Archon Vhloriac, Khromys was flung into the Kabal's vast weapons shops to suffer death by ennui. Yet Aestra worked tirelessly to produce perfect weapons until eventually she and her fellow weaponsmiths were called upon to present their work as tribute to Vhloriac himself. The coup that followed was executed with exceptionally crafted hidden weapons, Khromys and her retinue gunning down the Archon and his guards when their own firearms mysteriously failed to fire. These days, the Kabal of the Obsidian Rose has a flawless reputation for its firearms and blades. Its perfectionist Archon does not tolerate any lapse of quality in her weapon shops' produce, and will personally descend into the bowels of Commorragh to make an example of those accused of imperfect workmanship. These punishments are invariably horrific, administered as they are by Khromys' personal Pain Engine, "The Overseer." The Archon spends much of the rest of her time leading slave raids against realspace, for only Eldar slaves -- be they Commorrite, Craftworlder or Exodite -- have the requisite dexterity to satisfy the Archon of the Obsidian Rose, and she prefers to select them herself. |
| Kabal of the Onyx Scar | The Kabal of the Onyx Scar are known to operate in the Screaming Vortex located in the Calixis Sector. The Dark Eldar's knowledge of the Webway allows them to come and go throughout many locations in the Screaming Vortex, and Sacgrave is just one such point that the Onyx Scar Kabal frequent. To the humans, their presence is just one more unfathomable whim of the fickle race, and the Onyx Scar prefers to keep it that way. However, in truth the Dark Eldar have two reasons for their foothold on Sacgrave. The first is convenience; a number of viable Webway passages lead to Sacgrave. This makes it an easy place to acquire slaves. The second reason is a secret closely kept. One of the many trophies hoarded by Sacgrave's old pirate kings was an ivory chalice reported to contain the Ashes of Ynesth. Ynesth is one of the ancestors that the Dark Eldar revere as a Dark Muse, and her ashes would have both symbolic and pragmatic value as a relic -- if they could be located. The shadowy, graceful beings often linger near the slave columns to bask in the ambient misery, and occasionally trade items of their baffling and deadly technology for a few links of slaves. These most unfortunate of unfortunates are then spirited away to suffer for the Dark Eldar's private delight. Each member of the Onyx Scar bears a ritual scar with a large sliver of deep black stone set in the wound. The Kabal believes this impedes the speed at which She Who Thirsts can consume their souls. |
| Kabal of the Pierced Eye | A notable Kabal led by Archon Dhariaq Bladetongue. There is little other information on this Kabal other than its name in official Imperial records. |
| Kabal of the Poisoned Fang | It was the Dark Eldar of the Kabal of the Poisoned Fang who first encountered the still dormant Hive Fleet Hydra on the very extremes of the eastern spiral arm. The tendrils of this long dormant Hive Fleet had only now began to stir from their aeons-long hibernation. The Dark Eldar boarded the largest Hive vessels, intent on bringing new specimens back to the Kabal's Haemonculi. However, the Dark Eldar were unprepared for the rate at which the bio-ships awoke and every pirate that set foot inside one of the living ships was killed, butchered by a frenzied tide of Tyranids spawned to protect the vessel. The remaining Dark Eldar fleet attempted to escape, but for every drone ship they destroyed, two more took its place. Prematurely awakened from its slumber, Hive Fleet Hydra accelerated its advance into the galaxy to slake its hunger. |
| Kabal of the Poisoned Heart | A notable Dark Eldar Kabal. In 955.M41, the Kabal of the Poisoned Heart destroyed the Black Templars' Chapter Keep on the jungle world of Delleront and captured a score of recruits. Marshal Gerhart and Reclusiarch Grimaldus lead the Crusade of Sorrow in retribution against the Kabal to punish them for their insolence, and though hundreds of Dark Eldar were slaughtered, not a single recruit was ever found. There is no other information on this Kabal in official Imperial records. |
| Kabal of the Poisoned Tongue | The Kabalites of the Poisoned Tongue are universally sharp of wit, with a flair for duplicity so pronounced that they can tie their rivals in knots and dissect them with words alone. They have carved their own niche in the Dark City through constantly misleading and wrong-footing their rivals, and ensuring their "allies" bear the brunt of the fighting during realspace raids whilst they plunge the knife into the foe's delicate underbelly. They even use failure and mischance as weapons, elegantly scapegoating and framing others whenever their plans turn sour. Nobody trusts the forked tongues of this infamously sly Kabal, but seeing as no Dark Eldar trusts another in any case, this isn't much of a handicap. Led by the intellectual she-devil known as Lady Malys, the Kabal of the Poisoned Tongue enjoys a position right at the forefront of Commorrite society. Their number includes many Trueborn -- the closest to nobility in the Dark Eldar society that Vect's mercilessly enforced Kabalite system will allow. The whispersmiths have it that the Lady has her own mysterious patron, for those bold or foolish enough to eavesdrop on her personal chambers have reported two distinct voices when only one lifesign registers within. Few such spies survive long, for Lady Malys has her little ways, and she is invariably several steps ahead of the competition. The only being Malys has thus far proven incapable of second-guessing is her ex-lover, Asdrubael Vect -- though in recent years, even that is beginning to change. |
| Kabal of the Realm Eternal | A notable Kabal led by the aging Archon Kraillach, the Kabal of the Realm Eternal conspired with Nyos Yllithian of the Kabal of the White Flames and Xelian of the Blades of Desire to overthrow the tyrannical rule of Asdrubael Vect. To achieve their ends, the Realm Eternal aided Nyos' mission to resurrect the infamous El'uriaq, the legendary tyrant ruler of the shadowy-realm of Shaa-Dom. However, Vect's agents were able to pit the Realm Eternal and the Blades of Desire against one another by staging an attack upon Kraillach's fortress, making it appear as if Xelian was behind it. This drove the venerable Archon to paranoia. In retaliation, the Realm Eternal assaulted the Blades of Desire's fortress in return. Due to the fear and paranoia that gripped the Archon, the management of the Kabal fell to his trusted Incubi lieutenant Morr. The Kabal itself was eventually destroyed when Morr discovered that Kraillach had become possessed by a daemon following his encounter with the resurrected El'uriaq. This caused the loyal Incubi to strike down his possessed master. Following the Archon's death, the Kabal broke into warrior factions and internecine fighting. |
| Kabal of the Rending Talon | There is little information about this Kabal in official Imperial records other than its name. |
| Kabal of the Shattered Hand | In 822.M41, this piratical Kabal flew unhindered over the defence networks of the Leutin Necropolis. They had barely begun their bloody work when they were ambushed in turn by the Space Wolves Chapter's Great Company of Wolf Lord Erik Morkai, who hurled themselves from the windows above and boarded the jagged transports of the xenos raiders. |
| Kabal of the Shuddering Blade | A notable Dark Eldar Kabal of Commorragh, there is very little information in the official Imperial records other than that the Shuddering Blade is especially well known for orchestrating close combat bloodbaths, and competition is fierce to accompany their warriors to the field of battle. |
| Kabal of the Shadowed Thorns | An exiled Kabal led by Archon Salaine Morn, the Kabal of the Shadowed Thorns fled to the region of the galaxy known as the Koronus Expanse. After being exiled from Commorragh, the Archon spent many Terran years wandering the Webway with her fleet, raiding worlds and looking for a place to claim as her own. Eventually her Kabal stumbled upon the Gaelan Sphere, an ancient relic of a long-forgotten age of technology. The size of a small moon, covered with towers and antennae, the sphere was crafted around a solid core, the remnants of some mineral rich asteroid that its automated systems are slowly eroding away as it adds more and more levels to the sphere. Unfortunately for Salaine, the sphere's defences and legions of servitor guardians were too numerous and powerful for her Kabal alone to overcome. Thus, Salaine forged an alliance with Zaergarn Kul and his Kabal of the Splintered Talon, and together they purged the city of its ancient human defences, destroying that which they could not control and sealing away the areas that they could not inhabit. Eventually, the Dark Eldar built the Nexus of Shadows, a dark and dangerous artificial world that is controlled and partially developed, and populated with some of the worst xenos to ever crawl out of the Koronus Expanse. The city has festered and grown into a common port for the Dark Eldar and those who trade with them. As a base, it provides an excellent and well-hidden locale to raid the nearby Koronus Expanse, Calixis Sector, and even the Screaming Vortex, while its place within the webway gives it access to hundreds more worlds scattered across the Segmentum Obscurus and beyond. Unfortunately for Salaine, it was not an outside force or an alien that was to oust her from power. In the end Zaergarn Kul usurped her, and exiled her once more into the Webway before she could do the same to him. For many of the inhabitants of the Nexus this change in power meant little, especially for the slaves, to whom one Dark Eldar Archon is much the same as another. Selaine finds it utterly distasteful that she and all those she commands are exiles from the Dark City and now even the Nexus of Shadows. At her grudging command, the warriors of her Kabal have turned to mercenary work, selling their efforts to lesser beings as part of a plan to regain the power she once possessed. After Salaine's defeat and her escape into the void, most of the Dark Eldar of the Shadowed Thorns were added to Zaergarn's own forces. However, there are still a few lurking within the city who have the remnants of allegiance to the Shadowed Thorns and would still hold fealty to Salaine should she return. |
| Kabal of the Silver Fang | A notable Dark Eldar Kabal of Commorragh, there is very little information in the official Imperial records other than that the Silver Fang is especially well known for orchestrating close combat bloodbaths, and competition is fierce to accompany their warriors to the field of battle. |
| Kabal of the Slashed Eye | A notable Dark Eldar Kabal led by Archon Cythrax. This Kabal is known for its grudge against Lord Helion Sathonyx, a former noble of the Kabal of the Slashed Eye who was banished by the Archon after bringing an Eldar Farseer into their court. Though a fine prize, it was deemed too dangerous for even the Kabal, who accused Baron Sathonyx of putting the entire Kabal at jeopardy. Captured by the Kabal, Sathonyx was cast into the bowels of Commorragh. Gathering about him an army of exiles, dispossessed and rebels, Sathonyx rose to dominance over the Hellion gangs, and launched a year-long campaign against his former Kabal that nearly brought it to its knees. The Slashed Eye continued to pursue the former noble with bounty hunters and assassins, but somehow Sathonyx always managed to stay one step ahead of his enemies. The Slashed Eye is also known to have an intense rivalry with the Kabal of the Stolen Conscience, and constantly vie with one another over the control of Port Carmine, a contested and strategically important port city of Commorragh. |
| Kabal of the Slaughtered Eye | There is very little information on this Kabal in official Imperial records other than its name. |
| Kabal of the Splintered Talon | The Kabal of the Splintered Talon is an exiled Kabal that controls the Nexus of Shadows, a dark and dangerous artificial world the Dark Eldar control and partially developed within the Gaelan Sphere, located within the Webway near the regions of the galaxy known as the Calixis Sector and the Koronus Expanse. The Nexus is in a particularly unstable portion of the Webway, prone to Warp intrusions and reality collapses, and those Dark Eldar in good standing in Commorragh largely avoid it. Their Archon, Zaergarn Kul, was once a favoured son of Commorragh for many long Terran centuries, but eventually the wheel of fortune inevitably turned against him and he angered a number of more powerful factions within the Dark City. He led his Kabal into exile instead of seeing it destroyed, and immediately began seeking a new refuge from which he could consolidate his power. To this end, he sought Salaine Morn, whose Kabal of the Shadowed Thorns had recently uncovered the Gaelan Sphere, and offered her much-needed strength of arms to help claim it. Together, the two Archons discovered and claimed the Nexus of Shadows as their own dominion. Unfortunately for Salaine, it was not an outside force or an alien that was to oust her from power. In the end Zaergarn Kul usurped her, and exiled her once more into the Webway before she could do the same to him. For many of the inhabitants of the Nexus this change in power meant little, especially for the slaves, to whom one Dark Eldar Archon is much the same as another. Zaergarn Kul is the master of the Nexus of Shadows in name, but in name only. For many standard years, since his demise at the hands of a Mandrake sent by Salaine Morn during their power struggle, his soul has been trapped within the twisted heart of the voidship called The Soul Reaver. While The Soul Reaver draws power from the souls of all of those who die within the Nexus of Shadows, Zaergarn's assassin attacked him while he was observing the vessel's tormented heart, bathing in the psychic pain that exuded from it. Since that day, Zaergarn's essence has simmered and seethed, trapped within the heart of the voidship but unable to lash out at those who have wronged him because the Nexus of Shadows pulls out all of the energy that the vessel collects. |
| Kabal of the Stolen Conscience | This Kabal is known to have an intense rivalry with the Kabal of the Slashed Eye, whose warfleets frequently clash over the control of Commorragh's vital spaceport, Port Carmine. |
| Kabal of the Storm's Spite | A notable Kabal of Commorragh, there is very little information on this Kabal in official Imperial records other than a note on its preferred method of attack -- the Storm's Spite favour the deployment of overwhelming firepower, fielding whole squadrons from Ravager gunships and murderous flocks of Scourge mercenaries who pick the foe apart from a distance. |
| Kabal of the Talon Cyriix | The Kabal of the Talon Cyriix was once a notable Dark Eldar Kabal ruled by Archon Ysclyth, the last descendant of a pure-blooded lineage that had lasted for thousands of standard years. Having grown weary of the tyrannical rule of Asdrubael Vect, in 248.M41, Ysclyth attempted a coup against Vect by harnessing Daemons to his cause. But he soon learned his folly when Vect utilised an ancient failsafe which sealed off Ysclth's territory from the rest of Commorragh. Trapped with only the Daemon legions for company, Ysclyth and his Kabal were slowly torn apart. |
| Kabal of the Thirteenth Whisper | A notable Dark Eldar Kabal whose methods in battle are perhaps the strangest of all. Their members keep their faces shrouded at all times and are reputed to traffic heavily with the Mandrakes of Aelindrach. Raids by this Kabal are nightmarish affairs, tides of shadow proceeding their advance while chill-eyed horrors stalk the darkness with blades in hand. |
| Kabal of the Venomed Blade | There is little information on this Kabal in official Imperial records other than the fact of its existence. |
| Kabal of the White Flames | The Kabal of the White Flames were originally one of the great ancient noble houses of Commmoragh. Ruled by Archon Nyos Yllithian, they conspired with Archons Kraillach of the Realm Eternal and Xelian of the Blades of Desire. It was Yllithian's desire to see the infamous El'uriaq, the legendary Tyrant of Shaa-Dom, resurrected. However, before they could enact their nefarious plot, Vect's agents were able to pit the Realm Eternal and the Blades of Desire against one another by staging an attack upon Kraillach's fortress, making it appear as if Xelian was behind it. This drove the venerable Archon to paranoia. In retaliation, the Realm Eternal assaulted the Blades of Desire's fortress in return, forcing the two Kabals into a bloody standoff that was only broken when Archon Yllithian appeared and forced a parlay between the two warring factions in order to salvage the situation. Continuing with his plans to resurrect El'uriaq, master Haemonculus Bellathonis, the most capable Haemonculi at resurrecting Dark Eldar who have been long dead, discovered that El'uriaq's body could be restored if a pure Eldar Exodite soul was captured and tortured sufficiently. Yllithian and his co-conspirators captured an Exodite soul and were able to successfully resurrect the long-dead Tyrant of Shaa-Dom. But soon, the resurrected Archon began to usurp the authority of Yllithian, and gained a strong following within the White Flames as well as a loyal following throughout the Dark City with his charismatic speeches and manipulative genius. Though the resurrected Archon retained his old personality and charisma, he also now maintained potent psychic powers. Yllithian eventually discovered that El'uriaq was also in fact possessed by a powerful Daemon. To make matters worse, the Daemon was hell-bent on causing a Dysjunction -- collapsing the boundaries between the Warp and the space which held the Dark City, allowing the Neverborn to spill into the Webway and consume Commorragh. Whether or not this comes to pass, remains to be seen. |
| Kabal of the Wraith Kind | The Kabal of the Wraithkind are a Dark Eldar Kabal that has suffered a unique type of punishment inflicted by the ruling overlord of the Dark City of Commorragh, Asdrubael Vect, after a failed attempt to secede from his rule. Once the rulers of the pleasure city Aur-Ilithain, one of the satellite realms of Commorragh within the Labyrinthine Dimension of the Webway, the Wraithkind were extremely powerful until their Archon, the daemon-courting monomaniac Lord Tliensic D'raque, attempted to close his dark paradise off from the rest of Commorragh. By destroying the single hyperspatial bridge that led from the heart of the Dark City to the Cyclops Gate of Aur-Ilithain, D'raque announced his intention to secede from the rule of the Dark City's dictatorial overlord, Asdrubael Vect, the Archon of the Kabal of the Black Heart. The very next night six secret portals suddenly opened across Aur-Ilithain, and thousands of shadow-creatures spiralled through, chanting in an eldritch tongue. Before the next dawn, Vect's ethereal allies had plunged the pleasure city and its denizens into a half-real state slightly out of phase with the rest of the Webway. The Wraithkind were forever altered, changed into night-shrouded fiends similar to Mandrakes that can only feed upon the pain and despair of others when they step out of the Webway into the material world. When they do so, the venting of their frustrations upon the "lesser races" of the galaxy is truly shocking to behold. |
| The Broken Sigil | The Kabal of the Broken Sigil takes its icon from the ancient Eldar glyph Drethuchii, loosely translated as "the Shattering of Harmony." Like its namesake, the Kabal is synonymous with acts of discord. Wherever order and prosperity abound, the Broken Sigil will strike with overwhelming force, bringing confusion and despair to the most idyllic planets in the galaxy. Terror tactics are much beloved by the Kabalites of this sect, so much so that the Broken Sigil's Archon, Lord Xerathis, is looked down upon by his rivals for the predictability of his strategies. True enough, his Kabalites are not above sky-writing, blanket-bombing with hallucinogenic gas or hijacking communications channels to ensure their victims are frightened half to death before the invasion starts in earnest. Yet the Kabalites of the Broken Sigil maintain that the price they pay in forewarning the enemy is far outweighed by the rich feast of fear that awaits them when the onslaught begins. Perhaps unsurprisingly, the Broken Sigil are amongst the most feared and infamous of the Dark Eldar Kabals, especially amongst the worlds of the Imperium. Entire conclaves of Ordo Xenos Inquisitors seek their demise, and on multiple occasions Lord Xerathis has found himself the personal quarry of Deathwatch Kill Teams. If this concerns the toweringly arrogant fearmonger, he conceals it well. Instead, Xerathis boasts of the fine slaves such post-human warriors make, and insinuates knowingly that, with the correct persuasion, even Space Marines can be made to cower in fear. |
| The Lords of the Iron Thorn | Masters of the sub-realm of Pandaimon, embittered remnants of a long-gone aristocracy, the Lords of the Iron Thorn are Commorragh's preeminent weapons crafters. Prowling squadrons of Ravager gunships and sleek-sailed Raiders fill the skies of Pandaimon, sweeping between its spires in great numbers. Long ago, this proud and ancient Kabal were brought to their knees after an ill-fated rebellion against Asdrubael Vect by their then-master, Archon Qu. However, in the centuries since, they have rebuilt their power through ensuring the Kabal of the Black Heart remains well supplied with Iron Thorn war machines. This Kabal's weapon factories and grav-docks are so sprawling they would cover the surface of a small moon, and they ring night and day with the hellish clangour of slave-driven industry. It is said that the mark of the Iron Thorn upon a Raider's hull is akin to Aestra Khromys' brand upon the stock of a gun -- a mark of quality that is second to none. The Lords of the Iron Thorn are highly active in the raids upon realspace, not least because every successful attack proves afresh the power of their airborne armada. They believe in the application of overwhelming firepower, and delight in proving the superiority of their finely crafted gunboats over the lumbering war engines of the lesser races. |
| The Severed | The Severed are a spacebound Kabal that left the Dark City hundreds of Terran years ago. They are more than familiar to the Imperium, as the Severed have plagued the systems of the Ghoroid Strip since time immemorial. Their Archon, S'aronai Ariensis, once botched a coup that cost him his place in the Dark City and most of his left hand. He defiantly refuses to regenerate his wound, and his warriors are often mutilated in the same manner, their left hands reduced to talons or replaced by augmetic claws. It is testament to Archon Ariensis' utter ruthlessness that, having lost such face before his followers, he managed to retain the reins of power. Indeed, in the days following his and his Kabal's exile from the Dark City, Ariensis faced challenges to his authority almost daily. Each was answered with sudden, shocking violence, the Archon making such hideous examples of his rivals that those who remained soon lost all desire to attempt coups of their own. Now the Severed are a force to be reckoned with once again. With his authority beyond dispute, Archon Ariensis has fought a centuries-long campaign against all who cross his path. His Kabal's pirate fleet -– once a ragtag collection of battle-damaged craft –- has become a sleek flotilla of hundreds. They strike at will, navigating the broader sections of the Webway with peerless skill to strike against worlds across the galaxy and even, on rare occasions, Commorragh itself. In battle the Severed favour great wings of attack craft that shatter and scatter the strength of their victims before a single Dark Eldar foot touches alien soil. |
Sources
Black Crusade: Core Rulebook (RPG), pp. 344-345
Black Crusade: Game Master's Kit (RPG), pp. 14-15
Codex: Chaos Deamons (6th Edition), pg. 22
Codex: Dark Eldar (7th Edition), pp. 23-40, 90-91, 158-160
Codex: Dark Eldar (5th Edition), pp. 5, 26, 62, 89
Codex: Dark Eldar (3rd Edition, Revised), pg. 49
Codex: Dark Eldar (3rd Edition), pg. 10
Codex: Eldar (6th Edition), pg. 21
Codex: Space Marines (6th Edition), pp. 29, 38, 53, 64
Codex: Space Wolves (5th Edition), pg. 19
Codex: Tyranids (5th Edition), pg. 38
Dark Heresy: Enemies Without (2nd Edition) (RPG), pg. 111
Herald of Oblivion (A Path to Victory Gamebook) by Jonathan Green
Only War: Core Rulebook (RPG), pg. 334
White Dwarf 271 (UK), pg. 56
Deathwing: Xenos Hunters (Anthology), "The Alien Hunters," by Andy Chambers
Iron Harvest (Short Story) by Guy Haley
Path of the Archon (Novel) by Andy Chambers
Tantalus (Short Story) by Braden Campbell
Gallery