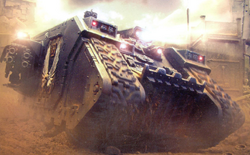 The Land Raider Prometheus is a variant of the standard Land Raider used by the Adeptus Astartes as an assault transport and super-heavy main battle tank. The Land Raider Prometheus is used as a battlefield command vehicle as it is outfitted with additional sensor and communications equipment. The standard Land Raider's hull-mounted, twin-linked Heavy Bolters are removed in order to make room for the additional equipment. The vehicle features an advanced Vox signal booster allowing it to coordinate units at long-range, including ground-to-ground and ground-to-orbit. The Land Raider Prometheus shares several features in common with the Damocles Command Rhino, and as such is capable of fulfilling the role of an Astartes strike force command and control hub if a Damocles is not deployed or is disabled.
The origins of the Land Raider Prometheus are shrouded in mystery. There are some Tech-priests of the Adeptus Mechanicus who believe that it was first developed as a variant of the long-lost Land Raider Tartarus, though little evidence to support this assertion has been forthcoming. At least one archival record depicts the vehicle, or else one resembling it very closely, fighting on the side of the Loyalists during the early battles of the Horus Heresy. Others believe that it was first developed on Nocturne in the renowned forges of the Salamanders, and certainly that honoured First Founding Chapter retains more examples of the Prometheus than any other (although even they are thought to hold only four). The Salamanders deny being the source of the variant and it is unknown how many other Chapters still hold a Land Raider Prometheus deep within their armouries.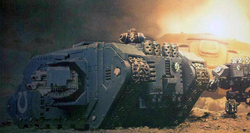 In more recent times the Prometheus has gained fame for its ability to act both as a command vehicle and as a war machine. The most famous action involving the Prometheus in recent Imperial annals was  during the Masali Campaign, where Force Sicarius, comprised of an Ultramarines force, led by the 2nd Company's commander Captain Cato Sicarius, came under heavy attack by Eldar Corsairs. The Eldar outnumbered the Ultramarines force three-to-one, and Sicarius only had access to a Land Raider Prometheus and two Land Speeders. The Prometheus was first used as a defensive anchor in which the Ultramarines were able to keep the Eldar from advancing, and after the first assault was repulsed, the Prometheus was able to bring its four twin-linked Heavy Bolters to bear against the attacking Eldar Guardians, killing many in only a matter of seconds. The Prometheus then turned its weapons, guided by their advanced targeting systems, against the Eldar Jetbikes. Eldar Jetbikes, which are normally very difficult to target due to the high speeds at which they travel, were targeted and systematically destroyed. After the Jetbikes were dealt with, Sicarius ordered his reserve forces, which were stationed to the north, to attack the Eldar from behind. Captain Sicarius and his squads surrounding the Prometheus moved forwards and cut-off the remaining Eldar, who were eventually destroyed. After the battle, the Land Raider Prometheus and its crew earned the first-class Marksman's Honour badge for turning the tide of the battle in the Imperium's favour. The Land Raider Prometheus remains a keystone of the Ultramarines' armoury to this day.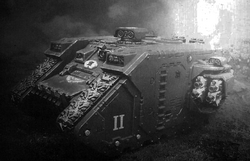 Outwardly, the most visible difference between the most common patterns of the Land Raider and the Land Raider Prometheus is its weaponry, with the quad-mounted Heavy Bolters in each sponson replacing the Land Raider's Lascannon to provide a storm of fire to cut swathes through enemy infantry and light vehicles. It is standard practice that all Prometheus Land Raiders are armed with a pintle-mounted Storm Bolter for close-in anti-infantry defence. This is a substitute for the hull-mounted Heavy Bolters, which are removed to make space for the extra Vox net that facilitates the vehicle's primary role as a command node. Despite the lethality of this particular weapon configuration, the vehicle's main task is not to provide fire support, but to serve as a front line command vehicle. This is especially appropriate, for the leaders of the Adeptus Astartes are every bit as much warriors as they are strategists, and their place is not behind the lines, but as the very leading edge of battle.
As a dedicated command transport, the Prometheus utilises an extensive array of communications and sensor equipment. All Land Raiders carry a tactical holosphere and squad status displays, but the Prometheus augments this with a long-range signals Amplex, a two-way signal booster, for squad-to-squad, ground-to-air and ground-to-orbit sensorium and Vox-communion. The Prometheus has some features in common with the Damocles Command Rhino, a command variant of the Rhino armoured carrier, and can serve as an Astartes strike force command and control hub if a Damocles is not deployed or is somehow disabled. It utilises secure multi-band communications for coordination with allied forces and transmission monitoring equipment for intercepting and de-crypting enemy comm signals, and also incorporates a multi-spectral ground surveillance Auspex for locating and tracking enemy forces. The information provided by this array of sensors can then be shared with other Imperial forces as required. The advantage the Prometheus has over the Damocles Rhino as a command and control hub is that it is also a front line combat vehicle. In battle it can lead from the front, and whilst a Prometheus does not contain all the advanced features of the dedicated command Rhino, it makes a peerless front line command transport worthy of the most courageous and warlike leaders of the Adeptus Astartes.
The advanced targeting systems and additional communication systems take up some of the interior room within the vehicle, and as such the standard Land Raider's hull-mounted twin-linked Heavy Bolters are replaced. Additionally,the Land Raider Prometheus' transport capacity has been reduced compared to the standard pattern of the vehicle. The Prometheus is capable of transporting up to ten fully-armoured Space Marines or up to five Terminators. A Land Raider Prometheus is always equipped with a pintle-mounted Storm Bolter for added defence against enemy attack, but can also be outfitted with extra armour plating, a Hunter-Killer Missile Launcher, a Pintle-mounted Multi-Melta, a Searchlight, and Smoke Launchers.
Known Users of the Land Raider Prometheus
Edit
Known Land Raiders Prometheus
Edit
Angelis Imperator - The Angelis Imperator is a Land Raider Prometheus belonging to the Dark Angels Chapter. This vehicle took part in the Siege of Vraks, where it was seriously damaged but recovered later for repairs.
Shield of Mancora - The Shield of Mancora was a Land Raider Prometheus of the Howling Griffons Chapter which took part in the Badab War, where it was immobilised and captured by the Executioners Chapter. It is unknown if the vehicle was ever returned.
Adeptus Mechanicus Technical Specifications
Edit
Land Raider Prometheus
Vehicle Name:
Land Raider Prometheus
Main Armament:
4 sponson-mounted Twin-linked Heavy Bolters
Forge World of Origin:
Macragge
Secondary Armament:
Pintle-mounted Storm Bolter
Known Patterns:
I - VI
Traverse:
180 degrees
Crew:
1 Commander, 1 Driver
Elevation:
-32 to 42 degrees
Powerplant:
Adaptable Thermic Combustion with Auxilliary Reactor
Main Ammunition:
4,800 Rounds
Weight:
72.0 tonnes
Secondary Ammunition:
1,000 Rounds
Length:
10.3 metres
Armour:
Width:
6.1 metres
Height:
4.31 metres
Superstructure:
95 millimetres
Ground Clearance:
0.45 metres
Hull:
95 millimetres
Max Speed On-Road:
55 kilometres per hour
Gun Mantlet:
N/A
Max Speed Off-Road:
48 kilometres per hour
Vehicle Designation:
0120-766-0724-PR 140
Transport Capacity:
10 Space Marines, or 5 Terminator Marines
Firing Ports:
N/A
Access Points:
2 Side Doors, 1 Front ramp
Turret:
N/A
Imperial Armour Apocalypse II, pg. 33
Imperial Armour Volume Two - Space Marines and Forces of the Inquisition, pp. 111-116
Imperial Armour Volume Two (Second Edition) - War Machines of the Adeptus Astartes, pp. 36, 48-49
Imperial Armour Volume Three - The Taros Campaign, pg. 152
Imperial Armour Volume Five - The Siege of Vraks - Part One, pp. 60, 63, 146-147
Imperial Armour Volume Eight - Raid On Kastorel-Novem, pp. 57, 59
Imperial Armour Volume Nine - The Badab War - Part One, pg. 131
Imperial Armour Volume Ten - The Badab War - Part Two, pp. 47, 154
Imperial Armour Volume Twelve - The Fall of Orpheus, pg. 159
Imperial Armour Update 2003, pp. 8-9
Ad blocker interference detected!
Wikia is a free-to-use site that makes money from advertising. We have a modified experience for viewers using ad blockers

Wikia is not accessible if you've made further modifications. Remove the custom ad blocker rule(s) and the page will load as expected.