The Legio Osedax (The Cockatrices) is a Loyalist Titan Legion of the Collegia Titanica, one of the military arms of the Adeptus Mechanicus. It hails from the Forge World of Phaeton, located in the Segmentum Solar. There is very little information in Imperial records about this obscure Titan Legion, and it is unknown when they were founded. However, it is likely that this Titan Legion's creation occurred some time during the Great Crusade following the transplant of several Phaetonite Magi to the world of Atar-Median.
When they departed their homeworld, the Phaetonites took with them a core of ancient god-engines that had once defended Phaeton in the anarchy of Old Night. These Titans went on to become a part of the newly-founded Legio Atarus, while those Titans left behind on Phaeton became the core of the Legio Osedax.
Legion History
Edit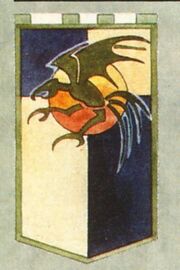 Notable Campaigns
Edit
Notable Titans
Edit
None listed in current Imperial records.
Notable Personnel
Edit
Traves - Traves was the Grand Master of the Legion during the Battle of Balthor Sigma.
Legion Appearance
Edit
Legion Colours
Edit
The Legion colours of the Cockatrices are white with blue checkers.
Legion Badge
Edit
The Legion badge of the Cockatrices is a cockatrice facing leftwards with its wings outstreched, imposed over an orange circle outlined in black. The field behind it is quartered in tan and dark blue.
Imperial Armour Volume One - Second Edition: Imperial Guard, pg. 10
Imperial Armour Volume Twelve - The Fall of Orpheus, pg. 18
The Horus Heresy - Book Two: Massacre (Forge World Series) by Alan Bligh, pg. 157
The Imperial Knights Companion (6th Edition), pg. 95
White Dwarf 110 (UK), "Adeptus Titanicus: Eldar", pg. 67
White Dwarf 108 (UK), "'Eavy Metal: Adeptus Titanicus Titans & Banners," pg. 76
Adeptus Titanicus: Dominus (PC Game)