The Legio Osedax (The Cockatrices) are a Loyalist Titan Legion of the Collegia Titanica, one of the military arms of the Adeptus Mechanicus. It hails from the Forge World of Phaeton, located in the Segmentum Solar. There is very little information in Imperial records about this obscure Titan Legion, and it is unknown when they were founded.
Legion History
Edit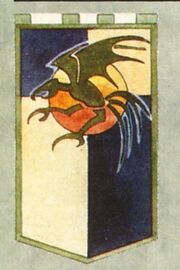 Notable Campaigns
Edit
Notable Titans
Edit
None listed in current Imperial records.
Notable Personnel
Edit
Traves - Traves was the Grand Master of the Legion during the Battle of Balthor Sigma.
Legion Appearance
Edit
Legion Colours
Edit
The colours of the Cockatrices are not listed in current Imperial records.
Legion Badge
Edit
The Legion badge of the Cockatrices is a cockatrice facing leftwards with its wings outstreched, imposed over an orange circle outlined in black. The field behind it is quartered in tan and dark blue.
Imperial Armour Volume One - Imperial Guard (2nd Edition), pg. 10
Imperial Armour Volume Twelve - The Fall of Orpheus, pg. 18
The Horus Heresy - Book Two: Massacre, pg. 157
The Imperial Knights Companion (6th Edition), pg. 95
White Dwarf 110 (UK), "Adeptus Titanicus: Eldar", pg. 67
White Dwarf 108 (UK), "'Eavy Metal: Adeptus Titanicus Titans & Banners," pg. 76
Ad blocker interference detected!
Wikia is a free-to-use site that makes money from advertising. We have a modified experience for viewers using ad blockers

Wikia is not accessible if you've made further modifications. Remove the custom ad blocker rule(s) and the page will load as expected.