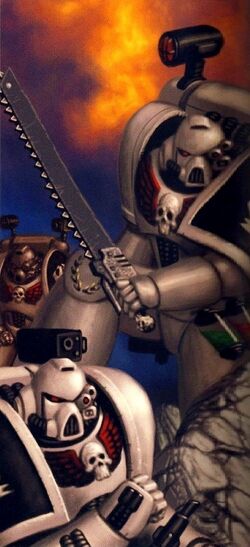 A  Legion Apothecarion Detachment was a specialised support unit of the ancient Space Marine Legions used during the Great Crusade and Horus Heresy eras in the late 30th and early 31st Millennia. These healers carried the most sacred trusts of the Legion -- the care of its fallen and the promise of its future. This small detachment consisted of 1 to 3 Apothecaries which served as battlefield healers, tending to the wounded and the maimed and to recover the sacred gene-seed from slain Legionaries. Outside of combat, these Legion Apothecaries were responsible for monitoring the Legion's Neophytes for mutation or flaws in their gene-seed and Astartes organ implants and for carrying out the implantation process in their Legion's Aspirants.
Legion Apothecaries were charged with maintaining the bodily health of their Battle-Brothers. Serving as battlefield healers it was the Apothecary's task to proffer aid to the wounded, return the injured back to the fray and minister final mercy (the Emperor's Peace) to those in need of it. For those beyond help, they also had the onerous duty of recovering the Legion's gene-seed zygotes for implantation in future generations of Space Marines. These tasks required skill, learning and above all else, courage, for it was one thing to fight an enemy, and quite another to turn from battle and tend to the fallen in the midst of war when all around was a whirlwind of slaughter, heedless of safety.
Unit Composition
Edit
Deployment
Edit
Each Apothecary is assigned to one of the following squad types in a Space Marine force during deployment:
Optional Wargear
Edit
Ad blocker interference detected!
Wikia is a free-to-use site that makes money from advertising. We have a modified experience for viewers using ad blockers

Wikia is not accessible if you've made further modifications. Remove the custom ad blocker rule(s) and the page will load as expected.