Legion of Night
Warcry

Unknown

Founding

Unknown

Successors of

Unknown

Successor Chapters

Unknown

Number

Unknown

Primarch

Unknown

Chapter Master

Unknown

Homeworld

Outrenacht

Allegiance
Colours

Unknown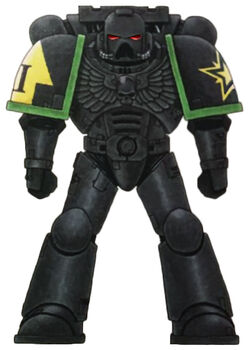 The Legion of Night is a Loyalist Codex Astartes-compliant Space Marine Chapter of unknown origin and Founding. This Chapter hails from the world of Outrenacht. The only thing known with any certainty about these Astartes is that the Legion of Night's combat doctrine revolves around the use of Tactical Squads that utilise the Chapter's large pool of armoured transports. These are used to perform surgical strikes or seize strategic points with the aid of fast-moving Razorbacks or Rhinos. Like its fellow Chapters the Angels of Fury and the Raven Guard, the Legion of Night has forged its combat doctrine around such highly mobile insurgent tactics.
Chapter Appearance
Edit
Chapter Colours
Edit
The Legion of Night primarily wears black-coloured Power Armour. The Imperialis or Aquila on the chest guard is also black in colour. The yellow-coloured squad specialty symbol which indicates squad type (Tactical, Devastator, Assault & Veteran) is located on the right shoulder pauldron. A large black-coloured Roman numeral, which indicates squad number, is centered on the squad specialty symbol. The colour of the shoulder pauldron trim indicates company number in accordance to the Codex Astartes (i.e. White - 1st Company, Yellow - 2nd Company, Red - 3rd Company, Green - 4th Company, etc.)
Chapter Badge
Edit
The Legion of Night's Chapter badge is a five-pointed yellow star, centered within a larger outline of a five-pointed stars, with four yellow-coloured points radiating from behind it.
Adeptus Astartes: Successor Chapters (Limited Booklet Release), pg. 64
Codex: Space Marines (5th Edition), pp. 30, 59
Ad blocker interference detected!
Wikia is a free-to-use site that makes money from advertising. We have a modified experience for viewers using ad blockers

Wikia is not accessible if you've made further modifications. Remove the custom ad blocker rule(s) and the page will load as expected.