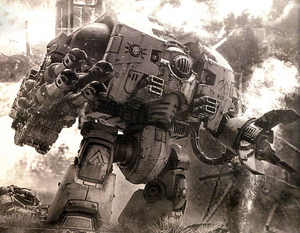 Created in limited numbers in the latter days of the Great Crusade, the Leviathan Pattern Siege Dreadnought or simply Leviathan Dreadnought was developed in secret on Terra, away from the pervasive oculars of the Mechanicum. Its massive frame incorporates hybridised technologies, some dating back into the dim past of humanity. Towering over later Imperial walker patterns, this heavily armoured dreadnought is savagely powerful. It was designed for siege warfare and primarily armed with close combat and support weaponry that can rend buildings, vehicles and flesh alike; though it is no less effective when armed with the powerful and esoteric short ranged weaponry uniquely developed for it. The Leviathan's oversized reactor allows it to bear weapons more powerful than other classes of dreadnought, and also powers reinforced energy fields that surpass those developed for the Contemptor class. Power has its cost though, and the systems of the Leviathan place a lethal level of strain on the minds its occupants. Marines who find themselves interred within a Leviathan will pay a heavy toll; either with their life, or their reason.
Those few examples of Relic Leviathan Dreadnoughts which survive into the 41st Millennium are ancient and terrible relics, rarely spoken of and rarely deployed, dreaded as much as they are revered by those Chapters in whose armoury vaults they reside and stand empty until direst need. The tormented and ravaged minds of those interred within are driven to the edge of madness by the little-understood mechanisms unique to the Leviathan, trapped in gore-soaked dreams of the lost Age of Darkness which haunt the machines themselves, and soon suffer a final dissolution owing to the terrible strain the Leviathan inflicts on those who would dare to master it. Only the full authority of a Master of the Chapter is sufficient to unleash these terrifying machines in war, as where they strike and what they kill is as often determined by their dark dreaming as it is the will of their commanders.
Developed in the highest secrecy not on Mars, but on Terra, the Leviathan was an alternative development of the highly successful Contemptor Dreadnought. It represents hybrid technologies, some of which it is believed date back to the Age of Strife, which rumours had it were created by the hand of the Emperor directly. The resources required to produce one were immense, equal perhaps even to an Imperial Knight. Made available to the Legiones Astartes only in limited quantities before the outbreak of the Horus Heresy, they were highly valued and recognised as savagely powerful siege and hunter-killer units. They placed an onerous and ultimately lethal strain upon their occupants, the Leviathan's incumbent burning brightly but briefly in their second life. Many in the Mechanicum were deeply uneasy over the design, seeing it as purpose-designed to match and indeed destroy the Mechanicum's own battle-automata in some future, unforeseen crisis or dispute.
During the Horus Heresy, Loyalists with access to Terra were able to obtain new Leviathan Dreadnoughts, although never many, while Traitors and isolated forces were reduced to marshalling their few Leviathans carefully or hunting down the relics of the dead from the battlefields to be re-commissioned.
Unit Composition
Edit
Notable Leviathan Pattern Siege Dreadnoughts
Edit
The following are notable Leviathan Pattern Siege Dreadnoughts: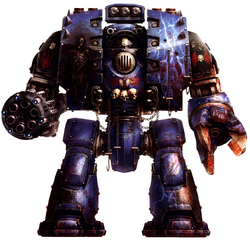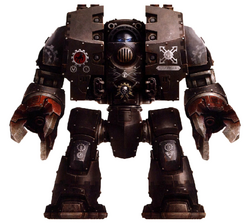 Optional Wargear
Edit
Ad blocker interference detected!
Wikia is a free-to-use site that makes money from advertising. We have a modified experience for viewers using ad blockers

Wikia is not accessible if you've made further modifications. Remove the custom ad blocker rule(s) and the page will load as expected.