Liberators
Talk

12
2,855pages on
this wiki
Liberators

Warcry

Unknown

Founding

Unknown

Successors of

Unknown

Successor Chapters

Unknown

Number

Unknown

Primarch

Unknown

Chapter Master

Unknown

Homeworld

Unknown

Allegiance
Colours

Jungle or Catachan Green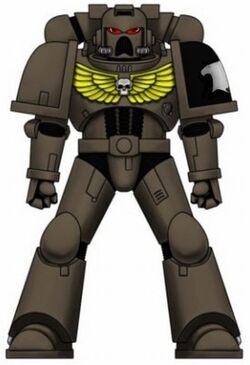 The Liberators are a Loyalist Space Marines Chapter of the Imperium of Man of unknown Founding and origin. Almost nothing else is currently known about the Liberators in Imperial records.
Chapter Appearance
Chapter Colours
The Liberators' Power Armour is painted a jungle, or Catachan, green.
Chapter Badge
The Liberators' Chapter badge is an eagle head, placed on the left shoulder plate, in a field of black. The right shoulder plate usually designates one of the Chapter's companies. Company icongraphy is sometimes also worn on the right kneeplate. Veteran Space Marines of the Liberators have been known to hand paint the Chapter's banner on their right shoulder plates, as well.
Sources
Codex: Space Marines (3rd Edition), p. 47