The Marauders is a Loyalist Space Marine Chapter and a Second Founding Successor Chapter of the White Scars according to the Apocrypha of Davio, written in the 33rd Millennium. Little else is known about it in Imperial records save that the Mantis Warriors Chapter, which grew infamous during the Badab War, was created from the gene-seed of the Marauders.
Chapter History
Edit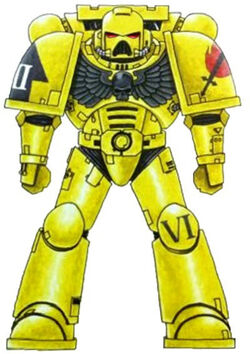 Notable Campaigns
Edit
Chapter Appearance
Edit
Chapter Colours
Edit
The Marauders' primarily wear yellow Power Armour. The Aquila or Imperialis on the chest plate is black. The black squad specialty symbol on the right shoulder guard designates operational specialty -- Tactical, Devastator, Assault or Veteran. A white Roman numeral is stenciled in the centre of it, indicating squad number. A black Roman numeral stenciled on the centre of the left knee guard indicates company number.
Chapter Badge
Edit
The Marauders' Chapter badge is a black sword with its blade surrounded by a nimbus of red flames, centred on a field of yellow.
Adeptus Astartes: Successor Chapters (Limited Release Booklet)
Codex: Space Marines (6th Edition), pp. 8, 38, 143
Codex: Dark Angels (4th Edition), pg. 73
How to Paint Space Marines, pg. 81
Imperial Armour Volume Two - Space Marines and Forces of the Inquisition, pp. 30, 80, 185
Imperial Armour Volume Two, Second Edition - War Machines of the Adeptus Astartes, pg. 19
Imperial Armour Volume Twelve : The Fall of Orpheus, pg. 40
Ad blocker interference detected!
Wikia is a free-to-use site that makes money from advertising. We have a modified experience for viewers using ad blockers

Wikia is not accessible if you've made further modifications. Remove the custom ad blocker rule(s) and the page will load as expected.