Mekboy
Talk

0
2,852pages on
this wiki
"Da best shoota I eva made, dat iz. Loadza barrulz, so dat it's ded shooty. 'Sept dat wun, 'cos dat's da skorcha, dat's burny insted. Yeah, good an' propa. An' da bullitz is 'splosiv...dey goez boom inna fings wot you'z shootin.' An' dat button dere...dat's da best bit. Wot it duz, see, iz...iz...oh, zog. Nah, its nuffin' boss. Nah, you'z don't need ta see wot dat button duz...'onist. Don't push it!"

— Last words of renowned Ork Mekboy Nazdakka Boomsnik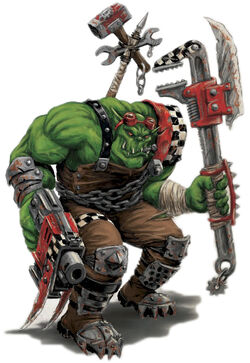 A Mekboy, also known as a Mekaniak or more often simply as a Mek, is a type of Ork Oddboy who serves as one of the engineers who build all the weapons, vehicles, and other advanced technology used by the Greenskins. Mekboyz are especially important to Ork Speed Freeks, as they maintain the prodigious amount of bikes and vehicles used by Ork warbands. The most important and skilled Mekboyz are known as "Big Meks," who lead groups of lesser Mekboyz armed with a wide variety of Greenskin kustom equipment and Kombi-Weapons, sometimes including even full warbands or whole WAAAGHs! armed with a large amount of less-than-conventional Ork weaponry. A Big Mek's mastery of technology is unsurpassed amongst the Orkoid races and a Big Mek is often seen generating a "Kustom Force Field" around himself that protects his person and his creations. A Big Mek who becomes the leader of a Greenskin WAAAGH! will be known as a "Mek-Boss."
Mekboyz are interesting members of the Ork race because their abilities with machinery are not learned but are innate, more instinct than knowledge or skill, as their relative wealth of technological know-how was actually genetically encoded into them by the Orks' ancient creators, the Brain Boyz, and is expressed in the Greenskins' trademark crude and ramshackle style of building. Although incredible as it sounds, this knowledge at its peak actually surpasses what can be achieved using the technology available to the Imperium of Man and can actually match that of the Eldar, thus giving some indication of the Orks and Eldar's potentially common ancestry as creations of the Old Ones.
It should be noted that the bulk of the "technology" created by Orks in general and Mekboyz in particular is so incredibly crude that its ability to function would apparently contravene not only common sense but the laws of physics as well; the typical Ork Shoota is literally slapped together out of scrap metal, leaving it all but incapable of firing except by another Ork. That it works at all is testament to the power of the Ork WAAAGH!, as the strange collective psychic field generated when large numbers of Orks gather together allows them to bypass the physical impossibilities that would ordinarily render their gear useless or broken, simply through the Greenskins' collective belief that their equipment should function the way it was intended. Within certain limits, if an Ork believes a particular gun is working and pulls the trigger, it will fire. Although this does not mean that just any random bits of scrap metal welded together will function as a Plasma Pistol, the Mekboys still create what conceptually is their intended weapon or piece of wargear, the gestalt psychic power of the Ork WAAAGH! gives the item that extra push it needs to operate "successfully". This also leads to the common belief amongst Orks that yellow rockets create bigger explosions, which is true simply because the Orks believe it to be so. Mekboyz are therefore critical to the maintenance of Ork technology not only physically, but psychically as well, as they can instill sufficient credibility in the WAAAGH! regarding a given device to make it actually work. It is this principle that underlies the Orks' persistent belief that vehicles and spacecraft painted red actually go faster than things that are not red, summed up in the pithy Ork saying, "da red wunz go fasta."
Codex: Orks (4th Edition), pp. 11, 34
Codex: Orks (3rd Edition)
Imperial Armour Volume Eight - Raid on Kastorel-Novem, pg. 19
Rogue Trader: Into the Storm (RPG), pp. 94-95
Dawn of War (PC Game)
Dawn of War II - Retribution (PC Game)