Melta Weapons
Talk

0
2,851pages on
this wiki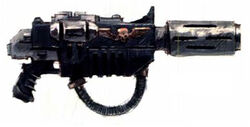 Melta Weapons are a type of Imperial plasma weaponry that make use of a miniature fusion reaction to produce a blast of intense, searing heat. The Meltagun and Multi-melta (also known as "Cookers" or "Vape Guns"), as well as the grenade-like Melta Bomb, are formidable heat-based plasma weapons. Melta Weapons have a short range but are very powerful and become more powerful the closer they are to their target. A Meltagun works by inducing a minute, sub-molecular nuclear fusion reaction within a highly pressurised pyrum-petrol fuel mix located within an ammunition cannister, and then projecting the resulting plasma through the cannister and from the weapon's barrel as a blast of incredible heat. Melta usage is accompanied by a distinctive hissing sound as the beam boils away the water in the air, then a roaring blast as the beam reduces the target to charred scraps or molten slag. Meltas are the premier anti-armour weapons, and few if any armoured vehicles can withstand their power.
The Melta Bomb's variant's fuel has already been hyper-condensed and is no less devastating. Melta Bombs are highly useful against heavily armoured units, as they melt the target from within. Multi-meltas resemble two Meltaguns fused together. They have a longer effective range than a normal Melta. The very rare pistol variant of the Meltagun known as an Inferno Pistol can vaporise foes of any kind with ease. Lord Commander Dante, the Chapter Master of the Blood Angels Space Marines, is the most notable of the few users of the Inferno Pistol in the Imperium, though among the Blood Angels the weapon is called the Infernus Pistol. Inferno Pistols are also favoured weapons, when available, of the Acolytes and Inquisitors of the Inquisition's Ordo Hereticus and its militant arm, the Sisters of Battle.
Imperial Melta Weapons
Edit
The Meltagun, also called a "Fusion Gun," "Melter," or "Cooker," is a powerful, short-ranged anti-armour weapon that produces an intense, energetic beam of heat in the tens of thousands of degrees Centigrade. The Melta Gun is used by the Space Marines, the troops of the Imperial Guard and other military forces of the Imperium of Man such as the Orders Militant of the Adepta Sororitas.
Multi-Melta
Edit
The Multi-Melta is a heavier version of the standard Imperial Meltagun that is composed of multiple Meltagun barrels. The Multi-Melta is also known, like other Melta Weapons, as a "Cooker" or "Vape Gun" and is a formidable anti-personnel and anti-armour weapon. Compared to other weapons in a similar size class, a Multi-Melta has a short range but is very potent, and produces more damage the closer it is used to a target.
Melta Bombs
Edit
A Melta Bomb is highly useful against heavily armoured units, as the intense directional blast of heat produced by an uncontrolled Melta reaction can burn its way through an armoured hull in a matter of seconds. They are clamped directly onto vehicle hulls, or the surface of enemy bunkers, or even onto monstrous creatures such as the largest Tyranid bioforms.
Inferno Pistol
Edit
An Inferno Pistol also called an Infernus Pistol amongst the Space Marines of the Blood Angels Chapter, is a small hand-held Melta Weapon that has an overall effective range that is only about 25% that of its counterparts, the Meltagun and the Multi-Melta. These rare and often exquisitely-crafted pistols are capable of cutting through almost any known type of armour.
Magna-Melta
Edit
A Magna-Melta is a heavy, vehicle-mounted, short-ranged, area-effect heat cannon. Magna-Meltas were originally designed for space assault craft to enable them to turn a large cubic volume of starship hull-plating into liquid slag. A weapon of this magnitutde's effects on less durable targets such as main battle tanks and living matter are simply catastrophic. The aptitude for use of this powerful weapon was not lost on the Tech-priests of Mars, who soon began mounting the Magna-Melta upon the turrets of Infernus Pattern Deimos Predators. This ancient pattern of Predator has now largely been replaced by the Land Raider Redeemer in many Space Marine Chapters.
Melta Cannon
Edit
A Melta Cannon is an Imperial Plasma Weapon that makes use of a miniature fusion reaction to produce a blast of intense, searing heat. This weapon system is commonly mounted on Reaver-class and Warlord-class Battle Titans, but also can be mounted on the carapace hardpoints of a massive Imperator-class Titan. A smaller version of this weapon system is also mounted upon the Devil Dog variant of the Hellhound.
Melta Torpedoes
Edit
Utilised by the forces of the Imperial Navy, Melta Torpedoes are even more feared by starship captains than standard torpedoes. Mercifully rare and extremely brutal, melta warheads detonate a precisely-organised series of melta charges upon impact with a target, burning through hull plating and consuming sections of the vessel's interior in a roiling conflagration.
Eldar Melta Weapons
Edit
A Firepike is a variant of the Fusion Gun used only by Eldar Fire Dragons Exarchs. These weapons are sophisticated Melta Weapons marked by a distinctive long barrel that can project its deadly Melta beam a considerable distance further than the standard Fusion Gun.
Fusion Gun
Edit
The Eldar possess an unsurpassed mastery of heat-based weapons, and take savage delight in the devastation they create. They utilise a deadly Melta Weapon known as a Fusion Gun, a weapon that is unique to the Aspect Warriors known as Fire Dragons amongst the Eldar. Though it can only be used at short range, it possesses a sophisticated targetting system, as befits high status troops like Aspect Warriors. Like most Eldar technology, the weapon is psychically activated, its resonant Wraithbone construction being sensitive to the Eldar's innately psychic mind. A Fire Dragons' Fusion Gun is linked to its targetter via its handle.
Fusion Pistol
Edit
A Fusion Pistol is a deadly Melta Weapon utilised by Eldar Autarchs and Harlequins.
Necron Melta Weapons
Edit
A Heat Ray is a Necron weapon mounted upon the enormous mechanical spiders known as Triarch Stalkers. These deadly weapons are capable of anti-tank and anti-infantry modes of fire. The Heat Ray can be fired in either a focussed or dispersed beam.
Tau Melta Weapons
Edit
Fusion Blaster
Edit
A Fusion Blaster is a Melta Weapon utilised by Tau Battlesuit-equipped warriors as anti-tank weapons, and many pilots have become adept at stalking enemy armour, using their high mobility to outflank the enemy and engage their weaker, rear armour.
Black Crusade: Core Rulebook (RPG), pg. 157
Codex: Blood Angels (5th Edition), pp. 57, 59
Codex: Chaos Space Marines (4th Edition), pp. 82-83
Codex: Chaos Space Marines (3rd Edition, 2nd Codex), pp. 14, 16
Codex: Dark Angels (4th Edition), pg. 51
Codex: Eldar (4th Edition), pp. 32, 57, 62
Codex: Eldar (3rd Edition), pp. 10, 20
Codex: Eldar (2nd Edition), pp. 9, 23, 37, 40, 74
Codex: Imperial Guard (3rd Edition, 1st Codex)
Codex: Necrons (5th Edition) pg. 39
Codex: Space Marines (5th Edition), pp. 98-99, 101
Codex: Space Wolves (5th Edition), pg. 59
Codex: Tau (3rd Edition), pg. 16
Codex: Tau Empire (4th Editon), pg. 26
Codex: Witch Hunters (3rd Edition), pg. 21
Dark Heresy: Blood of Martyrs (RPG), pg. 115
Dark Heresy: Core Rulebook (RPG), pg. 134
Deathwatch: Core Rulebook (RPG), pg. 148
Deathwatch: Rites of Battle (RPG), pg. 135
Imperial Armour - The Horus Heresy Betrayal - Book One by Alan Bligh, pg. 239
Imperial Armour Volume Three - The Taros Campaign, pg. 173
Imperial Armour Volume Four - The Anphelion Project, pg. 136
Imperial Armour Volume Five - The Siege of Vraks - Part One, pg. 95
Imperial Armour Volume Nine - The Badab War - Part One, pp. 60, 94, 112, 128
Imperial Armour Volume Nine - The Badab War - Part One, pp. 94, 108, 119
Imperial Armour Volume Eleven - The Doom of Mymeara, pg. 101
Rogue Trader: Battlefleet Koronus (RPG), pg. 8
Rogue Trader: Core Rulebook (RPG), pp. 122-123
Specialist Games Catalogue, pg. 107
Warhammer 40,000: Rogue Trader (1st Edition), pg. 122
Warhammer 40,000 Rulebook (6th Edition), pp. 39, 55, 57
Warhammer Rulebook (5th Edition), pg. 157
Warhammer 40,000 Wargear (4th Edition), pp. 4, 9
Warhammer 40,000 Wargear (2nd Edition), pp. 26, 41
White Dwarf 173 (US), "Eldar Pheonix Lords", pp. 6-9
White Dwarf 127 (US), "Eldar" by Rick Priestley, Jes Goodwin, William King & Lindsey D. Le Doux Paton, pp. 13-52