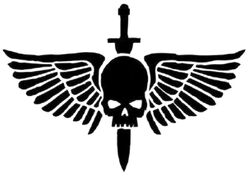 The Mucranoid, also called the Weaver, is the 16th of the 19 gene-seed organs implanted within an adolescent Space Marine Neophyte to create a new Astartes. This organ is implanted within the central nervous system and responds to specific chemical stimuli in the environment, causing the Space Marine to secrete a waxy protein substance similar to mucus through his pores that seals his skin. The gland's operations must first be activated by an external chemical treatment, usually self-administered, before it will activate. Space Marines are cocooned in this way before they enter suspended animation, and the process can even protect them from the harshness of the vacuum and other extremes of temperature, particularly deeply frigid environments.
Codex: Black Templars (4th Edition), pg. 10
Codex: Space Marines (5th Edition), "The Making of a Space Marine," pg. 11
Index Astartes I, "Rites of Initiation - The Creation of a Space Marine" by Rick Priestley & Gav Thorpe, pg. 5
Warhammer 40,000: Compendium (2nd Edition), "The Origins of the Legiones Astartes" by Rick Priestley, pg. 8
White Dwarf 98 (UK) (1988) "Chapter Approved: The Origins of the Legiones Astartes" by Rick Priestley, pg. 14
Ad blocker interference detected!
Wikia is a free-to-use site that makes money from advertising. We have a modified experience for viewers using ad blockers

Wikia is not accessible if you've made further modifications. Remove the custom ad blocker rule(s) and the page will load as expected.