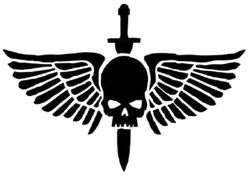 The Multi-lung, also called the Imbiber, is the 9th of the 19 genetically engineered gene-seed organs that are implanted into a Space Marine Neophyte to produce a new Astartes. The Multi-lung is a third lung implanted into an Astartes' pulmonary and circulatory systems in the chest cavity that is able to absorb oxygen from environments usually too poor in oxygen to allow normal human respiratory functioning. Breathing is accomplished through a sphincter implanted into the trachea, allowing all three lungs to be used at full capacity. In toxic environments, a similar muscle closes off the normal lungs, thus oxygen is absorbed exclusively by the Multi-lung, which then filters out the poisonous or toxic elements. The Multi-lung has highly efficient toxin dispersal systems and will also allow an Astartes to draw oxygen out of water, allowing him to breathe in marine environments as if he had gills.
Codex: Black Templars (4th Edition), pg. 10
Codex: Space Marines (5th Edition), "The Making of a Space Marine," pg. 11
Index Astartes I, "Rites of Initiation - The Creation of a Space Marine" by Rick Priestley & Gav Thorpe, pg. 4
Warhammer 40,000: Compendium (2nd Edition), "The Origins of the Legiones Astartes" by Rick Priestley, pg. 8
White Dwarf 98 (UK) (1988) "Chapter Approved: The Origins of the Legiones Astartes" by Rick Priestley, pg. 14
Ad blocker interference detected!
Wikia is a free-to-use site that makes money from advertising. We have a modified experience for viewers using ad blockers

Wikia is not accessible if you've made further modifications. Remove the custom ad blocker rule(s) and the page will load as expected.