"It is a source of constant consternation that my opponents cannot correlate their innate inferiority with their inevitable defeat. It would seem that stupidity is as eternal as war."

—Nemesor Zahndrekh of the Sautekh Dynasty, Necron Overlord of the Crownworld of Gidrim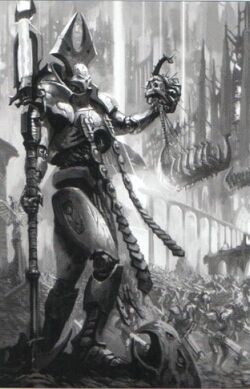 Nemesor is a high-ranking military title employed by the Necrons that is homologous to the rank of General or Admiral in human armed forces. The title can be given to any member of the sentient Necron nobility by the Phaeron of a Necron Dynasty, whether they be a Necron Lord or Overlord. A Nemesor is usually the highest-ranking Necron officer in any given campaign, though the largest of Necron military actions can involve Necron legions commanded by several different Nemesors acting in concert under the direction of a senior Nemesor or the Phaeron himself.
Notable Nemesors
Edit
Codex: Necrons (5th Edition), pp. 21, 25, 60
Imperial Armour - Volume Twelve - The Fall of Orpheus, pp. 92, 111