Nurglings
Talk

0
2,853pages on
this wiki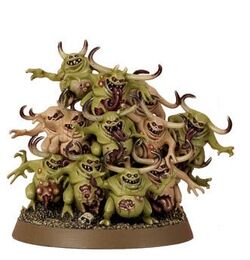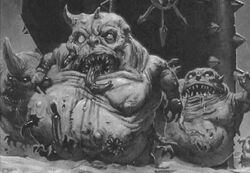 Nurglings, also known as Mites of Nurgle or by their daemonic name Khan'gurani'i, are tiny, mischievous daemons, shaped like a miniature version of the Chaos God Nurgle himself. Much smaller than the Plaguebearers who serve as the Plague Lord's daemonnic footsoldiers or the Greater Daemons known as Great Unclean Ones, Nurglings barely reach over a foot in height. Like Nurgle and most of their fellow Nurglite daemons, Nurglings are jovial and playful in nature. They will hop and cavort around their larger fellow daemons, amusing them with their jolly antics. As befit servants of the God of Decay, Nurglings are also quite mischievious, biting, clawing, pulling and tearing at anything that catches thier fancy. Mortal servants of the Plague God quickly learn not to entrust anything they deem valuable to the guard of Nurglings, for they inevitably will return to find the item utterly destroyed, torn to pieces and covered in filth.
Individually, a Nurgling is not a dangerous opponent. A grown human can simply kick it aside without difficulty. That is why Nurglings gather in monstrous swarms on the field of battle, making up for their lack of strength and size with raw numbers and their highly infectious claws and bites. Their favorite method of attack is to overrun a single individual and bring him down under the sheer mass of their pestilent bodies.
Occasionally very dedicated Chaos Champions of Nurgle will become infested with Nurglings, which will live in gaping wounds and orifices in the Champion's body and armour. Great Unclean Ones also tend to keep a large amount of favoured Nurglings upon and inside their bodies, for they find their tiny counterparts highly amusing. Great Unclean Ones often swallow one of the Nurglings just to see from which orifice in their vast bodies the tiny giggling creature will emerge again. In battle, these Nurglings will fight ferociously to defend their host from any opponent who dares approach him.
Palanquin of Nurgle
Edit
A Palanquin of Nurgle is a form of Daemonic Mount used by the Chaos Champions of Nurgle that is comprised of a horde of Nurglings in the shape of a throne or palanquin who carry its rider into battle.
Realm of Chaos - Lost and the Damned (1st Edition)
Codex: Chaos Daemons (4th Edition)
Codex: Chaos Space Marines (3rd Edition, 2nd Codex)
Codex: Chaos (2nd Edition), pp. 57; 68-69
Codex: Chaos Space Marines (6th Edition), pg. 67