"...and the Great Father marks out those who are chosen with the gift of his Nurglings. These servants bear on their multitudinous backs his champions and chosen. They will war for them and nurture them and aid them in spreading the gifts of Father Nurgle to the undeserving and unappreciative Imperium of Man..."

— From a fragment of the Liber Pestilentia
Nurglings, also known as Mites of Nurgle, Gleeful Castoffs, Tiny Plagues or by their daemonic name Khan'gurani'i, these tiny, mischievous daemons are surely some of the most numerous, and among the most favoured. Even their appearance is pleasing to the Plague God Nurgle, for each Nurgling is like a minute copy of the dread master himself. These pernicious and capricious Daemons erupt from the boils and pustules that pock the fleshy hide of Great Unclean Ones. They caper and dance about the Greater Daemons, causing mischief whenever possible, constantly giggling as they play. Their enemies are another matter entirely, and would do well to avoid their sharp claws; those that survive the rake of a Nurgling's talons often find their wounds festering and incurable.
Background
Edit
Though Nurglings are some of the least of Nurgle's minions, they are some of the most numerous, and among the most favoured of the Lord of All's daemonic pantheon. Much smaller than the Plaguebearers who serve as the Plague Lord's daemonnic footsoldiers or the Greater Daemons known as Great Unclean Ones, Nurglings barely reach over a foot in height. They appearance resembles the Grandfather Nurgle himself, perhaps not surprising, given that Nurglings are formed within the innards of Great Unclean Ones, who themselves physically reflect Nurgle's repulsive magnificence. Nurglings serve the Filth-father in which they were formed, often pretending that their progenitor is Nurgle himself. They play within the folds of his flesh, fetch morsels for him to consume, pick at his sores or give him new ones, and otherwise seek his approval, giggling all the while. Like Nurgle and most of their fellow Nurglite daemons, Nurglings are jovial and playful in nature. They will hop and cavort around their larger fellow daemons, amusing them with their jolly antics. As befit servants of the God of Decay, Nurglings are also quite mischievous, biting, clawing, pulling and tearing at anything that catches their fancy. Mortal servants of the Plague God quickly learn not to entrust anything they deem valuable to the guard of Nurglings, for they inevitably will return to find the item utterly destroyed, torn to pieces and covered in filth.
Daemons of Nurgle emulate the Lord of Decay and follow his path in many different ways. When they are not vying for the attention of their parent-Daemon, Nurglings most often try to do things that reflect the mirthful nature of Nurgle himself. This frequently leads to them interfering with the work of the Plaguebearers, who find Nurglings to be something of a nuisance—though they don't normally give voice to their irritation, at least not when a Great Unclean One is within earshot. Just when a Plaguebearer is nearly finished counting the number of drips of pus required to fill a particular pool, for example, a swarm of Nurglings may come running through it, playfully splashing in the rancid goo and scattering it all around. It is their nature to cause mischief, just as it is the Plaguebearer's nature to keep tallies. In the Realm of Chaos, even in the relatively ordered domain of Nurgle, it is no surprise that harmony eludes the grasp of most Daemons.
Individually, a Nurgling is not a dangerous opponent. A grown human can simply kick it aside without difficulty. That is why Nurglings gather in monstrous swarms on the field of battle, making up for their lack of strength and size with raw numbers and their highly infectious claws and bites. Their favorite method of attack is to overrun a single individual and bring him down under the sheer mass of their pestilent bodies.
Occasionally very dedicated Chaos Champions of Nurgle will become infested with Nurglings, which will live in gaping wounds and orifices in the Champion's body and armour. Great Unclean Ones also tend to keep a large amount of favoured Nurglings upon and inside their bodies, for they find their tiny counterparts highly amusing. Great Unclean Ones often swallow one of the Nurglings just to see from which orifice in their vast bodies the tiny giggling creature will emerge again. In battle, these Nurglings will fight ferociously to defend their host from any opponent who dares approach him.
Palanquin of Nurgle
Edit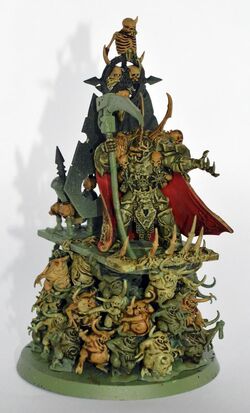 Sometimes Nurglings are gifted to Heralds or other powerful Chaos Champions to act as a living litter for him, or to hold him aloft atop a Palanquin of Nurgle -- a form of Daemonic Mount that takes the form of an ornate and mobile throne that allows the Great Unclean One or Champion of Nurgle to be carried aloft by a tide of surging Nurglings. The tiny creatures propel the Palanquin wherever the master wishes. From his elevated position their master is able to speak to his slaves, or strike at his foes. The Palanquin itself is decorated with mourldered finery, while the rider sits casually upon a mound of decaying cushions. In these cases, the Nurglings will treat their new master much as they had treated the Great Unclean One from which they came -- whether the new lord would prefer it or not. The Palanquin is surrounded by a cloud of flies which buzz and swarm around it. If the Palanquin is carried into hand-to-hand fighting the cloud of flies will buzz into the eyes and ears of all engaged enemies. The cloud of flies has another effect, for each insect embodies a tiny fraction of protective magic. The cloud thus represents a considerable protective spell. The Palanquin and its rider cannot be affected by a magical spell of any kind. As the Nurgling bearers move across the battlefield, small pools of something unpleasant and sticky form behind the Palanquins. These pools of filth contain pus, various forms of bodily functions and other foul substances which are produced by the Nurglings. The sheer quantity of Nurgling bearers makes these pools very dangerous. Any person unfortunate enough to move over one of these sticky pools may be unfortunate enough to catch the vile plague known as Nurgle's Rot.
Black Crusade: Tome of Decay (RPG), pp. 12-15, 19, 115
Codex: Chaos (2nd Edition), pp. 57; 68-69
Codex: Chaos Daemons (6th Edition), pg. 50
Codex: Chaos Daemons (4th Edition), pg. 42
Codex: Chaos Space Marines (6th Edition), pg. 67
Codex: Chaos Space Marines (3rd Edition, 2nd Codex), pp. 30-31
Dark Heresy: Creatures Anathema (RPG), pg. 124
Realm of Chaos - Lost and the Damned (1st Edition), pp. 19, 26
Ad blocker interference detected!
Wikia is a free-to-use site that makes money from advertising. We have a modified experience for viewers using ad blockers

Wikia is not accessible if you've made further modifications. Remove the custom ad blocker rule(s) and the page will load as expected.