Omega Marines

Warcry

Unknown

Founding

40th Millennium

Successors of

Unknown

Successor Chapters

Unknown

Number

Unknown

Primarch

Unknown

Chapter Master

Unknown

Homeworld

Unknown

Allegiance
Colours

Half Black, Half White
The Omega Marines is a Loyalist Codex Astartes-complient Space Marine Chapter that was Founded during the 40th Millennium. Very little is known about this Chapter in current Imperial records.
Chapter History
Edit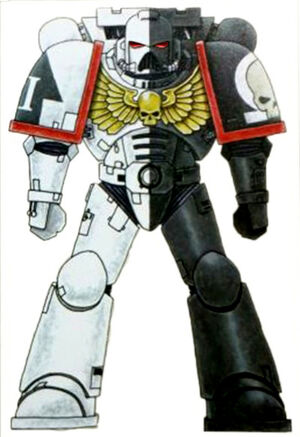 Notable Campaigns
Edit
Third War for Armageddon (999.M41) - The Omega Marines participated in the Third War for Armageddon, deploying the entire Chapter. Most notably, the Omega Marines deployed 9 Dreadnoughts, led by Brother Weylands, to support 8 Dreadnoughts of the Angels Porphyr Chapter in defence of the Ghattana Bay water processing plant's Gate IX. In the largest reported instance of cybernetic combat in Imperial history, this Astartes force was able to defeat an assault of equal size by Ork Killa Kans and Deff Dreads.
Chapter Appearance
Edit
Chapter Colours
Edit
The Omega Marines wear divided white and black Power Armour. Their shoulder plate trim and Aquila are painted in the individual Astartes' company color. Veteran Chapter members wear helmets painted entirely black.
Chapter Badge
Edit
The Chapter badge of the Omega Marines is a white Greek letter Omega on a black background, with a skull surrounded by the ancient symbol.
Codex: Armageddon (3rd Edition)
How to Paint Space Marines
Index Astartes, pg. 55
White Dwarf 249 (UK), "Index Astartes: Emperor's Shield: Space Marine Chapters of the Armageddon War", pp. 30-33