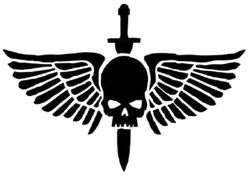 The Omophagea, also called the Remembrancer, is the 8th of the 19 genetically-engineered gene-seed organs that are implanted into a Space Marine Neophyte to produce a new superhuman Astartes. The Omophagea is implanted into the spinal cord and then wired into the central nervous system so that it is directly attached to the cerebral cortex and to the stomach. It allows the Astartes to gain part of an individual person's or creature's memory by eating its flesh. This special organ is implanted between the thoracid vertebrae and the stomach wall and is designed to absorb information and any DNA, RNA or protein sequences related to experience or memory. This implant thus allows a Space Marine to literally "learn by eating." Four new nerve bundles are also implanted connecting the spine and the stomach wall. The Omophagea transmits the gained information to the Astartes' brain as a set of memories or experiences. This enables the Space Marine to gain information, in a survival or tactical sense, simply by eating an animal indigenous to an alien world and then experiencing some of what that creature did before its death. It is the presence of this organ that is responsible for the various flesh-eating and blood-drinking rituals for which certain Space Marine Chapters are famous, as well as giving names to Chapters such as the Blood Drinkers and Flesh Tearers. Over time, mutations in this implant's gene-seed have given some Chapters an unnatural craving for blood or flesh.
Codex: Black Templars (4th Edition), pg. 10
Codex: Space Marines (5th Edition), "The Making of a Space Marine," pg. 11
Index Astartes I, "Rites of Initiation - The Creation of a Space Marine" by Rick Priestley & Gav Thorpe, pg. 5
Warhammer 40,000: Compendium (2nd Edition), "The Origins of the Legiones Astartes" by Rick Priestley, pg. 8
White Dwarf 98 (UK) (1988) "Chapter Approved: The Origins of the Legiones Astartes" by Rick Priestley, pg. 14
Ad blocker interference detected!
Wikia is a free-to-use site that makes money from advertising. We have a modified experience for viewers using ad blockers

Wikia is not accessible if you've made further modifications. Remove the custom ad blocker rule(s) and the page will load as expected.