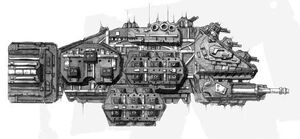 While Ork Battleships as defined by the Imperium of Man do not truly exist, Ork starships do tend to grow over time through the accumulation of salvage, additions, and technological "improvements". In this way, during the Third War for Armageddon, several Hammer-class Battlekroozers grew to a size and power that could only be accurately described by the Imperial navy's definition of the term "battleship". Thankfully for the Orks' enemies, there was only a few such starships in existence, and each is unique.
Notable Ork Battleships
Sources
Battlefleet Gothic Armada
Ad blocker interference detected!
Wikia is a free-to-use site that makes money from advertising. We have a modified experience for viewers using ad blockers

Wikia is not accessible if you've made further modifications. Remove the custom ad blocker rule(s) and the page will load as expected.