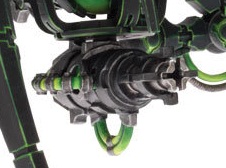 Particle Weapons are a family of exotic and technologically advanced directed energy weapons used exclusively by the ancient and extremely powerful xenos species known as the Necrons. Particle Weapons function by emitting a stream of miniscule anti-matter particles which detonate on contact with normal matter, and are incredibly reliable -- needing only enough energy to maintain the electromagnetic containment field that prevents the anti-matter from detonating when it comes into contact with the normal matter that comprises the weapon's mechanisms.
Known Particle Weapons
Edit
Battlefleet Gothic: Armada, pg. 73
Black Crusade: The Tome of Fate (RPG), pg. 119
Codex: Necrons (5th Edition), pp. 47, 81, 93-95
Codex: Necrons (7th Edition) (Digital Edition), pg. 199
Imperial Armour Volume Twelve - The Fall of Orpheus, pg. 124
Ad blocker interference detected!
Wikia is a free-to-use site that makes money from advertising. We have a modified experience for viewers using ad blockers

Wikia is not accessible if you've made further modifications. Remove the custom ad blocker rule(s) and the page will load as expected.