Ad blocker interference detected!
Wikia is a free-to-use site that makes money from advertising. We have a modified experience for viewers using ad blockers

Wikia is not accessible if you've made further modifications. Remove the custom ad blocker rule(s) and the page will load as expected.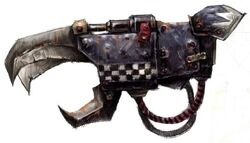 The Power Klaw is a crude, over-sized, armoured gauntlet that generates an energy field around it, one that is capable of violently disrupting any solid matter it touches. Similar to an Imperial Power Fist, this deadly close-combat weapon takes the form of a servo-motored claw, large even for an Ork, that ends in two or more snapping blades that spark with discharges from an unstable disruptive energy field. Though more primitive than their Imperial counterpart, the huge hydraulic shears of an Ork Power Klaw are capable of rending and crushing even the toughest foes and even armoured vehicles. Ork walkers are fitted with Klaws that befit their greater size, and can rip through anything foolish enough to stand in the pilot's way. Within Ork society, a Power Klaw is a symbol of status as much as a weapon. Orks often amputate their own arms and graft a Power Klaw to the stump, taking the weapon as an augmetic implant. Uniquely, Commissar Sebastian Yarrick of the Imperial Guard is famous for his Power Klaw, which he tore from a defeated Ork Warboss and adapted for his own use, as much a weapon as a symbol of his prowess in the never-ending war against the Orks.
Notable Users
Edit
Codex: Imperial Guard (5th Edition), pg. 63
Codex: Orks (7th Edition) (Digital Edition), pp. 10, 64, 78, 191
Codex: Orks (4th Edition), pp. 89-90
Codex: Orks (3rd Edition) pg. 35
Epic Armageddon Rulebook, pg. 69
Only War: Enemies of the Imperium (RPG), pp. 48, 52, 66
Ork Collector's Guide, pg. 1
Rogue Trader: Into the Storm (RPG), pg. 144
Rogue Trader: The Koronus Bestiary (RPG), pg. 70
Sanctus Reach - The Red WAAAGH! (Campaign Supplement) (7th Edition) (Digital Edition), pp. 8, 19, 44-48, 68,
WAAAGH! Ghazghkull: A Codex: Orks Supplement (7th Edition) (Digital Edition), pp. 7, 18, 24, 34, 54, 79, 85, 93, 97, 100, 103, 111,
Warhammer 40,000: Rulebook (6th Edition), pp. 59, 203
Warhammer 40,000: Dawn of War II: Retribution (PC Game)
Warhammer 40,000: Dawn of War (PC Game)