Ad blocker interference detected!
Wikia is a free-to-use site that makes money from advertising. We have a modified experience for viewers using ad blockers

Wikia is not accessible if you've made further modifications. Remove the custom ad blocker rule(s) and the page will load as expected.
"It is the way of Slaanesh, who is my lord and guardian. My god. Look what he has made of me, captain, and see what your Emperor has made of you."

— Chaos Lord Gull Khan of the Punishers, addressing Captain Jonah Kerne of the Dark Hunters' 3rd Company.
Punishers

Warcry

Unknown

Founding

Unknown

Successors of

Unknown

Successor Chapters

None

Number

Unknown

Primarch

Unknown

Chapter Master

Gull Khan (Deceased)

Homeworld

Unknown

Allegiance
Colours

Bone and Black with Brass Trim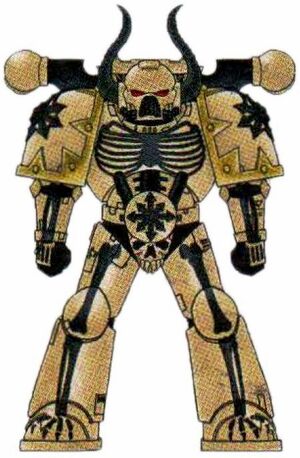 The Punishers are an amalgam of warbands of Chaos Space Marines of unknown origin and Founding who have dedicated themselves to Chaos God Slaanesh. Little else is known about them in Imperial records.
Warband Appearance
Edit
Warband Colours
Edit
The Punishers wear bone-coloured Power Armour with black skeleton imagery painted on the surface of the armour. The trim is brass.
Warband Badge
Edit
The Punishers do not have their own warband iconography. Instead, they opt to wear the usual blasphemous iconography and fetishes of Chaos.
Codex: Chaos Space Marines (4th Edition), pg. 21
Legends of the Space Marines (Anthology), "The Last Detail" by Paul Kearney
Dark Hunters: Umbra Sumus (Novel) by Paul Kearney