The Questor Traitoris, also known as Renegade Knights or Daemon Knights, are Imperial Knight combat walkers, their Noble pilots and Knight Houses corrupted to the service of Chaos. Humanoid war engines that tower over their foes, each Renegade Knight carries an army's worth of firepower upon its weaponised limbs and hulking carapace.
At close quarters, their roaring Reaper Chainswords and crushing Thunderstrike Gauntlets destroy what their trampling feet cannot, scattering terrified survivors before their unstoppable advance. The ground shudders beneath the godlike tread of the Renegade Knights. Even one such looming war engine possesses the firepower to annihilate entire regiments of enemy warriors, pick apart armoured columns, and swat squadrons of aircraft from the skies. Chaos Lords and rebellious demagogues will go to great lengths to secure the services of such a lone warrior, sacrificing whatever they must to ensure that this god of destruction fights at their side.
Deployed in great number, the Questor Traitoris are more fearsome still, and have been known to bring entire worlds to heel, scourging them by blade and by flame in the name of the Dark Gods.
History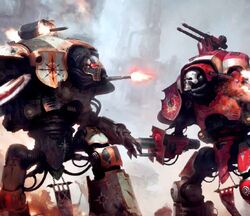 Those who pilot Imperial Knights are brave and noble warriors, drawn from ancestral knightly houses. In their eighteenth standard year, aspirants face the Ritual of Becoming, a strange rite where the mind of the Noble is fused with the Knight's Machine Spirit (artificial intelligence), allowing the pilot to occupy the machine's Throne Mechanicum and control it with their thoughts alone. This rite -- coupled with psychosuggestive subroutines fed through the Knight's cybernetic neural jacks -- is intended to weed out those who are weak in mind or soul, reinforcing notions of honour and selflessness so that few Knights risk falling to the temptations of Chaos.
No mortal man is beyond the reach of the Dark Gods, however. To believe otherwise is dangerous arrogance. There are many ways that a Knight may stray from the true path laid out in the Code Chivalric, or else be driven from it by force. Most common are those times when Freeblade Knights -- those who have already forsworn their knightly houses due to some shame or tragedy -- find themselves driven to commit ignoble acts to survive. The ghosts of the Thrones Mechanicum are uncompromising and unforgiving, and the judgemental voices of ancestors long passed will lambaste such a fallen Knight mercilessly. Some pilots take their own lives, or abandon the Throne forever -- to a Noble pilot, there is little difference between these two terrible ends. Those who do not, or worse, cannot, are driven swiftly mad.
It is this insanity that the Dark Gods prey upon, claiming the Nobles' lost souls and twisting the Machine Spirits of their mechanical steeds into ravening beasts. In recent years, covens of Warpsmiths have taken to capturing lone Knights and giving them over for torture until this horrible end is achieved. There are even whispered rumours that some Renegade Knights no longer contain living pilots at all, but are instead the unwilling hosts to parasitic possessor daemons who clad themselves in the war engine's adamantium plates as a mortal warrior might don a suit of armour.
Rarer and more terrible are those instances when an entire lance, or even a whole knightly house falls into damnation. During the dark days of the Horus Heresy, this was a tragedy that played out many times, most famously with the once glorious House Devine who fell to the temptations of Slaanesh, the Prince of Pleasure. With the Cicatrix Maledictum now splitting the galaxy, such wholesale corruption has become a hazard once again.
Here, a compromised Sacristan creeps from one Throne Mechanicum to the next, tainting them with daemonic ichor brewed to drive the Knights' pilots to madness and mutation. There a Baron leads a noble crusade to purge a world of Chaos taint, only to become so immersed in blood that he and his followers degenerate into the very berserk beasts they strode out to slay. The Inquisition's agents have gone to great pains in their efforts to suppress reports of traitorous knightly houses, for the mere notion of such loyal warriors turning Traitor is every bit as horrifying as the concept of Renegade Space Marines. Yet more Knights fall with every passing Terran year, and their devastating rampages have become difficult to conceal.
Infernal Quests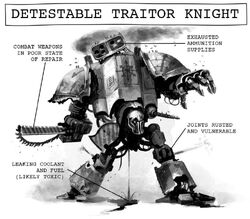 When Renegade Knights gather in great number they are compelled to swear grim oaths to the Dark Gods. In a twisted parody of their former nobility, they vow to complete mighty tasks on pain of death and dishonour. Such deeds may include the burning of a Cardinal World or other great place of Imperial faith, the hunting of some feted Imperial hero, or the wholesale butchery of a star system whose defenders have offended the Dark Gods with their simple resistance. Once they have set themselves to such an Infernal Quest, Renegade Knights will not relent until either they emerge victorious, or they are slain to the last.
Types of Renegade Knights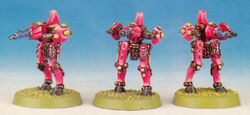 Hell-Strider - The Hell-Strider is the smallest of the Daemon Knights, but still stands many times the height of a man. They are armed with Lascannons and short-range, Knight-sized Melta Weapons. Hell-Striders are extremely mobile, able to flush the enemy out of woods and ruins with their powerful short ranged weaponry. Given sufficient numbers, Hell-Striders are even capable of toppling a Titan, picking off their prey's Void Shields with their Lascannons before closing in for the kill with their Melta-beams.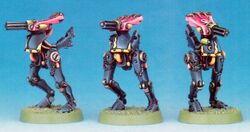 Hell-Scourge - Hell-Scourges are one of the largest patterns of Slaaneshi Daemon Knights. As living machines in the service of the Prince of Chaos, they have crushed countless opponents in the last ten millennia, screeching deafening cries across the battlefield. They are the perfect predators, hunters who mercilessly run down their quarry with the bounding strides of their elegant, powerful legs. The Hell-Scourges attack without warning. As one appears, the enemy turn their weapons on its blurred form, only to see it disappear. At that moment, others attack from all sides, mowing through armour and flesh with their massive Castigator Cannons. Hell-Scourges possess a certain pack instinct and are in constant telepathic communication with each other. As such, they make exceptionally well co-ordinated assaults, out-flanking their enemies with ease. This telepathic contact seems to encompass all Hell-Scourges present on the battlefield, or perhaps even further. This enables Hell-Scourge detachments exceptional flexibility on the battlefield.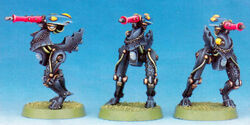 Wargear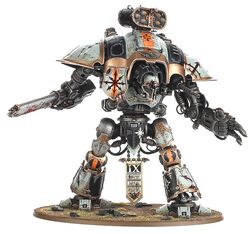 Renegade Knight Questoris
Renegade Knight Dominus
Renegade Armiger
Notable Renegade Knight Houses
See Also
Sources
Codex Heretic Astartes - Death Guard (8th Edition), pg. 22
Index: Chaos (8th Edition), pg. 108
Kingsblade (Novel) by Andy Clark, Ch. 9
The Master of Mankind (Novel) by Aaron Dembski-Bowden, Chs. 3, 8, 12, 15, 17, 20, 22, 24
Warhammer 40,000: Rulebook (8th Edition), pp. 53, 158-159, 164-165
White Dwarf 190 (UK), "Epic: Slaanesh War Machines," pp. 27-31
White Dwarf 182 (UK), " 'Eavy Metal: Forces of the Imperium," pg. 38; "Titan Legions: Knight Households," pp. 39-40
White Dwarf 180 (UK), " 'Eavy Metal: Imperial Knights", pg. 26