Red Wolves
Talk

1
2,851pages on
this wiki
Red Wolves

Warcry

Unknown

Founding

Unknown

Successors of

Unknown

Successor Chapters

Unknown

Number

Unknown

Primarch

Unknown

Chapter Master

Unknown

Homeworld

Bloodfall

Allegiance
Colours

Red and Black
The Red Wolves are a Loyalist Chapter of Space Marines of unknown origin and Founding. Very little is known about the Chapter in Imperial records. The Red Wolves claim the planet of Bloodfall in the Segmentum Solar as their Chapter homeworld.
Chapter History
Edit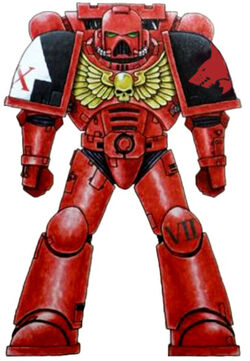 Notable Campaigns
Edit
Battle for the Cruiser Shadeblight (750.M41) - In 750.M41 the Red Wolves denied a warband of the Night Lords Traitor Legion the prize of the daemon-possessed Cruiser Shadeblight in the Ango Sub-sector. The Red Wolves stood alone against the Chaos Space Marines, and alone they stopped the menace the Night Lords presented to the sub-sector.
Fourth Quadrant Rebellion, Sulsalid Campaign (775-777.M41) - A full quarter of the Segmentum Solar and its outlaying systems were engulfed by a series of wars, revolts and secessionist outbreaks which set that part of the galaxy ablaze with civil strive that became known as the Fourth Quadrant Rebellion. With the civil conflicts affecting most of the systems, Renegade and xenos forces took advantage of the widespread anarchy. More than a dozen Space Marine Chapters were caught up in the fighting, either aiding one faction or another or simply defending their own territories whilst others were brought in by the Imperium to pacify the quadrant and finally put an end to the fighting. Four Astartes Chapters -- the Red Wolves, Dark Angels, the Raptors and the Skull Bearers -- were instrumental in playing an important role in bringing the rebellion within the Sulsalid Sub-sector to an end.
Chapter Appearance
Edit
Chapter Colours
Edit
The Red Wolves' Power Armour is painted red with black shoulder plates and red trim. The Aquila is gold.
Chapter Badge
Edit
The Red Wolves Chapter badge is a red wolf's head on a black background.
Codex Space Marines (5th Edition), pp. 30, 49
How to Paint Space Marines
Imperial Armour Volume Nine - The Badab War: Part One, pg. 100