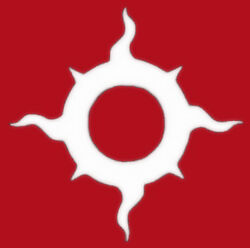 The Rehati served as the Thousand Sons Legion's inner coven of advisors and was comprised of the most trusted confidants to the Primarch Magnus the Red throughout the Great Crusade until the start of the Horus Heresy in the early 31st Millennium. The Rehati were drawn from the ranks of the elite Captains of the XIV Legion's Fellowships to address whatever issues were currently concerning the Legion. Its members were ever-changing, and inclusion within the Rehati was dependent on many things, not least of which was an Astartes' standing within the Legion. The Cults of the Thousand Sons vied for prominence and a place in the Primarch's inner circle, knowing that to bask in his radiance would only enhance their psychic powers. As the power of the Empyrean waxed and waned, so too did the mystical abilities of the Cults. The Rehati served a similar position for the Thousand Sons that was comparable to the Mournival of the Sons of Horus Legion. Following the devastation of their homeworld during the Burning of Prospero and the Legion's mystical migration to the Eye of Terror, it is highly doubtful that the Rehati still exists in its former form or function in the late 41st Millennium.
Notable Rehati Members
Edit
Ad blocker interference detected!
Wikia is a free-to-use site that makes money from advertising. We have a modified experience for viewers using ad blockers

Wikia is not accessible if you've made further modifications. Remove the custom ad blocker rule(s) and the page will load as expected.